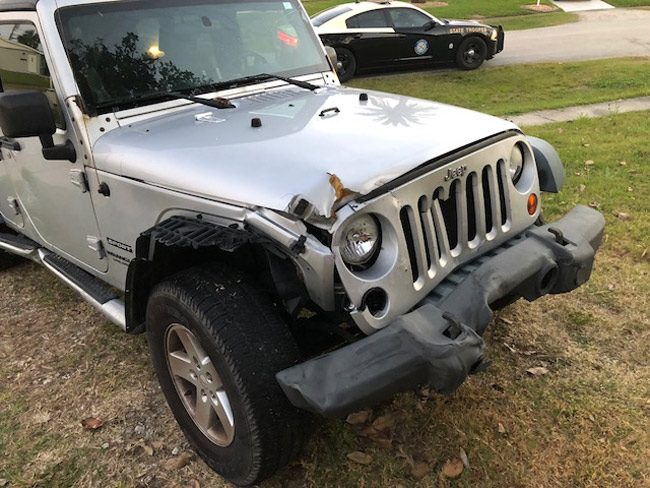 A combination of investigative policing, detailed reporting and images from the scene published within three hours of the crash, and the conscience of a business owner, led Florida Highway Patrol investigators within 36 hours to the accused hit-and-run driver in Monday morning's fatal crash.
The crash killed Ray Almodovar, a 68-year-old school bus driver in the district since 2013. He'd been on his way to work.
When Florida Highway Patrol Traffic Homicide Investigators Pete Young and Ralph Richards walked up to the house on Sunnyshore Drive in Ormond by the Sea late Tuesday afternoon, Bryan Brown, 60, walked out of the house to meet the troopers and owned up to being at the wheel of the Jeep involved in the hit-and-run.
"He said he was the driver," Young said.
Brown was driving on a suspended license because of a drunk-driving conviction, Young said. The Jeep was not his car, but his wife's.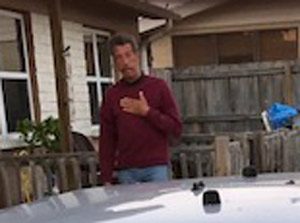 At 5:45 a.m. Monday Brown was driving his gray Jeep Wrangler north on I-95, just south of the State Road 100 intersection in Palm Coast. Almodovar was just ahead of him. For unknown reasons Almodovar lost control of his Toyota Corolla, struck the center-median guardrail, bounced back into traffic, was sideswiped by another car, then t-boned by Brown's Jeep, according to the FHP investigation.
Two witnesses saw Brown roll his Jeep to a controlled stop, step out of his car, check the front end for damages, then speed off, ignoring Almodovar, who was pronounced dead at the scene shortly afterward.
"I didn't know what I was doing, I got hit with an air bag and was out of it for a while," Brown at first told Young and Richards, seeming contrite and regretful. But when the troopers asked him for a driver's license, he could not produce it, and owned up to driving on a suspended license.
Brown immediately after the crash exited at State Road 100 and drove down to his home in Ormond By the Sea, dissimulating his Jeep on his property behind a fence, so it couldn't be seen from the road.
But within hours of the crash news of the hit-and-run was circulating, including Young's own summary-description of the likely vehicle involved, its color and make and the significant damage it was certain to show on its front end. The next sequence of events is not precisely clear, but it involves Brown's wife and Brown's boss, the owner of a plumbing company in the Jacksonville area. Brown's wife was angered by the discovery that her husband had apparently deceived her about his driving privileges: he had told her that he had a work permit to drive to and from work. He did not have such a permit. According to Young, she appears to have contacted Brown's boss and informed him of the vehicle crash.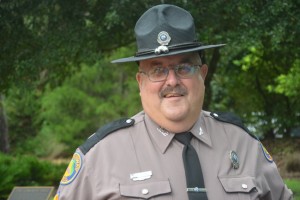 The plumbing-company owner put two and two together: "He heard on the news that we were looking for him, so he called the sheriff's office," Young said. The company owner called Flagler County's 911 dispatch center—which Young wanted to credit particularly. A dispatcher emailed Young the information relayed about Brown. Included in the email were pictures of the wanted vehicle, which had apparently been taken by Brown's wife.
That was between 3 and 4 p.m. Tuesday. Later that afternoon, Young and Richards drove down to Brown's house. Brown met them outside because he'd seen them coming: there are surveillance cameras all around his house. "I know why you're here," Brown is said to have told the troopers. Brown said he was willing to turn himself in—though he had not, of course, taken that step until the troopers showed up in person. "He was cooperative," Young said. But only up to a point: he also secured a lawyer, and declined to speak further, as is his right.
The investigators secured a warrant signed by Circuit Judge Sandra Upchurch and seized the Jeep, which John's Towing, the Bunnell tower, towed to a Florida Department of Law Enforcement's office in Jacksonville for processing.
Charges are pending against Brown, though he was not arrested so as not to start the clock on his potential case and give investigators the weeks, at times the months, they need to complete their case. But the potential charges he faces are driving on a suspended license with the involvement of a death, a third-degree felony, and leaving the scene of crash with a death, a first-degree felony carrying a minimum-mandatory prison sentence of four years.
"We got the information out there quickly and we got the public to respond," Young said of the investigation. "All in all a quick response from the public and a quick response from us were able to bring closure to the family." He added: "It pays off, we follow up on all leads."