Flagler County's Hammock is the easternmost portion of the county. But it's the Wild West when it comes to residents using golf carts. The Flagler County Commission may be about to change that by developing an ordinance that will regulate golf-cart use in the area, and possibly across the county.
What that ordinance will read like when it's done is unclear, because the commission is divided on the issue for now, reflecting the division in the Hammock.
"It's been against the rules," County Administrator Craig Coffey said. "The question is, do you legitimize it and it really becomes all over the place, or do you leave it as is, where you have kind of a wink-wink or people use it on the side, they use it on the roads and they cross the roads versus people using them openly up and down the roads. And at night you don't have streetlights out there and you have a different issue."
Commissioners Nate McLaughlin and Donald O'Brien are for being more permissive, Commissioners Dave Sullivan and Greg Hansen are for a more restrictive approach, and Commissioner Charlie Ericksen described his preference as "middle of the road."
The problem that we bump up against here," McLaughlin said, "unfortunately or fortunately, depending on whose side of the golf cart you're standing on, there has been a policy that has allowed people to exercise a freedom that now is a perceived right. I don't know about the rest of the board but I think we need to move forward with something here." McLaughlin is looking for an ordinance that would respect the Hammock's lifestyle.
But to Hansen, the "unintended consequences" of an ordinance may create difficult issues, though he is not for banning golf carts. He is not for legalizing them, either.
Golf carts are popular in the Hammock. But they're being driven in a twilight zone of unenforced laws that would normally prohibit them on public roads. Or had been: if two previous sheriffs for 16 years pretty much ignored golf cart users, enforcement is now more strict under Sheriff Staly: people driving or parking golf carts where they're not supposed to are getting ticketed.
Staly isn't doing that on his own initiative. Sheriff's spokesman Mark Strobridge says the department got information from county government that people were violating parking rules and arbitrarily driving down walk paths, "and some people wanted enforcement." So the sheriff passed it on to deputies in those area, who started enforcing state law.
Hansen got some 45 emails from constituents on the issue. The emails are split between proponents and opponents of golf carts, running the gamut, Hansen said, "from wanting to drive them on the bike paths to not allowing them on the bike paths, be able to go to Publix." Some of the emails complain of golf carts parking clusters in places, such as at the end of a street near the beach—not near a park.
---
"I don't know why we can't use [Flagler Beach] as a model to try to get this thing done."
---
But, he added: "I'm not sure we want to pass a law or a countywide regulation that says it's OK to drive golf carts." He says passing an ordinance like Flagler Beach's would lead to carts in bike paths and other places where carts should not be. Flagler Beach is very golf-cart friendly on its side streets. The only three exceptions to carts in Flagler Beach are State Road A1A, State Road 100, and sidewalks. Palm Coast has no such allowances, nor does Bunnell.
McLaughlin disagrees with a restrictive approach: "I have a constituency on the west side that this is part of their—not just their culture but their livelihood," he said.
"I'm not totally thrilled," Commissioner Dave Sullivan said, "every Sunday morning when I go to church over in Flagler Beach, there's usually a golf cart in front of me doing 20 miles an hour. I should be doing 30, 35. It's OK, it doesn't bother me too much. One of the reasons we don't have that in Grand Haven is the concentration of people."
State law is clear regarding golf carts: "A golf cart may be operated only upon a county road that has been designated by a county, a municipal street that has been designated by a municipality, or a two-lane county road located within the jurisdiction of a municipality designated by that municipality, for use by golf carts."
Flagler County has designated no such roadways. The exception is for crossings: golf carts may cross streets and even state highways—as long as the crossing has been so approved by the state Department of Transportation. The law is more permissive when it comes to golf carts crossing streets or highways where a mobile home park straddles the road.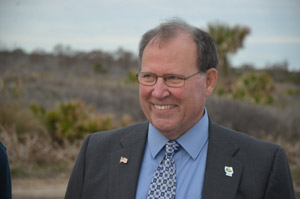 But state law allows local governments to enact ordinances that make it more permissive to operate golf carts—or more restrictive. For example, a local government could allow golf carts on sidewalks or trails. In Flagler County, there may be no general local ordinance, but there is a prohibition on using golf carts on sidewalks, bike paths and trails.
State law separately addresses "low-speed vehicles" and "mini trucks," which may only be operated by licensed drivers and on roads with speed limits capped at 35 mph. The vehicles must also be insured and registered. But those are not in as frequent use in the Hammock.
Numerous people addressed the commission in a workshop this afternoon. It was one of those meetings that drew a large crowd, as only emotional issues do. The crowd was decidedly pro-golf carts, cheering and clapping every time one of its own would speak in favor of permissive, not restrictive, regulations.
The sheriff took a mild beating from the crowd for enforcing the state law, and complainers were ridiculed. (Commissioner Sullivan spoke up for the sheriff, saying he was merely doing his job.) In one case, a man said his three-month-old granddaughter's first two words were "golf cart"— before she uttered words referring to her mom, dad or grandparents—because he took her to Publix in the golf cart every morning. But he also said he's been pulled over by cops twice. "They have been very polite," he said of deputies, "it has been more information sessions than anything else, just to inform me of what's going on, and it's definitely changed with the new sheriff, as opposed to the old sheriff, which was much more live and let live type of person."
Others more explicitly criticized the sheriff's enforcement and those complaining about golf carts parking in certain areas. One said he'll start parking his pick-up truck in the same place and see how people would react. People spoke of the safe, environmentally friendly nature of golf carts, enjoyed by older people. They spoke of wanting the county to legalize the use of golf carts on all roads with 35 mph limits or less. There was a bit of misinformation: one man claimed that in 2009, some "were given tax credits to be able to buy golf carts." When the crowd mumbled disbelief, he specified: a $5,000 tax credit. In fact, as an IRS briefing on the issue notes, certain low-speed, battery-charged vehicles were eligible for tax credits, but "Vehicles manufactured primarily for off-road use, such as for use on a golf course, do not qualify."
Coffey, the administrator, cautioned the commission about legalizing golf carts too quickly, before deliberately studying the issue—an approach commissioners did agree to.
The only commissioner to get applause was O'Brien. He had remained quiet throughout the 80-minute discussion. Then he said: "The city of Flagler Beach has an ordinance that has golf carts peacefully coexist within their community. It's not a gated community. I don't know why we can't use that as a model to try to get this thing done."