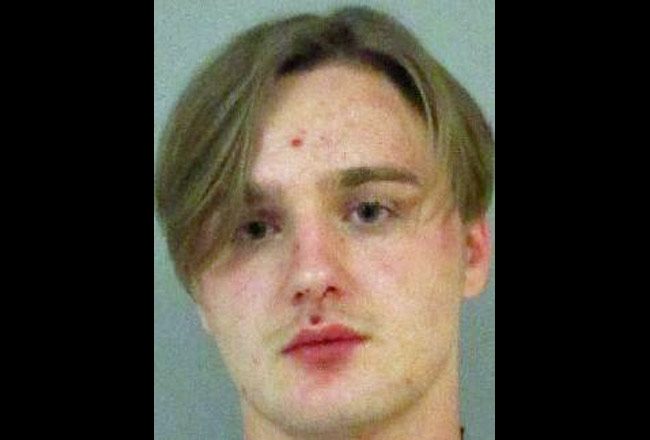 Girl Scout cookies are a nearly $800 million a year business, selling 194 million boxes in 2015 alone. Around this time of year hundreds of the iconic boxes are sold outside Palm Coast's big box stores by local Girl Scout troupes and their chaperones. One such stand was set up outside of Walmart off Cypress Point Parkway in Palm Coast Saturday evening.
But a dispute between two young passers-by and sellers of the cookies allegedly over an old $20 debt turned ugly, loud then violent, boxes of Thin Mints, Samoas and Trefoils were thrown, so were punches, a man who'd had open-heart surgeries just a few days before was hospitalized with injuries, a woman and a young boy were struck (the boy was hospitalized), and the two alleged assailants were arrested and charged with counts of battery and disorderly conduct.
The confrontation began when Daniel Kennedy, an 18-year-old resident of Pinetree Lane in Palm Coast, and his 16-year-old brother, approached the cookie stand, which was handled by one member of the Ketchum family—parent Lisa Ketchum, 47–and others, including two girl scouts. Ketchum's husband, Thomas, 49, and their 15-year-old son, happened to be shopping inside Walmart just then. Thomas had had open-heart surgery the previous Wednesday.
According to the Flagler County Sheriff's arrest and incident reports, based on statements by those at the scene and surveillance video, Erin Kennedy, the mother of Daniel and the younger boy, along with her sons, "confronted the Girl Scout leaders over money that was possibly stolen or loaned several months prior by one of the other Girl Scouts," a report states. As Lisa Ketchum explained it, the family told her that "one of the Girl Scouts owed their sister $20 from a previous incident involving their respective daughters, who were acquaintances."
The debt, dating back to October, had nothing to do with the Girl Scouts or with cookies. The money was privately borrowed.
Erin Kennedy told them she was suffering financially and was owed $20. The "ladies at the table" told her they could not give her $20, as it did not involve Girl Scout business. So she and her sons asked for the equivalent in cookies. They were told that couldn't be done, either. At that point, Daniel, according to a report, began balling his fist and punching his palm intimidatingly as he faced Lisa and others at the booth, then he and his brother allegedly attacked the cookie booth, "destroying" it. About that time Lisa's husband Thomas walked out of Walmart, noticed the commotion, then tried to stop the Kennedy boys from leaving before deputies arrived, only to be allegedly attacked and struck by both of them. Daniel was reportedly furious that the cops were being called.
The Ketchums' 15-year-old son was also attacked and pushed against the concrete wall, so was Lisa, who was reportedly struck in the head and face.
The Kennedys' mother had a recollection of the incident different from all those by witnesses. She claimed her sons did become agitated and knock boxes off the table, but that they were calm and apologized, and picked up the boxes. Video surveillance shows no such evidence of contrition, deputies noted, though a witness at the scene said there was at least some attempt to pick up boxes, but some of the boxes had already been damaged. Boxes cost roughly $4.
In the surveillance footage, the deputy reports, "you can slightly make out the flailing arm movements of one of the males knocking the cookies off of the table and then immediately the incident escalates and numerous people run to the location of the Girl Scouts to aid in their defense from the males. There is no portion of the video that shows any de-escalation by the males during the altercation."
The younger Kennedy said he knocked boxes off the table and walked away, then returned to the scene when he saw his brother in the altercation, so he joined the confrontation. He said Thomas Ketchum struck him. "Ketchum Sr grabbed the grocery cart belonging to the Kennedy family in an attempt to keep them on scene," a report states, "and his actions of grabbing the cart enraged Daniel [and his younger brother] thus starting the physical altercation. No information obtained indicated Ketchum Sr physically touched either male prior to him being struck by the males numerous times."
Angela Bull-Winternheimer, a 49-year-old resident of Palm Coast's R-Section, was selling cookies with the Ketchums when the incident occurred, and reported that initially, when the Kennedys were told they could not take cookie boxes, the Kennedys did so and put them in their shopping cart, then knocked all the cookie boxes off the table—and knocked over the table as well. She corroborated accounts of the Kennedys striking every member of the Ketchum family.
"It was very scary," she said in a subsequent interview, noting that a Walmart loss-prevention employee and people driving by came to help right away, some of them stopping their cars in front of the store to jump out.
Both younger and older Ketchum males were hospitalized. The younger suffered a contusion and abrasion on the left side of his head and was to be under observation for a concussion. "Ketchum Sr. did not suffer any injuries to his area of open heart surgery during this incident but it did have to be re bandaged by medical Personnel," the report states.
"The scene itself was mass chaos with a table flipped over, multiple boxes of Girl Scout cookies strewn all over the sidewalk and multiple frantic patrons," the report found.
Daniel Kennedy declined to give statements. He was charged with three counts of battery and a count of disorderly conduct. His younger brother was also charged but remanded to his mother's custody with a March 10 court date. Daniel Kennedy was released on $1,500 bail.