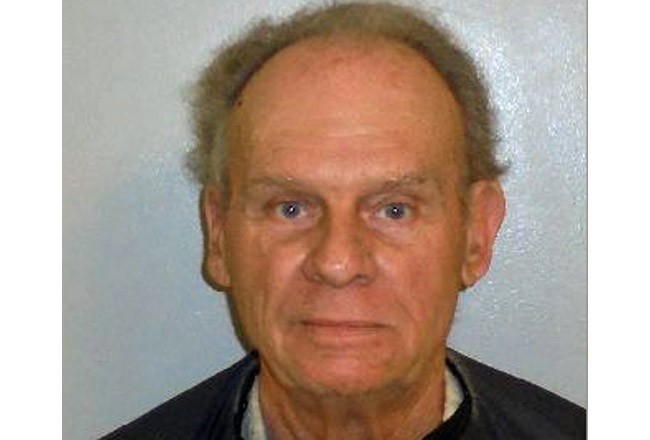 Last Updated: 5:29 p.m.
Last week (on Dec. 8) David Gilmore was arrested on a charge of aggravated assault after his neighbor accused Gilmore of pointing a long gun in the direction of her property and at a minor girl on the property. A spent shell was also recovered on Gilmore's property when he was arrested. The neighbor runs Second Chance Rescue., the animal refuge, and there'd been an ongoing conflict with Gilmore over time.
Gilmore quickly posted bail on $5,000 bond and was released, with his felony arraignment set for Feb. 1 before a circuit judge.
Three days after the arrest, however–the night of Friday, Dec. 11–Gilmore apparently tried to shoot himself with a .22-caliber gun in his yard.
Flagler County Sheriff's deputies were called to his property at 152 Bimini Lane in Bunnell just after 10 p.m. "I arrived on scene and saw what appeared to be a man laying down in the yard on the left side of the home," a deputy wrote in an incident report. He was laying on his right side with his head facing the road. I approached the man from the street and took cover behind a boat in the yard and observed the man for a minute and did not see any movement. There was visible blood soaked at the top of his shirt. I approached the man and called out to him with no movement or reply. I then noticed a gun in his right hand and saw the man move. I directed the man to move the weapon from his hand and he did."
The deputy secured the Lorcin handgun and observed a gunshot wound to Gilmore's head. "I spoke with David and advised him that I was there to help him. David told me that he did not want my help and he wanted to die," the deputy reported. Rescue 71 arrived at the scene and provided first aid, and Gilmore was later air-lifted to Halifax hospital in Daytona Beach. No shell casing was recovered at the scene.
Gilmore's 74-year-old wife was at the house at the time of the incident and required some attention from paramedics as she complained of chest pains, but declined further medical attention. According to a supplemental deputy's report, she said she heard four gunshots. She had been in the house at the time, she said, and had heard Gilmore walk out of the front door.
She told deputies her husband suffers from Huntington's disease, that he had recently found out he had cancer, and had been overwhelmed by his arrest days earlier. He'd been making statements all day about "ending it all," according to the incident report.
She said she believed her husband "surrendered all of his firearms," and could not explain where he had hid the gun he used to shoot himself, a gun she said she recognized.
"It appears David attempted to shoot himself a second time but the round did not fire," the deputy's supplemental report states.