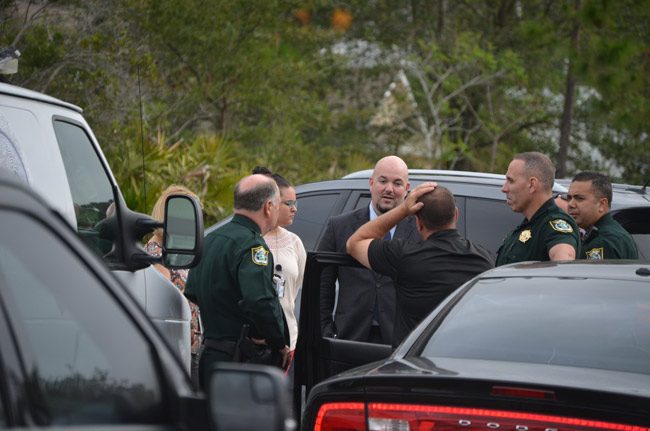 When Tristan George and Michael McRoberts shot each other outside George's house at 28 Seamanship Trail in Palm Coast in mid-November, authorities initially saw the telltale signs of shootings at drug deals gone wrong. Members of George's household called 911. McRoberts, who had fled the area, did not, but was dropped off by a woman at Florida Hospital Flagler.
Neither cooperated much with the Flagler County Sheriff's Office: McRoberts, who has a history with the sheriff's office, at first gave a false name, possibly to deflect authorities from finding out that he was on probation (a tactic that never works). He was booked at the jail, released, and booked again. George was never booked.
Neither then or now faced charges relating to the shooting on Seamanship Trail, though the sheriff considers them both suspects and victims in that shooting. But Thursday, George was picked up at Flagler Palm Coast High School and arrested on a statutory rape charge and a charge of contributing to the delinquency of a minor, after contents of his phone were analyzed and revealed what has turned into allegations not only of sex with minors, but of drug dealing.
He does not face drug charges, but the investigative report, obtained today, suggests that he allegedly sold marijuana and narcotics.
The arrest report states that George provided a sheriff's detective–George Hristakopoulos, in this case–with the password to his phone on Nov. 27, a little over two weeks after the phone was seized from Seamanship Trail. The phone had been turned over to the St. Johns County Sheriff's Office for data extrication.
Searching the contents, the detective reports locating multiple references of George having sex with the two underage girls–a 14 year old and a 13 year old–, including two undated video clips where George and one of the girls "apparently just engaged in sexual activity," the report states. In one of the clips, the girl says that her vagina hurts. In the other, George "boasts that his 'dick' is the best," doing so in the presence of the girl.
An interview with the 13-year-old girl was arranged with the Child Protection Team on Jan. 11, where the girl who did cooperate disclosed that George was her ex-boyfriend and described him as a drug dealer. She knew that before before dating him she said she'd bought pot from him. She'd met him when she was 12, around the time of Hurricane Irma last September, face-timing him often. He claimed to her that he was 16. She told authorities she did not realize he was 18 until she herself was "removed" by law enforcement from George's house on Oct. 7. (George has a cherubic face that could easily pass for that of a mid-adolescent.)
The last day they had intercourse was the day she was removed from the house. She said George would provide her marijuana daily, four to six times a day, and would often bring her along when he conducted narcotics sales, she told the protection team interviewer. On two occasions, he allegedly provided her with narcotic mixtures.
For her part, she told George she was 15. He started picking her up from school and one day gave her "acid." That was the day they went to Orlando (last Sept. 23) and, when back at the Seamanship Trail house, had sex. She said she believed they both lost their virginity to each other. That may have been the case only judging from a text George sent the 14-year-old on Nov. 1, telling her he wishes she had been his first instead of the 13-year-old, and claiming that "I literally cut this girl off to be with you," this girl being the 13 year old.
George's exchanges with the 14 year old were recovered from his phone, where there appears to be little doubt about the girl's age or George's in both their eyes.
He tells the 14 year old, according to a Nov. 1 text: "He can never put me in jail tho unless you said I did stuff to u." She tells him a day later: "you can go to jail if ur caught with me."
That, of course, was after the shooting on Seamanship Trail.
By then George's mother has texted him that all he cares about is selling pot and having sex. She then texts him repeatedly that he should stop sleeping with little girls, or "stop going for young people."
On Nov. 7, the 14 year old tells him in a text "i have to stop seeing you."
But there's no direct indication from the evidence so far that there was a sexual relationship between George and the 14 year old, other than allusions ("age should not matter if you love someone," George tells her in a text).
The 14 year old was also interviewed by the Child Protection Team on Jan. 11. But at no point does the girl speak of a sexual relationship. She tells a case coordinator that "it would be illegal," so she claims to have kept her relationship in a "best friend" situation. George, she concedes, visited her at her house all the time, took her to school, and walks her to class in order to "protect" her. She said she used to hang out at his house on Seminole Woods, but since he moved out of county–his address on his latest booking has not changed from Seamanship Trail–she no longer goes there. She said he used to smoke pot until he was shot, and denied having any sexual interaction with him: she never would, she said, until marriage.
Hristakopoulos, who's investigated numerous cases involving adults in sexual relationships with children, did not give credence to the denials. "The information gathered from Tristan George's cellular phone (as well as information received from [the 13-year-old girl] directly contradicts [the 14 year old's] claims that she never had a boyfriend/girlfriend type relationship with Tristan George."
One of the items Hristakopoulos saw in the phone was an undated video of the 14 year old talking to the 13 year old on a speaker phone about both relationships with George: the older girl "references how much Tristan George loves her" and "brags" that she stole the younger girl's boyfriend. But even there, there's no direct admission to sex: if anything, the evidence submitted reveals a lack of a case involving the older girl, who, a sheriff's spokesperson said on Thursday, did not wish to cooperate with law enforcement.
But the evidence involving the younger girl may make that cooperation unnecessary, the second-degree felony charge against George relating to the younger girl being severe enough.
George was picked up at Flagler Palm Coast High School Thursday afternoon, interrogated at the Sheriff's Office after his arrest, and booked at the jail at 6:45 p.m., where he remains on $40,000 bond.