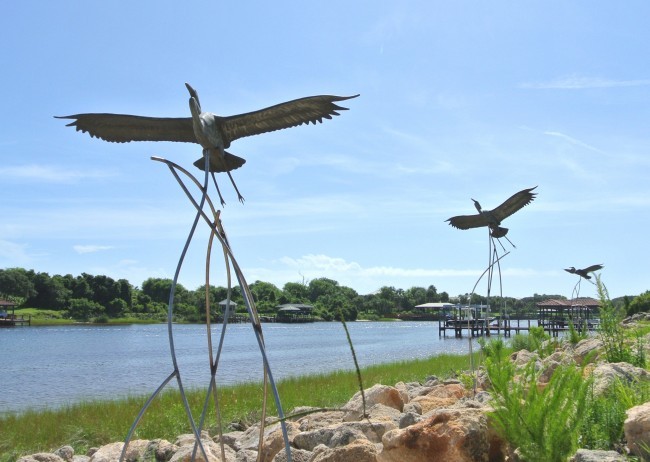 For several years, Palm Coast artist Tom Gargiulo, Arlene Volpe and their foundation have been single-handedly giving public art its rightful pedestal in the city and in Flagler County.
Gargiulo started by convincing Daytona State College–when it was still Daytona Beach Community College–to permanently exhibit art works at its Palm Coast campus. He got a few local businesses to do the same (though infamously and sadly the Flagler Chamber of Commerce, under its previous president, declined to do so.)  He convinced the city to install the now-iconic "Panther," by Hammock artist Paul Baliker, at the east entrance to Palm Coast, off the Hammock Dunes Bridge. His bicycle-art and poetry shows at Hollingsworth-Salvo Art Gallery, and now at the Flagler County Art League, left behind such installations as the twin cyclists at City Market Place.
And most ambitiously of all, the foundation has been behind the continuously soaring installation of great blue heron sculptures in the "Flight of Life" series, on stainless steel pedestals, along the water's edge near the Waterfront Park pier. Six such sculptures have been installed since 2013. Two more are joining the flock at a July 25 dedication at 8:30 a.m. at Waterfront Park.
This Saturday (July 18), the Gargiulo Art Foundation is also sponsoring a panel discussion featuring Gargiulo and two other local artists the foundation invited to create new art inspired by pieces currently exhibited in public places around Palm Coast. Rachel Schiff and Skip Westphal will join Gargiulo from 1 to 2 p.m. at the Flagler County Art League Gallery at City Marketplace in Palm Coast to explain their creative process and how they tapped into their own creativity to produce new artworks inspired by public art in the city.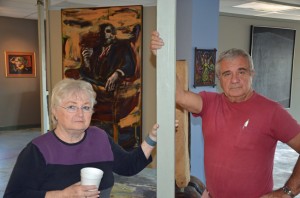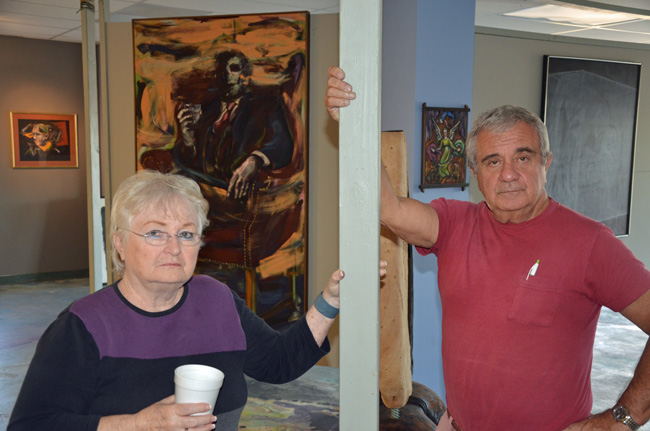 The panel discussion will be preceded by a mingling with the artists at 12:30 p.m. The event is open to the public. The Gargiulo Art Foundation, sponsors of the Art in Public Places project, presented the work of all the participating artists at the Palm Coast Art & Poetry show, now on exhibit at the Flagler County Art League Gallery. They are now following up the exhibit with a Panel Discussion by the artists on their creative process.
Schiff is a contemporary, experimental artist, working in many different media. She is the owner and curator of the I AM ART/Rachel & Friends Gallery & Working Studio in the Hammock, and has been featured in other galleries in the area. Her gallery features jewelry, glass, sculpture, paintings, wearable art, and mixed media works by local artists. Skip Westphal's photography specializes in digital imagery. He serves as the Flagler County Art League's vice president of administration and treasurer and helps curating and hanging the league's monthly shows.
At Waterfront Park, the dedications of the two new sculptures will be framed by a few remarks by Palm Coast Mayor Jon Netts, Gargiulo and sculptor Anthony Gargiulo, with Gargiulo Art Foundation Vice President Frank Gargiulo dedicating one of the sculptures to the 16 soldiers killed and 25 seriously wounded in a cold war-era artillery accident in Grafenwoehr, Germany. The soldiers were Army comrades of Frank Gargiulo, who escaped the same fate by mere moments. Created by sculptor Anthony Gargiulo, the casting of the bronze birds was done at the GeFest Arts Foundry in Bunnell, by Vadim Volnov.
Tom Gargiulo and Arlene Volpe will install the other new sculpture. That piece will be memorialized in 2016 to past community members who founded, supported or helped improve Flagler County's art and culture that the community enjoys today. The Foundation is seeking sponsors for that initiative.
"Our goal is to bring life-enriching art to our public spaces, and the City of Palm Coast thanks the Gargiulo Art Foundation for all it does to promote this objective," Bill Butler, Palm Coast's landscape architect, said in a city release. "Our residents and visitors love these magnificent pieces at Waterfront Park, and these two new Flight of Life sculptures are sure to be enjoyed by many people."
The dedication at Waterfront Park coincides with Palm Coast's annual Tour de Palm Coast bicycle ride, which will make a stop at Waterfront, as it always has, as part of the dedication. (Both events are part of Palm Coast's month-long celebration of national Park and Recreation Month.)
The tour begins at 8 a.m. at Linear Park, 31 Greenway Court (off Colbert Lane). Led by Butler, bicyclists will take a leisurely, interpretive ride about 6 miles on scenic trails, stopping at certain points, among them the "Flight of Life" interlude. The ride is recommended for ages 8 and older (riding own bikes). Bring water and wear helmets; refreshments will be provided. The Tour de Palm Coast is free, and registration is not required. The ride will return to Linear Park by 10 a.m.