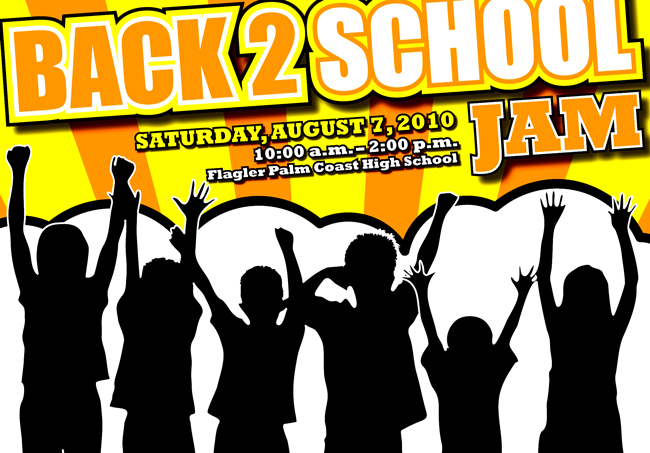 If you're among the thousands of parents in Flagler County who have it much harder this year than in previous year and need help with school supplies, this jam's for you:Free school supplies, free backpacks, free immunization shots, and for those children willing to get shot, free bicycle helmets, too.
The Back to School Jam will be held this coming Saturday, Aug. 7, from 10 a.m. to 2 p.m. in the parking lot and gym of Flagler Palm Coast High School. Children will also get to play games while parents register them for school, find out about community organizations, and take advantage of vision screenings.
For those who can't make it out there on their own, the school district will provide transportation. To secure transportation, call Patti Marchani at 386/437-7526. But all students must be with an adult if they're getting transportation.
Supplies are limited, but some 2,600 backpacks and plenty to fill them will be available for the taking. School supplies filling those backpacks include paper, pencils, glue and other basics. Supplies and the jam are made possible by the school district, the Flagler County Education Foundation, Walmart and a few other local sponsors.
The Flagler County Health Department has many back to school shot clinics  for school age children, starting at the Back to School Jam.  Shots are free to all children.
The events will provide numerous opportunities for parents to have their children receive the required immunizations and documentation necessary to register for school. Parents will need to bring their children's immunization card and insurance card with them. If you don't have an insurance card, bring your children anyway: they can still get shots without a card.
The kick-off event is the Saturday Back to School Jam on August 7th from 10:00 am – 2:00 pm at Flagler Palm Coast High School. Remember: free bike helmets will be given to shot recipients while supplies last.
Back to School shot hours at the Flagler County Health Department start on August 9 and run through Aug.  20, 2010,  Monday through Friday, from 8 a.m. to 10: 30 a.m. and again from 1 to 3:30 p.m. on a walk-in basis (which means no appointments are necessary). You may get shots by appointment by calling  386-437-7350, ext. 2219. Note: During times of high patient volume, clinic may stop accepting patients earlier than the posted clinic closing time.
The 7th Grade Fast Track hours are 12:30-1 p.m. on a walk-in basis. A 7th grade shot clinic is being held Thursday, August 12, 2010 at Indian Trails Middle School from 3 to 6 p.m. For appointments, call Gaetana Carroll at 386-437-7350 ext. 2219. For additional information visit the health department's website by clicking here.