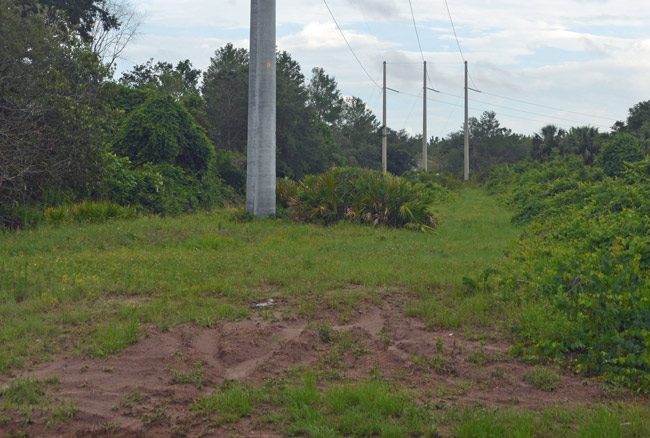 A divided Palm Coast City Council voted 3-2 to reject building a temporary foot and bike path along Old Kings Road in the F-Section, reaffirming an earlier decision to go ahead with paving a nearby $180,000 path along a Florida Power and Light easement, under powerlines, but along the backyards of scores of homes.
The council's two-hour debate on the issue follows a week of renewed controversy over a path F-Section residents had successfully prevented almost 10 years ago, when it was partially built. Council members Steve Nobile and Heidi Shipley favored shifting money and construction to building a temporary path along Old Kings Road even if it is to be demolished in a few years, when the road may be widened.
That approach would have cost between $338,000 and $562,000, according to the city administration, and would have required the city abandoning its development plans of a path along Sesame Boulevard in Seminole Woods to develop plans for the temporary path along Old Kings Road. So other council members said that absent an immediate and relatively inexpensive option that does not jeopardize the Sesame path, they wanted to stick with the FPL option.
"It just feels like we're just waiting for more numbers, more this," Shipley said. "This is an emergency situation kind of thing where we're saying, this is what we want to do, can we make it happen. I feel like you can make it happen, but you're still looking at the other option. But if that other option wasn't there, and Old Kings Road was the only option, could you make it happen?"
"We have very limited staff that can do design work in-house," Carl Cote, the city's construction manager, said, "so right now it's either stop working on the current design project, which is Sesame, and begin work on this project, which is an option."
"If you want to take all the resources off of Sesame and put it onto this, we aren't making that decision, but you can make that decision," City Manager Jim Landon said, putting the issue in stark terms and essentially pitting Sesame Boulevard against Old Kings Road.
"I don't want to make that decision, I would rather find another way," Shipley said.
The turning point was a closing-argument like analysis of the issue by council member Bob Cuff, an attorney by trade, who explained why he would not support moving away from the FPL path.
"Certainly if there's an option that we haven't already thought of, I'd like to see that explored, but I'd like to see it done quickly," Cuff said. "My biggest concerns about extending the Old Kings Road path are the time that it will continue to expose not just the students but also the rest of the public that rides their bikes and walks, to not having a safe path to walk on. The cost is secondary in my mind. But it's not inconsiderable, to the point that all of the sidewalk on Old Kings Road will be torn out during construction, yes, I understand that, but if we are successful and we vote for one of these options we've looked at today, we're basically spending somewhere between $338,000 and $562,000, plus lights on Old Kings Road, if we're adding lights to the FPL continuous lighting program, and all of that will be torn out hopefully sooner rather than later.
"Granted, the rest of it that's there is already going to be torn out, but that's a sunk cost. It's not money we're voting to spend today. That's the disadvantage to the Old Kings Road path. I agree that in the ideal world if we could build it in six months, fine, we spend the money and we realize it's just money we have to spend for public safety. But when we have an alternative, which is the FPL path, I think we need to give that serious consideration. Not because it's cheaper, because in the long run—and I agree we need some type of lighting in there, I hope it's not going to be $400,000, I don't think I'd support that—but I do think we need lighting and maybe some other safety features," like cameras. But given that all students carry phones, "maybe we could do without some elaborate security system. But I appreciate the objections of the people that live along the path." They just weren't convincing to override the students' need for a path, in Cuff's view.
"What it boils down to is, not in my backyard," Cuff said. "Where I come down on this is, unless we can come up with a much quicker, much cheaper alternative that would allow us to put the path up Old Kings Road, I can see no reason not to pursue the FPL path and complete that."
"We want to make sure that we're providing safety to our residents, but in particular our school students," Mayor Milissa said.
When Nobile moved to reconsider the FPL path and give the administration time to come up with more alternatives by July, "because there's a lot of costs her we're not seeing, a lot of options," he said—a motion that appeared to hew closely to even Cuff's interest in options—the motion failed, 3-2. It was somewhat of a surprise to the extent that even Cuff and Holland had spoken favorably about looking at all options before making a decision, as long as it was done relatively soon, a speed the Nobile motion also stressed. The motion would not have even eliminated the potential paving of the FPL path.
Even as it failed, City Manager Jim Landon stepped in to offer a possible alternative: he cannot afford to lose more support from a council less enthused with him than he's used to, and he bore a good deal of responsibility for the FPL footpath controversy, if only by failing to prepare the council for it, or anticipating it for having gone through a similar controversy in 2008. He may have been trying to make up for the missteps as he said he would still explore other options to try to answer the concerns for an Old Kings Road path: "If I could offer to still take a look at options for temporary path along Old Kings Road to try to address the safety issues," Landon said, "unrelated to getting to school or anything but just the safety issues along Old Kings Road that comes out of this, and see if we can put together a project and plug it into the capital improvement program and present that to you end of July. Trying to address both issues as well."
Some 14 people had addressed the council on the issue, most of them opposed to the FPL path, many of them contradicting the city manager's claim that students are already using the FPL path.
Nobile, for his part, did not buy the argument that a temporary path would be lost money anymore than widening Old Kings Road would be lost money. "It's all temporary. It's all coming out," Nobile had said of Old Kings Road, which is to be widened eventually at a cost of between $25 million to $30 million. But that date is uncertain. The addition of lights to the FPL path will significantly increase the cost, and create light pollution for neighbors, he said. That cost is still unclear, though it will now be part of the footpath project.
The vote left him perplexed. "We don't have the full information," he said, despite the vote. Council members' additional comments only added to the perplexity.
And Cuff, as it turned out, had been considering an additional motion when Holland asked if there was one–following the failed vote–just before Landon, inappropriately (as it is not his role) told the council there was no need for an additional motion. "I was considering a motion, even though one wasn't necessary to continue with the FPL path, but if staff can come back to us with alternatives that sound better before those dollars are spent and before that path goes in, I certainly for one would like to hear some of the other alternatives. Not to waffle on a decision that's already made because I think the previous motion that failed had a lot going for it. I'm just not ready to just keep delaying. So if the staff can do what the previous motion would have required them to do in that time period, I certainly have no problem discussing it at a workshop and proposing or approving something different."
"I thought that's what our motion was doing," Shipley said.