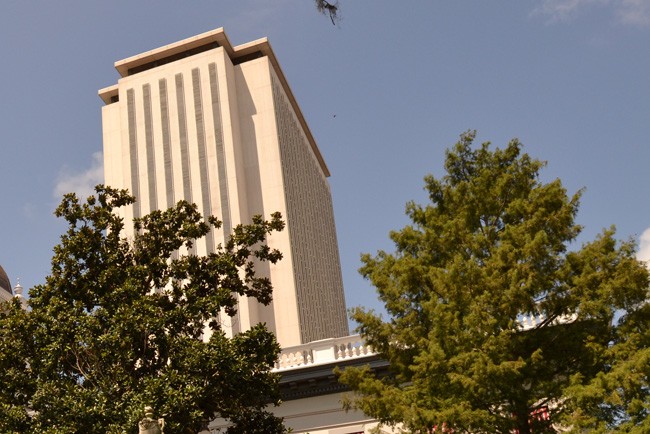 Senate leaders floated a revised plan Tuesday in an effort to break the logjam over extending health insurance to hundreds of thousands of Floridians, but the proposal was swiftly rejected by House leaders and Gov. Rick Scott.
Senate President Andy Gardiner and his lieutenants touted the proposal for a Florida Health Insurance Affordability Exchange, or FHIX, program as a compromise — but within hours, no one else seemed to be willing to take the deal the upper chamber was offering.
Under the new version of the proposal, the Senate would skip an interim period in which the state would put people in Medicaid managed-care plans, a change aimed at addressing House criticism that FHIX is simply an expansion of oft-criticized Medicaid. The interim period was originally designed to provide coverage while the state waited to hear whether the federal government would approve using Medicaid-expansion funding to help lower-income Floridians purchase private health insurance.
The FHIX plan, which includes a work requirement for recipients, would require the state to get a waiver from the U.S. Department of Health and Human Services. The new Senate bill would also require any "significant changes" made to the waiver by federal officials to be approved by the Legislature before the plan takes effect.
The Senate made the proposal just days before Monday's scheduled start of a special session to reach a budget agreement that eluded lawmakers during the spring regular session.
"There's no agreement on any of this," Gardiner, R-Orlando, conceded to reporters in a meeting Tuesday. "I think what we're just trying to show here in the Senate is that we're willing to have an open mind and put forward different ideas and suggestions, and then we'll see what happens next week."
Gardiner and his supporters have pitched FHIX as a way to make hospitals whole in light of the federal government's decision to reduce a program known as the Low Income Pool from $2.2 billion this year to $1 billion in the next budget year, which begins July 1. The so-called "LIP" program sends money to hospitals and other medical providers that care for large numbers of low-income patients.
But Scott and House Republicans have repeatedly said they have no interest in using Medicaid expansion funds that come from the federal Affordable Care Act, commonly known as "Obamacare."
"A budget that keeps Florida's economy growing will cut taxes and give Floridians back more of the money they earn, not inevitably raise taxes in order to implement Obamacare and grow government," Scott said in a statement issued by his office.
House Speaker Steve Crisafulli, R-Merritt Island, also slammed the proposal. He reiterated a common House talking point: The work requirements that are part of the Senate plan and give it a more conservative sheen are unlikely to be approved by federal officials.
"When you remove the Senate's 'conservative guardrails' that the Obama administration fundamentally opposes, all you are left with is a costly and inefficient entitlement program to serve able-bodied working age adults with no children," Crisafulli said.
"I would say, let's find out," Gardiner said earlier, anticipating the criticism.
Meanwhile, the Scott administration seemed to offer its own solution to the plan, picking up on space provided by the federal Centers for Medicare & Medicaid Services, which is part of the Department of Health and Human Services.
In a letter last week saying the state could expect $1 billion in LIP funding, federal officials suggested the state could also use leftover local dollars that have flowed into the program as matching funds to draw down other Medicaid money. Those dollars would not be a part of LIP, but could help close the shortfall.
"Thank you again for all of your assistance and work to keep Florida's Medicaid program whole," wrote Justin Senior, the state's Medicaid director. "Your guidance has been essential to ensuring that there is no major fiscal impact to Florida health-care providers who support the needs of low-income families in our state."
Gardiner, though, said in a statement issued by his office that that approach would be "shortsighted," in part because LIP is scheduled to fall again in the 2016-17 budget year.
Earlier, meeting with reporters, Gardiner said he was optimistic that the Legislature would fulfill its one constitutionally required duty of passing a budget. Asked whether he would allow a spending plan to go through even if FHIX failed, Gardiner responded: "I think we fully intend to pass a budget."
–Brandon Larrabee, News Service of Florida