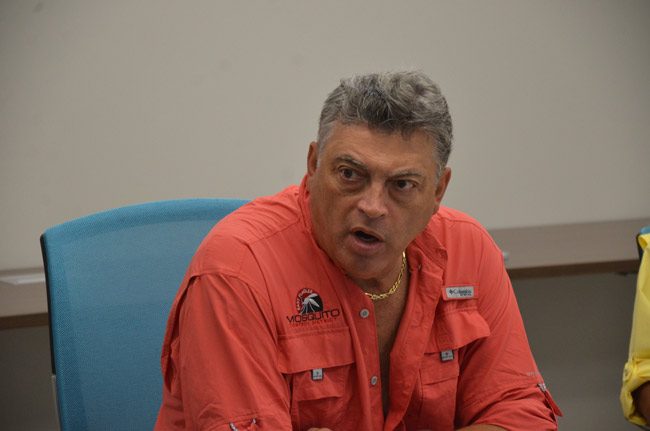 Note: To file a complaint about a health care practitioner with the Department of Health, go here.
Update: Dr. Florence Fruehan on Aug. 20 signed an agreement to voluntarily surrender his license and stop practicing medicine. See the story here.

The Florida Department of Health has imposed an Emergency Restriction Order on long-time physician Florence R. Fruehan of Palm Coast Urgent Care following an allegation that he groped a woman at his office on Pine Cone Drive in late May.
Fruehan is also an an elected member of the East Flagler Mosquito Control District. He was elected in 2016.
The restriction order, issued June 29, prohibits Fruehan "from treating and interacting with female patients without a healthcare professional holding a clear and active license with the Florida Department of Health physically present at all times when Dr. Fruehan is interacting with female patients."
Emergency suspension or restriction orders are not considered final agency action.
"If the department, after prosecutors have reviewed a complaint, believes that a practitioner poses an immediate serious danger to the welfare of public health," Brad Dalton, the deputy press secretary of the state health department, said in an email today, "the Surgeon General has the authority to immediately suspend or restrict the practitioner's license until the prosecution has been completed, subject to appellate rights of the licensee. "
Restrictions or suspensions are imposed "for serious violations relating to the commission of crimes, standard of care, or drug use, as well as for student loan defaults," Dalton wrote.
Fruehan's was one of 28 health care practitioners in the state who received a license suspension or restriction in June. The department has 20 days from the date of the order to initiate disciplinary proceedings "by presenting complaints to the probable cause panel for determination of whether to issue an administrative complaint against the licensee," Dalton said.
Those subject to suspensions or restrictions are entitled to a hearing before a regulatory board or the health department take final action. That's pending in Fruehan's case. Friehan himself is disputing the allegation.
"I have a good business here, I'm an asset to the community, I've been taking care of patients for a long time, people have grown up with me," Fruehan said in a phone interview today, shortly after intimating he would sue if this story were published.  "AlI I can tell you is, she made allegations, and I have an emergency restriction on my license. They have to do that, do you understand that? As soon as someone makes a claim like that they have to do that, the investigation is ongoing."
Fruehan will have a formal hearing in front of an Administrative Law Judge at the Division of Administrative Hearings. The case has not yet been referred for a hearing. "Both sides are preparing their cases and the department will continue to attempt to move toward a settlement agreement during this time," Dalton said.
The alleged incident took place on May 24. It involves a 54-year-old Palm Coast woman, a patient of Fruehan's at Palm Coast Urgent Care. That day she'd gotten off work around 2 p.m. and gone to Urgent Care to refill a prescription for a narcotic that controls seizures. A female certified nurse assistant took her through the usual routines of measuring weight, temperature, blood pressure and so on. The patient then waited a short time and was escorted to an exam room, where Fruehan came in. They spoke briefly, according to the alleged victim's written statement to the Flagler County Sheriff's Office and a phone interview with state health department investigator. Fruehan then wrote her the six-month prescription before both walked back toward the front desk.
The Flagler County Sheriff's Office issued the following release on Aug. 3:
---
The Flagler County Sheriff's Office (FCSO) is actively investigating several claims against Palm Coast Urgent Care physician Florence R. Fruehan alleging that he was inappropriate with patients. FCSO is partnering with the Florida Department of Health who have, as a result of this investigation, imposed an Emergency Restriction Order against Fruehan effective immediately.

This Restriction Order will prevent Fruehan from treating and/or interacting with female patients without the accompaniment of a healthcare professional who is currently in possession of a clear and active license with the Florida Department of Health.

Fruehan had one prior run in with law enforcement in 2006 for sexual battery when a patient had alleged that he had examined her inappropriately but the charges were ultimately dropped.

"This is a nightmare for any patient and the allegations are very serious," Sheriff Rick Staly said. "The Flagler County Sheriff's Office is actively investigating the allegations against Dr. Fruehan."

FCSO asks that anyone else who was a patient of Dr. Fruehan and feels that they had an inappropriate experience to contact us immediately to file a formal complaint at 386-313-4911.
On the way, he asked her where she worked and how long she'd been married. "I was caught off guard with this question, but answered it," the woman wrote. She told him she was a widow. He then asked if she'd had a mammogram. She asked him if he could recommend a good OB/GYN. "Then he asked me to follow him into the room that was right next to the front desk," the woman wrote. "I thought we were entering his office. Instead we were entering into what I saw was an examination room. I didn't have a chance to leave this room.
"It was in this room that Dr. Fruehan grabbed both of my breasts through my work shirt and bra and kneaded both of my breasts. When he let go of my breasts, he told me, 'I'm sorry your husband died' and then he walked out of the room. I was left alone and was in total shock by what had just happened. I NEVER gave Dr. Fruehan any type of 'permission' or 'OK' to touch my breasts, or any other part of my body. After this occurred, I walked out to my car and broke down into tears."
The woman reported the incident to the Sheriff's Office the next day, speaking with Sgt. John Bray. He wrote a brief, eight-line incident report, saying he provided the alleged victim "with a written statement form and asked that she go home to collect her thoughts as she was apparently still very shaken and write or type out what had occurred and she could call to have a deputy come swear her to her statement or bring it back to me on Tuesday May 29th, 2018, to which she did." The incident report does not reflect that Fruehan was interviewed even though the report was categorized as an "Assault/Battery."
The alleged victim also lodged a complaint with the Florida Department of Health, whose investigator interviewed her on June 5. That investigative report closely aligns with the woman's written statement to the Sheriff's Office, but the woman also noted: "I did not tell anyone in the office what had happened, because I was in total shock." She had been Fruehan's patient for two years and had never had an issue. She told the state investigator she'd not heard back from the Sheriff's Office, but had been told it would be a few weeks before she would.
In fact, the Sheriff's case report, with a "disposition date" of May 29, stated: "Not enough evidence to pursue," pointing to a closed case. But the Sheriff's Chief Mark Strobridge said today that according to the department';s investigative division, the case was still active.
There was a subsequent interview between the Department of Health investigator and the alleged victim two days later, when the woman revealed that she'd gotten a call from Walgreens, the pharmacy where she had dropped off the prescription signed by Fruehan. "The pharmacy told me that he (Fruehan) had called them and withdrew the six month prescription and replaced it with a one month prescription," she told the investigator. "This is in retaliation for me filing a complaint against him." She added: "I am in the process of locating another physician anyway."
Fruehan claimed the woman "came back to be seen again" in his office after a month. (The alleged victim did not answer her phone when contacted today to verify Freuhan's claim.) 
"We feel that this is a frivolous case, that it's unjustified, and that's what the skinny is right now, it's being investigated," Fruehan said, interspersing his comments with more veiled threats to sue and later twice emailing similar threats: "hope your warchest is well funded."
During the interview, he'd concluded: "There's a good chance that this is going to go away and there's circumstances that are involved that is going to exonerate me."
The state's order put it differently: "Dr. Fruehan violated the trust that [the patient] placed in him by committing an egregious act of sexual misconduct," the order states, noting that the alleged victim was seeking a medication refill, a situation "that all of Dr. Fruehan's female patients will likely encounter during their course of treatment." The order stated there are "no less restrictive means" than the ordered prohibition on Fruehan seeing female patients alone to "adequately protect the public."
The order goes on: "Dr. Fruehan's conduct was so brazen and with such a wanton disregard for the laws and rules regulating the practice of osteopathic medicine, that any female patient that presents to Dr. Fruehan for any purpose is in danger of harm within the confines of the examination room. Dr. Fruehan's conduct is of a nature that is likely to continue as long as he continues to treat female patients without supervision."
The Flagler County courthouse records indicate that Fruehan was the subject of two arrests for misdemeanor battery–on June 23, 1995, and  on Jan. 16, 1996. The charges were dropped, and no details on the cases remain other than the records of the arrests and their dispositions. "This is all that remains within the Clerk's Office due to the case files meeting their retention and being destroyed," a Deputy Clerk Andrew Moss said.
Fruehan also faced a sexual battery complaint in March 2006, when a patient alleged he had examined her inappropriately–with her husband and a nurse in the room–when she had sought help with a urinary problem. The charge was dropped.
Fruehan has been licensed in Florida since 1987 and has privileges at Florida Hospital Ormond and Florida Hospital Flagler, according to state health department records.

Florida Health Department's Order of Emergency Restriction on Dr. Florence Fruehan
Click to access fruehan-order-doh.pdf
OP/08042018-1755