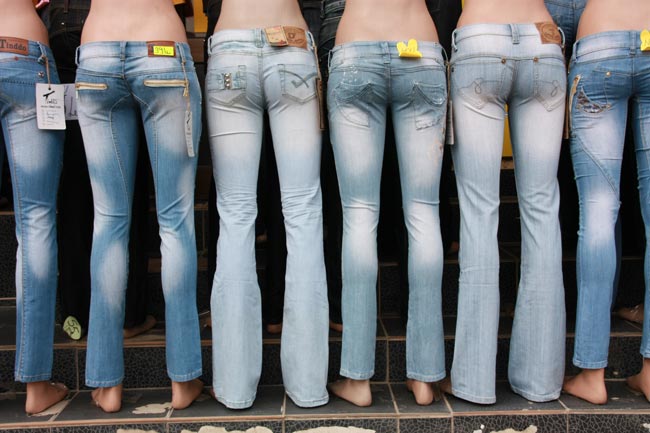 Last Updated: 2:37 p.m.
Relax, Flagler County public school students. You're not getting a uniform policy next fall. You're getting a slightly more controlled dress code. The biggest difference for most will be t-shirts: most are out, though on designated "Spirit Days" school t-shirts are OK. Collared shirts are in. And you'll be limited in choice of colors to about four. (See the full proposed policy here.)
And in a series of victories for students, and for many principals, there will be no requirement that students tuck in their shirts, a perennial headache with dress codes. The proposed policy reads: "It's recommended shirts be tucked in. Cleavage must be covered." Another victory: flip-flops are allowed for high school students, though not footwear with wheels. In essence, only footwear found unsafe in certain activities would be disallowed.
The Flagler County School Board met this morning in a workshop in Bunnell to work out the details of its new policy, which it calls a "uniform dress code." (The meeting began at 10 a.m. and was disbanding just before noon). The board isn't voting on the policy today. But it is expected to settle on the wording, and adopt the proposed policy for advertising at its meeting next week, with final adoption later this winter. Each school in Flagler will announce its two colors by next Tuesday's board meeting.
The board did not take on enforcement matters today. "Implementation is typically a staff issue," School Superintendent Valentine said. The student code of conduct will be refined to reflect that, though the board will have final approval.
Here are the basic outlines of the proposed policy, in so far as it affects students: Pants must be khaki, navy blue, or black slacks, or blue or black jeans. Bottoms may include walking shorts, skirts, skorts or jumpers bearing a small trademark logo. Pants must be plain-colored and have no holes, tatters or unfinished hems, and if pants have belt loops, a brown or black belt must be worn, but beyond the colors, the belt may be accessorized. Students in K-3 are exempt from wearing a belt.
Shirts must be collared–polo or Oxford shirts, with standard sleeves. In other words, no tank tops. Small trademark logos are also acceptable. Students may use district colors (actually, white) plus all shades of gray and two additional colors that would be chosen by each school. The white shirts may be an issue: School Board member Colleen Conklin suggested that white shirts would be problematic for girls, whose bras would show, for example.
The framework of the policy was drafted by Valentine and refined in a meeting last week between Valentine and all her principals.
Then came the discussion on the greatest headache for teachers and administrators regarding dress codes: the tucking-in requirement. Most students don't want to tuck in. Many are self-conscious of doing so, if they're fat, because it accentuates their weight. And schools with that requirements are notoriously incapable of enforcing it.
"I'm going to go with I don't think it's enforceable," Board Member Trevor Tucker said. In his visit to Osceola county, where a version of a uniform policy is in effect, Tucker recalled seeing hardly any shirts tucked in, and no enforcement.
"I don't think tucking in is a battle I want to fight with this," Board Member Andy Dance said.
Conklin proposed making the tucking in a suggestion or a recommendation. That approach won the argument, even though Sue Dickinson, the chairman of the school board, found the approach too permissive.
Outerwear such as zip-up sweatshirts or sweaters are acceptable. The original wording of the proposed policy imposed the same color limitations as with shirts, but no hoodies. Again, Tucker and Dance raised objections: Tucker worries that limiting colors on sweatshirts would result in financial hardships for some, if families would have to buy new sweaters or sweatshirts. Dance saw no issues with hoodies.
Both won those concessions: hoodies will be allowed as long as proper clothing is worn underneath, and gray will be an additional color for outerwear such as sweatshirts and sweaters. When it comes to footwear, students from kindergarten to 6th grade must wear enclosed shoes. Middle schoolers may add sandals with a back strap. High school students may add flip-flops.
Dance and Tucker voted against the imposition of a uniform policy when the board finally decided the matter earlier this month. But both board members stressed that, now that the decision was taken, they'd fully support it. Dickinson noted the collegiality. It wasn't just words: by throwing their support behind the policy they had opposed, the two board members positioned themselves in such a way that their voice would be amplified when it came time to actually write the policy. That's what's happening today: Tucker and Dance are influencing the refinement of the policy more than Fischer and Dickinson, knowing that Conklin, the swing voter earlier this month, is on their side regarding the more pragmatic implementations of the policy. Dickinson is making her points, but she's not setting her foot down, essentially displaying the same deference to her colleagues that they showed her in early January.
How well government boards work together can be difficult to define, since collegiality is often an abstraction, and boards love to pat themselves on the back on how well they work together. For the Flagler County School Board, however, the uniform issue has illustrated the panel's true pragmatism and collegiality in action: what is an inherently divisive issue has been managed with remarkable civility and, as today's meeting shows, effectiveness, every board member managing to have his or her fingerprints on the policy—with the ironic exception of Fischer: he has been the quietest of the board members when it's come to the details of the policy.
On the other hand, Ficher could have merely been sitting back, his main goal accomplished: the uniform policy is his idea. He initiated the discussion, he pushed the board toward a vote, and he got his policy. Now he's leaving the details to his colleagues.
One potential surprise: the board is divided over whether to continue enforcing the requirement that students wear their ID at all times. "There is nothing in data that is showing that it helps with school safety," Valentine said. One school already had changed the requirement, asking students only to carry the ID, not to display it. Only one school felt strongly that students should continue wearing the ID. The matter has become similar to tucked shirts: it's an enforcement headache. And principals recommended to Valentine not to include the requirement anymore.
The board didn't settle the issue. It will do so at its meeting next week, when Katrina Townsend, the district's student services director, will argue before the board that the ID should be worn at all times, and Winnie Oden, the principal at Buddy Taylor Middle School, will argue against the requirement. The board will then made a determination.
"If we end up with issues we can come back and revisit," Dance said about the proposed policy in general.

Before the meeting, board members huddled over a laptop for a look at this video, sent around the district by Flagler Palm Coast High School Principal Jacob Oliva last week:


Here is the latest wording of the proposed policy, as refined by the school board in a workshop on Jan. 25. Strike-outs and red additions reflect today's amendments to the policy as originally drafted by Valentine and her top administrative staff. A printable pdf of the proposal is available here.

Proposed UNIFORM DRESS CODE 2012-13
All staff members will enforce the dress code. The administration/designee will be the final judge about whether a student's clothing meets requirements of policy. We rely on the good taste and judgment of the students and the responsibility of the parents to advise their children of the appropriate dress in accordance with the Flagler Public School Dress Code Policy.
Specific Requirements:
Pants/Bottom Attire
Must be khaki, navy blue or black slacks, or

dark

blue

or black

denim.  May include pants, walking shorts, skirts, skorts, or jumpers. A small trademark logo is acceptable.
Pants

must be plain without

may not have

any holes, tears, tatters, or unfinished hems, and must be worn securely at the waist.
If pants have belt loops, a black or brown belt must be used. 

Students in grades K-3 are exempt

.
Shirts
Shirts

must be short or long

sleeve polo style, oxford style, or button-up dress shirt with a collar.  A small trademark logo is acceptable.
All schools may use the district colors of white

or grey

and choose up to two additional standard school colors.  Shirts must be solid color.
On designated school Spirit Days or special events, students may wear their school logo t-shirt, team jersey, or club shirt.
It is recommended shirts be tucked in.  Cleavage must be covered.
Outer or cool weather attire
Zip- or button-up or

"over the head"

sweatshirts or sweaters are acceptable as long as required dress attire is worn

beneath

.
Items must be solid color in white,

grey

or the approved school colors.  A small trademark logo is acceptable.
School logo items are acceptable.
Standard, required dress code must be worn, even when wearing cool weather attire.
The following general rules apply to dress code:
Shorts, skirts,

skorts, or jumpers

are acceptable if they are within 4" above the knee.
Hats, headgear, or any head covering (bandanas, sweatbands, and du-rags) will not be allowed.
3. No undergarments are to be seen at any time.
Wearing apparel which tends to identify association with secret societies or gangs as prohibited in Florida Statutes is not allowed.
No sunglasses can be worn inside buildings.
All chains that hang outside clothing are not allowed.
Any jewelry or accessory that presents a safety or health hazard or causes a major disruption to the educational process is not allowed.
Footwear that is a safety hazard will not be allowed. (i. e. footwear with wheels, including but not limited to Heely's.)

K-6 must wear enclosed shoes or athletic shoes; 7-8 may wear enclosed shoes, athletic shoes, or sandals with a back strap; high school may wear all of the above and flip flops/sandals.  Footwear determined by staff to be unsafe for school/physical education classes will be prohibited by school administration for those activities or classes.

All clothing must be properly sized for you, it may not be

oversized or undersized

, and worn secured at the waist level.
10.  Tattoos deemed inappropriate by staff must be covered.
11.  Contact lenses that alter the appearance of the eye (other than to another naturally occurring color) are not allowed.
12.  No trench coats
13.  School ID's must be worn and clearly displayed by high school and middle school students.
According to FS 1001.43, the School Board has the right to adopt programs and policies to ensure the safety and welfare of individuals, including requiring uniforms. It is important for students and parents/guardians to work with the school in adhering to district dress code.