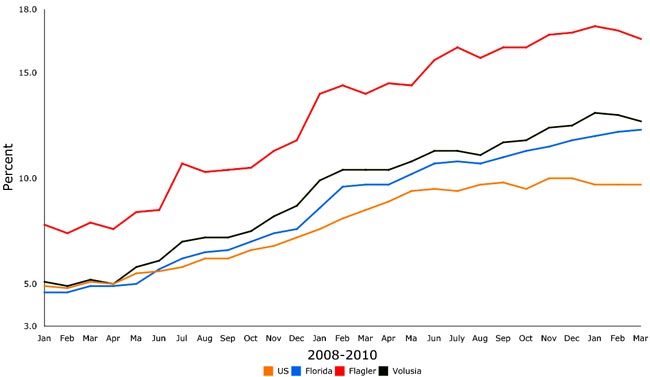 That's the good, or at least less than gloomy, news: Flagler County's unemployment rate in March took its biggest dive in a year, shedding 0.4 percentage points to settle at 16.6 percent, the lowest rate since October. In March 2009, it dropped 0.4 percentage points to 14 percent, but only to resume a steep rise the next six months. In actual numbers, 5,492 county residents were out of work in March, down from February's 5,606.
Nevertheless, Flagler remains Florida's hardest-hit county by far in the proportion of its unemployed. Hernando is second, at 15.1 percent, followed by Marion (15.0), St. Lucie (14.6) and Hendry (14.1). Volusia County is 20th, with 12.7 percent unemployed. Volusia's actual number of unemployed persons, 32,180, dwarfs Flagler's.
Where and how to file for unemployment
---
---
The lowest unemployment rate in the state is in Liberty (7.3 percent) and Leon counties (8.2 percent), the two counties where state government employees live and sleep, and where jobs tend to be lost in fewer numbers. Monroe County's rate is second-lowest at 7.7 percent.
In Florida as a whole, the unemployment continues to climb to post-Depression records. It hit 12.3 percent in March, with a loss of 4,000 jobs and a total of 1,138,000 people unemployed–despite the hiring of thousands of Census workers, and despite an overall national trend pointing to more job creation in the last two months.
Florida still lags behind most states in spending federal stimulus dollars. But Florida also is receiving considerably less in stimulus dollars than other states. The national average in stimulus dollars is $1,029 per American. In Florida, it's $832 per Floridian–almost 20 percent less. On April 9, however, Gov. Charlie Crist broke ground on a 1-mile, $390 million construction project (or $6,155 per inch), the I-4/Selmon Expressway Connectorin Hillsborough County, which is expected to create several thousand jobs between now and its completion date in the summer of 2013.
Florida's unemployment numbers are under-estimates, in that they do not reflect the number of people who have abandoned the search for work. The numbers are also masked by the proportion of people who are employed part-time but wish to be working full time.
Over the past year, sectors losing the most jobs include construction (13.7 percent), manufacturing (7.8 percent), insurance and finance (5.2 percent) and real estate (4.6 percent). The only significantly winning job sectors over the past year were education and health, which increased job rolls by 4.1 percent.