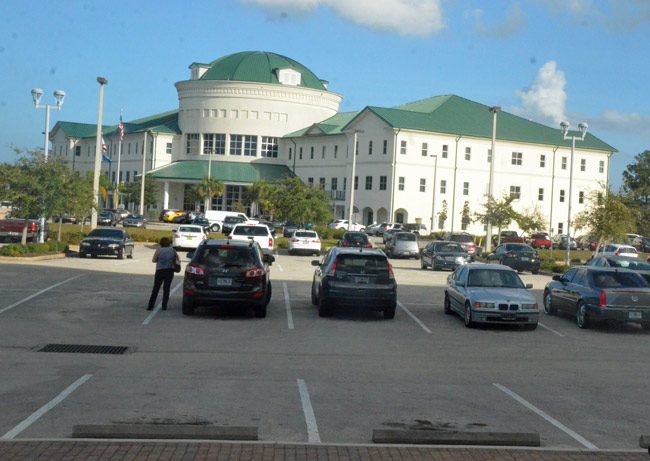 James Miley, a Flagler County Sheriff's corporal, was counseled verbally in February after a deputy reported that Miley had used a racial slur while referring to a Latino subordinate, then shrugged off the insult when another deputy called him on it.
According to a Feb. 1 memo filed by deputy Diego Gonzalez, Miley had sent a message to several deputies to meet him in the parking lot of the county courthouse early the morning of Jan. 26. He was distributing farewell cards to the members of a squad who were being transferred to other duties.
"While walking up to the trunk of a patrol car to sign the cards," Goznalez wrote, "I heard Corporal Miley refer to Dep. Spinelli as 'Spic-Enelli.' Being Hispanic and the word being offensive to me I cringed and stated 'Wow that's offensive.' Corporal Miley looked at me and stated 'tough shit, get over it.' I did not say another word and went on signing the cards."
Michael Spinelli is a new recruit to the agency, hired last September. Gonzalez states that to his knowledge at least three deputies other than Spinelli were present, and possibly others. None spoke up.
The comment does not appear to have been meant with any malice so much as an ill-advised joke, a sheriff's official familiar with the incident said, though to individuals on the receiving end of slurs statements of the sort are no less racist or offensive for being meant as anything else. The incident is the latest revelation of verbal misconduct involving racial slurs since November. A deputy formerly assigned to the courthouse was disciplined and transferred to road patrol after an inquiry found him to have violated agency policy on conduct, and the agency is continuing a fuller internal investigation into courthouse bailiffs that includes further allegations of racially charged language.
"Due to my ethnic background and frequently being utilized for Spanish translation calls," said Gonzalez, a deputy at the agency since 2015, "I believe that it should be known that i am Hispanic. Corporal Miley being my direct line supervisor, I feel that it is unprofessional to make a statement like that. I also feel that you should not refer to another Deputy that way in front of your subordinates. Lastly the response of 'tough shit, get over it' is unacceptable for someone in a supervisory position."
Gonzalez submitted his memo to Detective Nicole Thomas, who is in charge of professional standards. On Feb. 7, Sgt. Jon Dopp and Cmdr. Michael Fink met with Miley in a formal counseling session, which is not considered a disciplinary step, but is just shy of the first such step on the disciplinary ladder at the agency.
"It was expressed to him that these actions and comments will not be condoned by any member of the Flagler County Sheriff's Office," Fink wrote, referring to Miley. "Furthermore when the deputy questioned the comment and found it to be offensive that action should have been immediately corrected by Corporal Miley.
"It was explained in detail to Corporal Miley that being a supervisor in this agency you are held to a higher standard and that he needs to be a role model for the generation of deputies coming into this profession. "
Miley "took full responsibility for his comments," the memo states, understood that the comments were "inappropriate and unprofessional" and assured his supervisors that the behavior would not be repeated.
Miley, at the agency since 2011, last made news in 2015 when he helped rescue and safeguard a toddler who'd wandered across Belle Terre Parkway, chasing after her dog. He was among deputies awarded a unit citation for the unit's handling of a suicide call in February 2017.