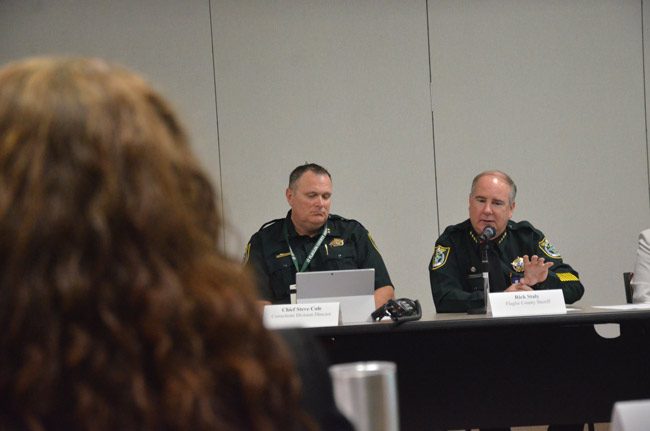 A spate of criminal-justice reform bills making their way through the Florida Senate has Flagler County officials, and particularly the sheriff and a county commissioner, worried about what that could mean for the local jail population, which could increase significantly and add to the financial burdens of local government.
The bills are intended to reform the system so as to diminish the state prison population, bring some inmates closer to their home counties, and lessen the harshness of some sentences, including for drug offenders and thieves.
Senate Bill 484, which has cleared three committees without a single dissenting vote, would increase the minimum time an offender may serve at a local jail instead of state prison from one year to two. Those inmates would remain the county's responsibility. The measure would also give the state prison system authority to contract with local jail administrators to return terminally ill prisoners to their home county's jail, and to return inmates with less than two years left on their sentence also back to county jail, though in those cases the inmates would still be considered state prisoners and the state, not the county, would pay the bills, but only at a rate of around $60 a day.
Senate Bill 928, which has cleared two committees and with a bit more opposition, would raise the threshold for grand theft from a stolen value of $300, as it is currently, to $1,500. Once an offender crosses that threshold, he or she faces a felony and possible prison time. By raising the threshold, the offense more often would likely remain a misdemeanor, and the offender would serve out misdemeanor jail time, at the local jail.
Senate Bill 694, which has easily cleared three committees, would allow judges to reduce minimum mandatory sentences for certain, non-violent drug offenders.
In all three cases, the local jail population would likely increase as a result since inmates who would have previously been eligible for prison time would see their sentences downgraded or made eligible for local jail incarceration instead.
Add to that a proposed constitutional amendment that would increase the homestead exemption from $50,000 to $75,000 (but not on the portion owed schools), thus robbing local government revenue of millions of dollars–the current estimate for Flagler government would be a loss of $4 million, and for Palm Coast, $1.6 to $1.7 million, according to Flagler Property Appraiser Jay Gardner–and local governments would be facing what Flagler County Sheriff Rick Staly calls a double-whammy.
"This in my opinion," Staly said, "is nothing but an attempt for the state to push their costs to local government under the disguise that sentencing to a county jail is better than prison, which might have some merit, quite frankly, but I think the real motive is the shift, the cost to the county. And it's not just the housing of the inmates. It's the medical, and it's everything else that comes with this."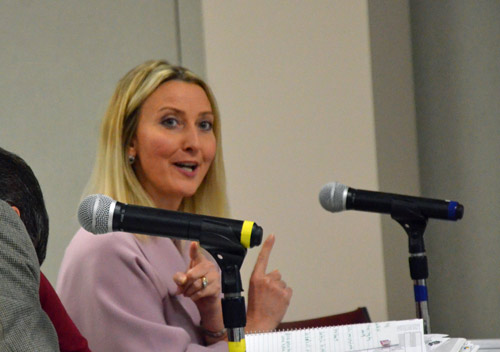 Staly addressed the issue last week at a meeting of Flagler's Public Safety Coordinating Council, which gathers the county's law enforcement, criminal justice, county government and social service agencies once a month to take stock of issues of common concern. Local judges routinely attend the meetings,a s did County Judge Melissa Moore-Stens Wednesday: her court, already overburdened, would see more activity as a result of some of the bills should they pass.
The council heard a brief presentation from Volusia County Councilwoman Heather Post, who also sits on her county's public safety council and sits on the state board of directors of the Florida Association of Counties. She'd been tracking the bills of concern to local law enforcement and the court system.
"That could have devastating effects obviously on our funding," Post said.
One caveat: the bills have only faint echoes in the House, but Post fears the bill doubling county jail-eligible time to 24 months could end up being slipped through as an amendment in the House, outside of committee hearings.
"That would be a significant paradigm shift for us," County Commissioner Nate McLaughlin, who chairs the public safety council, said, noting that the relatively new Flagler jail expansion was designed for the present context, with diversionary programs and a relatively low, and stable, jail population. "The recommendation for us was to build 500 and some odd beds, we built 273 simply because of that 364 and the diversion programs and things such as that." The Senate proposals risk erasing those means of keeping the jail population low.
Proponents of the reform bills argue that the state prison system, which has 96,000 inmates, at a cost of $2.4 billion a year, has itself become overburdened with too many inmates who don;t fit the profile of hardened felons, including an aging population and the sort of drug offenders who end up serving long sentences more because of mandatory rules than because they themselves have committed terrible crimes: one example is that of the cancer patient who falsified hydrocodone prescriptions for pain management but ended up sentenced to 15 years.
The reforms have managed to ally conservatives and liberals in mirror alliances seen in several other states that have managed to reduce their prison populations. But because of Florida's local government funding structure, the inevitable result of such reforms in this state would be another unfunded mandate for local governments.
The state, Post told the council, is amining "to pull away the rights of local governments and our home rule and shift it all to the state level. On the other side, doing everything they can to shift the funding and the budgeting down to our level, so that they're not paying for things."
A week earlier the state's sheriffs met, with Staly present, and opposed some of those bills. Staly said there may be merit to some of the approaches, but regarding the proposals that would shift prisoners back to the county, Staly said it's a problem if those who would otherwise have been considered state prisoners become the financial responsibility of the county. He would have less of a problem with the approach if the inmate's designation kept that inmate a state prisoner, even while housed at the local jail.
"If they don't go to state prison and they go to a county jail, the state says they're not a state prisoner, and therefore the medical costs are ours," Staly said. "What the sheriffs advocated in our meeting was, they tried to get language changed, that they would at least still be DOC inmates," DOC being the state Department of Corrections, "DOC would pay the county to house them locally, but if a medical issue came up or he became an unruly prisoner or something like that, we would then have the authority to say we don't want this prisoner anymore, they're yours, and the state would still be responsible for the medical."