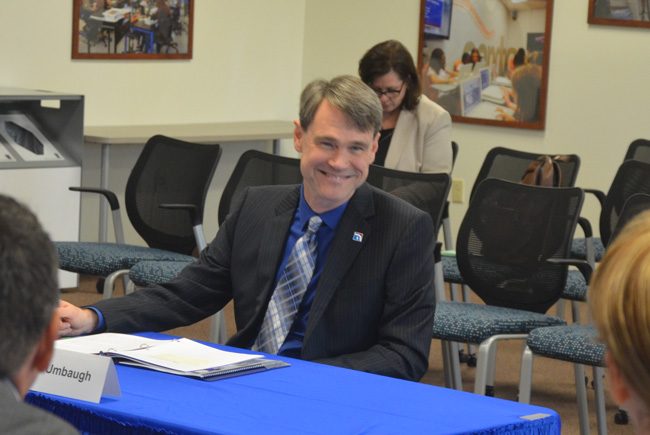 The Flagler County School Board today interviews three candidates vying to replace Jacob Oliva as school superintendent. Summaries of the interviews will appear in individual stories through the day. On Friday, the board members will again interview the candidates, but in one-on-one sessions.
Jeff Umbaugh, a principal in Clay County schools, was first up this morning. He was energetic, congenial, discursive, fast-talking, quick to take verbal tangents (not always to anywhere relevant) or make the occasional humorous aside (he ended the interview with a "Hi Mom," to the camera), but mostly, he spoke in generalities and clichés: He knows the language and lingo of the education system, but he comes across as a knowledgeable administrator rather than an original leader. (Based on notes taken during today's interviews and acquired when all three were completed, and after this story was initially published, one board member described his body language this way: "Limited eye contact," "animated," "excessive blinking.")
Umbaugh, 47, had clearly done some homework: he knew the district's basic facts. He'd prepared a glossy, 10-page "Transition Plan" he distributed to board members before his hour-long interview, though the plan mirrored his approach in person: He ably diagnoses problems–too much testing, low graduation rates, poor achievements at the lower quartiles—but knows less what to do about them. He did not come across as a man of ideas so much as a survey and data-driven man.
He did not answer questions with any specifics about what innovations he would bring, what budget strategies would be the most effective, or even how he would create relationships with the board, with school leadership, with parents and students. Again and again he said he intended to listen, to survey, to hold meetings, to be inclusive—all commendable traits the board is looking for, but also the sort of traits they expect from their mid-level administrators or principals.
Whenever he seemed to lack a more specific answer Umbaugh would retreat to pat phrases anyone could say at any job interview in any industry:
"You've got to communicate the whys behind the tough choices that you've made."
"It's about creating a win-win."
"Let's call a spade a spade, you have to have a cost-benefit analysis."
"We have to decide where we get the most bang for our buck and how we are going to drive our district forward."
---
Watch the Full Jeff Umbaugh Interview
"In general I'm a huge believer in outside the box thinking."
But the barely hour-long interview treaded mostly inside a well-worn box.
Part of the problem is the questions: each board member got to ask a couple of questions—the same questions they will ask each of the three candidates. The questions are themselves overly broad ("We'll be here until midnight–a 14-part question," Umbaugh laughed at one point. "No offense." But he was right.) And a board member said the panel was discouraged from asking follow-up questions so as not diverge from the script. That left the interview mostly in the interviewee's command, and it left all unanswered questions hanging.
Regarding his greatest success and failure, Umbaugh, taking 10 minutes to answer his first questions (he was settling his nerves through one digression after another), spoke of turning around a junior high school in Clay County by emphasizing "climate" and "relationships," though in that case he could also point to what he likes best—data that showed improvements among certain groups of students in key disciplines and raising the school's grade from an B to an A (suggesting that turning it around may have been an overstatement). He spoke of doing less well as a starting assistant principal. "We did a great job at hiring and building up the culture but when you look at the results we missed the mark," he said.
He described Flagler's graduation rate as "jarring" and "stagnating" when asked what his priority would be here. "Our graduation rate is like the canary in the coal mine that tells us the health of the whole system," he said. But he did not provide any specific ideas on how he'd improve it beyond generalities.
"What in the world is happening with Flagler boys?" he asked rhetorically during the same answer, to highlight the disparity between the graduation rates of boys and girls. The question sounded as if he'd keyed into a startling local disparity. In fact, Flagler's disparity is no different than that of most other school districts, Clay County included, or that of the national average: girls have traditionally graduated at higher rates than boys.
The disparity between Umbaugh's florid rhetoric and his an absence of compelling ideas was most apparent when a board member asked his opinion of current technological initiatives and innovations in Flagler—and what innovations he would propose. He was excellent at lavishing praise about what's in place, in very general terms. He clearly knew about the one-to-one initiative that's resulted in placing a computer in every student's hands and in the Flagship program that's tying careers to classrooms.
But, glaringly, he did not propose a single new idea of his own to advance such initiatives or take them in new directions. He did not seem to be conversant with technological trends beyond what is known now in the classroom. And he was not given a follow-up question to press him on the matter. He would, in other words, be an excellent caretaker of what's here, but not necessarily an innovator.
He sounded a bit stronger on matters of testing, to the extent that he said what school board members and most communities like to hear: that there's too much testing, that it's important to rein it in, but he did not explain how, or with what authority, given his clear understanding of legislative mandates.
A serial flatterer, he found ways to drop cloying remarks about Oliva, whom he said he's seen speak at association events, about Vernon Orndorff, the deputy superintendent who's also leaving ("can't find a nicer guy in the world"), even about Jason Wheeler, the district spokesman, who'd driven him to the Government Services Building this morning. He complimented him on his driving. He said he'd replace Orndorff by "finding the best candidate," but he did not explain how he'd go about it. "Listening builds trusting relationships," he said for the fifth or sixth time by that point.
"With a servant's heart I want to lead alongside you," he said at the end of the interview, repeating the "servant's heart" phrase he'd used a couple of times before, a reflection of his higher education training, seeped as much in education as biblical studies.