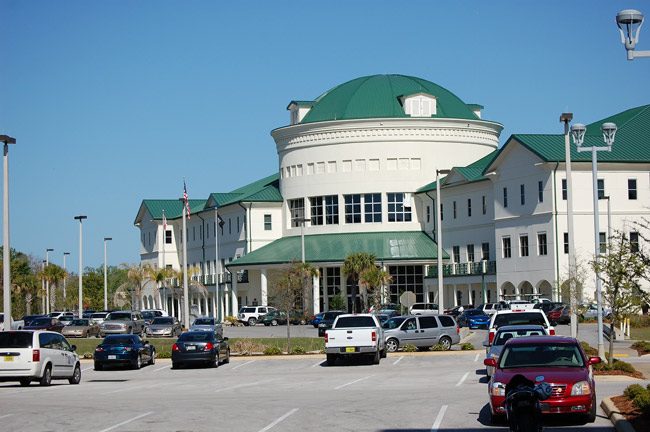 A salary study commissioned by Flagler government found disparities in pay between county government's 370-some employees and their peers in other governments, with most underpaid.
But the study also found some top administrative employees and a few others in the ranks overpaid, some of them significantly so: the disparities are not just between Flagler County and other local governments, but within Flagler County government itself, with an "all stars" system rewarding some employees far more than others.
Among those found to be overpaid, based on the survey's midpoint averages, are Airport Director Roy Sieger, Tourism Director Matt Dunn, Economics Development Director Helga van Eckert, IT Director Jarrod Shupe, County Engineer Faith al-Khatib, Planner Wendy Hickey, Paralegal Sean Moylan, Christie Mayer, the executive assistant to County Administrator Craig Coffey, Sally Sherman, his erstwhile deputy and current "special projects" contractor, along with some planners, some equipment operators and some mechanics.
The survey did not look at positions appointed by the county commission–the county administrator and the county attorney, who are paid $159,000 and $210,000 respectively. (County Attorney Al Hadeed has an annual automatic raise built into his contract.) It also did not analyze employee salaries outside the county commission. That is, none of the constitutional officers' ranks, including the sheriff's, were included in the analysis.
Either way, the Flagler County Commission last week signaled approval of a $1 million, three-year plan to raise the pay of county employees, starting with a 3 percent across-the-board raise kicking in Oct. 1, whether the employee is overpaid or not. That will cost $375,000 next year.
It did not signal any interest in lowering the pay of those above market averages. In fact, earlier this year, the commission approved raising one of those pay categories–that which covers the county engineer and the deputy county administrator–after Coffey said that it would anticipate the ongoing salary study's findings. It did not not: the raises proved steeper than the salary study found to be necessary.
Coffey defended the raises, as when he addressed a question about Sieger, the airport director whom the county kept aboard with an 11 percent raise to nearly match the $118,000 salary he had been offered in Hillsborough County. The big increase for Al-Khatib's position, bringing her salary to $150,000, was likewise designed to match pay she was being offered in Volusia. The midpoint for that position, according to the salary survey, is $117,000.
---
Searchable County Employee Pay Database
Last Name
First Name
Actual Position Title
Annual Salary
HADEED
ALBERT
COUNTY ATTORNEY
209643.2000
COFFEY
CRAIG
COUNTY ADMINISTRATOR
158787.2000
ALKHATIB
KIFAH
PUBLIC WORKS DIRECTOR/COUNTY
ENGINEER
150009.6000
SHERMAN
SALLY
CONTRACT. SPCL PROJECTS (aka DEPUTY ADMINISTRATOR)
148740.0000
VANECKERT
HELGA
EXECUTIVE DIRECTOR FOR ECONOMIC
OPPORTUNITY
119766.4000
SHUPE
JARROD
INNOVATION TECHNOLOGY DIRECTOR
117811.2000
SIEGER JR
LEROY
AIRPORT DIRECTOR
112236.8000
MAYER
JOSEPH
COMMUNITY SERVICES DIRECTOR
100214.4000
GORDON
RICHARD
ASST PUBLIC WORKS DIRECTOR/ASST COUNTY ENGINEER
99569.6000
PETITO
DONALD
FIRE RESCUE DIVISION CHIEF
97302.4000
BAILEY-BROWN
LORIE
FINANCIAL SERVICES DIRECTOR
96366.4000
PETITO
HEIDI
GENERAL SERVICES DIRECTOR
96054.4000
WHALEY
STEVEN
CHIEF PILOT/MAIN TECH
93204.8000
DUNN
MATTHEW
TOURISM DEVELOPMENT DIRECTOR
91998.4000
SPILLER
ALEXANDER
ROAD & BRIDGE MANAGER
91000.0000
LORD
JONATHAN
EMERGENCY MANGEMENT CHIEF
90001.6000
MORRIS
DANA
FLIGHT OPERATIONS CHIEF
89585.6000
BOICE
MARK
CHIEF BUILDING OFFICIAL/FIRE INSPECTOR I
83075.2000
LEAP
DENNIS
PROJECT ADMINISTRATOR
82014.4000
DICKSON
MICHAEL
GEN. SERVICES ASST. DIRECTOR
80849.6000
MENGEL
ADAM
PLANNING DIRECTOR
79497.6000
ALBANESE
HOLLY
LIBRARY DIRECTOR
78998.4000
KING
JOSEPH
FIRE RESCUE DEPUTY CHIEF
77833.6000
HOLLOWAY JR
GEORGE
IT INFRASTRUCTURE MANAGER
75732.8000
LEARY
ISAAC
IT SUPPORT MANAGER
70512.0000
GRAHAM
SUSAN
DEVELOPMENT ENGINEER
70428.8000
DAVIDGE
FRANCIS
CHIEF BUILDING INSPECTOR/FIRE INSPECTOR I
70324.8000
KENNEDY
AMY
PROJECT MANAGER
69825.6000
ENSALACO JR
LEONARD
FIRE RESCUE TRAINING OFFICER
69451.2000
DAWSON
WILLIAM
ASSISTANT ROAD & BRIDGE MANAGER
67745.6000
TELFER
TIMOTHY
PUBLIC LANDS & NATURAL RESOURCES MANAGER
67454.4000
SEMENICK
WAYNE
FIRE RESCUE/FF/PARAMEDIC/LT
66706.9000
LEMON
ELIZABETH
DEV REVIEW PLANNER III
66019.2000
BURNSED JR
JAMES
FIRE RESCUE FF/PARAMEDIC CAPT.
65690.3000
SHAW
JAMES
FIRE RESCUE FF/PARAMEDIC CAPT.
65690.3000
GREBE
CHARLES
SENIOR BUILDING INSPECTOR
63523.2000
BENNETT
RICHARD
FIRE RESCUE/FF/PARAMEDIC/CAPTAIN
62670.4000
OLSEN
JEFFREY
FIRE RESCUE/FF/PARAMEDIC/LT
61803.3000
REODICA
RALSTON
SHIP ADMINISTRATOR
61672.0000
MOYLAN
SEAN
PARALEGAL
61443.2000
LAGANA
CHESTER
FLEET SERVICES MANAGER
61172.8000
GOLDEN
MATTHEW
PUBLIC SAFETY SYSTEMS COORINATOR
60008.0000
LONGO
ROY
FIRE RESCUE PARAMEDIC - 56 HRS
59889.7000
MERRITT
JOSEPH
FIRE RESCUE/FF/PARAMEDIC/LT
59620.6000
KEPPLER
ANDREW
FIRE RESCUE TRAINING OFFICER
58968.0000
LUKASIK
AMY
TOURISM MARKETING MANAGER
58635.2000
COLLORA
KRISTEN
PURCHASING MANAGER
58427.2000
LAMM
JEFFREY
BUILDING INSPECTOR II
58156.8000
PALMER
STEPHEN
FIRE RESCUE FF/ PARAMEDIC
57736.9000
MAYER
CHRISTIE
EXEC ASST. TO CTY ADMIN.
57345.6000
HICKEY
WENDY
PLANNER
57179.2000
PRATHER
CARYN
COMMUNITY PARAMEDIC
56992.0000
KING
HERSCHEL
FIRE RESCUE/FF/PARAMEDIC/LT
56720.3000
PIUS
MICHAEL
FIRE RESCUE/FF/PARAMEDIC/LT
56720.3000
BISHOP
JOYCE
FINANCIAL MANAGEMENT COORDINATOR
56326.4000
HINKEL
JOANNE
SENIOR SERVICES PROGRAM MGR
56326.4000
NICKELS
JANET
H.S. PROGRAM MANAGER
56326.4000
KEPPLER III
JOHN
FIRE RESCUE/FF/PARAMEDIC/LT
55763.5000
SMITH
JERRY
FIRE MARSHALL
55619.2000
RODRIGUEZ
EDWIN
CODE ENFOR/SUPERVISOR/INSPECT
55577.6000
PANAS
RAYMOND
UTILITY SERVICES COORDINATOR
55182.4000
POWELL
JASON
FIRE RESCUE/FF/PARAMEDIC/LT
54806.7000
JENSEN
JANET
ADULT DAY CARE PROGRAM MGR
54683.2000
ALLEN
TIMOTHY
TRADESWORKER IV
54620.8000
HARDESTY
ANDREW
FIRE RESCUE/FF/PARAMEDIC/LT
54418.0000
BEER
CHRISTOPHER
BUILDING INSPECTOR II
54184.0000
DURRANCE
STEVEN
EQUIPMENT OPERATOR IV
54184.0000
NOBLES
RONALD
EQUIPMENT OPERATOR IV
54184.0000
HUDSON
DAVID
FIRE RESCUE/FF/PARAMEDIC/LT
54178.8000
ERICKSEN Jr.
CHARLES
COUNTY COMMISSIONERS
53951
HANSEN
GREGORY
COUNTY COMMISSIONERS
53951.0000
MCLAUGHLIN
NATHAN
COUNTY COMMISSIONERS
53951.0000
O'BRIEN
DONALD
COUNTY COMMISSIONERS
53951.0000
SULLIVAN
DAVID
COUNTY COMMISSIONERS
53951.0000
GUERIN
ANTHONY
FIRE RESCUE/FF/PARAMEDIC/LT
53401.4000
MESTA
JESUS
FIRE RESCUE FF/ PARAMEDIC
52893.1000
ESPOSITO
MICHAEL
SPECIAL PROJECTS COORDINATOR
52582.4000
ECKLUND
ARTHUR
SENIOR CHIEF OF TRADES
52124.8000
VANDEUSEN
DANIEL
FIRE RESCUE FF/ PARAMEDIC/LT
52055.9000
BEMBRY
LOYD
BUILDING INSPECTOR II
52000.0000
THOMPSON JR
THOMAS
MECHANIC III
51792.0000
CASTANEDA JR
ARMANDO
FIRE RESCUE FF/ PARAMEDIC/LT
51697.1000
ERRETT
ROBERT
FIRE RESCUE FF/ PARAMEDIC
51517.7000
HOLYKO
ADAM
FIRE RESCUE FF/ PARAMEDIC
51338.3000
SINTSCHA
JESSE
FIRE RESCUE FF/ PARAMEDIC
51158.9000
VANDEUSEN
ADAM
FIRE RESCUE FF/ PARAMEDIC
51158.9000
FORTE
JASON
FIRE RESCUE FF/ PARAMEDIC/LT
51129.0000
WALKER
SEAN
FIRE RESCUE FF/ PARAMEDIC
51069.2000
NELSON
LAURA
EMERGENCY MANAGEMENT SR PLANNER
50752.0000
MACK
PRINCE
FIRE RESCUE FF/ PARAMEDIC
50650.6000
PRICE
AARON
FIRE RESCUE FF/ PARAMEDIC
50590.8000
RAFFO
JOHN EDWARD
FIRE RESCUE FF/ PARAMEDIC
50590.8000
LYDON JR.
DAVID
VETERANS SERVICES OFFICER
50544.0000
PARDINY
DARLENE
GIS & E911 ADDRESSING COORDINATOR
50544.0000
MOSCOWITZ
JON
FIRE RESCUE FF/ PARAMEDIC
50232.0000
CALIO
CHRISTOPHER
FIRE RESCUE FF/ PARAMEDIC
50202.1000
HEADLEY
ROBERT
FIRE RESCUE FF/ PARAMEDIC
50202.1000
BARBUTI
FRANK
PARKS & RECREATION MANAGER
50148.8000
PALMER
REBECCA
FIRE RESCUE FF/ PARAMEDIC
49634.0000
KRALL
JOHN
FIRE RESCUE FF/ PARAMEDIC/LT
49544.3000
MCDONALD
JUSTIN
FIRE RESCUE FF/ PARAMEDIC
49424.7000
STEINHARDT
RICHARD
FIRE RESCUE FF/ PARAMEDIC
49424.7000
WILLIAMSON SR
LAWRENCE
SOLID WASTE INSPECTOR
49337.6000
HUNTER
JESSE
FIRE RESCUE FF/ PARAMEDIC
49245.3000
GAVAZZI
ROBERT
ENERGY MANAGEMENT COORDINATOR
49192.0000
LAGASSE
MICHAEL
LAND MANAGEMENT COORDINATOR
49171.2000
LOCKWOOD
KYLE
FIRE RESCUE FF/ PARAMEDIC
49155.6000
BARRY
BRADY
FIRE RESCUE FF/ PARAMEDIC
49065.9000
GRANT
IVAN
FIRE RESCUE FF/PARAMEDIC/LT
48886.5000
NAJPAVER
KYLE
FIRE RESCUE FF/ PARAMEDIC
48707.1000
DUFEK
DAVID
FIRE RESCUE FF/ PARAMEDIC
48617.4000
DOLCE
MICHAEL
FIRE RESCUE FF/ PARAMEDIC
48527.7000
KING
STEVEN
FIRE RESCUE FF/ PARAMEDIC
48527.7000
SPENCE
KELLY
BUDGET ANALYST
48380.8000
COSGROVE
JAMES
FIRE RESCUE FF/ PARAMEDIC
48139.0000
AUSTIN
KATRINA
DEO PROJECT MANAGER
48027.2000
GERMACK
FRANK
PUBLIC WORKS SUPERVISOR II
48027.2000
HERNANDEZ
CARLOS
VIDEO PRODUCTION COORDINATOR
48027.2000
MURPHY
JULIA
PUBLIC INFORMATION OFFICER
48027.2000
OUELLETTE
MARK
IT INFRASTRUCTURE ADMINISTRATOR
48027.2000
SALOOM
MARC
ASSISTANT LIBRARY DIRECTOR
48027.2000
VERGARA
ROBERTO
IT INFRASTRUCTURE ADMINISTRATOR
48027.2000
FARLEY
GERARD
DRAFTER/CAD TECHNICIAN
48006.4000
MASTERS
WILLIAM
UTILITY MAINTENANCE SUPERVISOR
48006.4000
LAWRENCE
DAVID
FIRE RESCUE FF/ PARAMEDIC
47899.8000
MOORE
DENNIS
FIRE RESCUE FF/ PARAMEDIC
47899.8000
PARKEY
JARED
FIRE RESCUE FF/ PARAMEDIC
47899.8000
TITUS
RONALD
FIRE RESCUE FF/ PARAMEDIC
47421.4000
SHILLIDAY
AARON
CHIEF OF TRADES- CONSTRUCTION
47320.0000
CURLEY
ALBERT
FIRE RESCUE FF/ PARAMEDIC
47301.8000
LANZA
JARROD
FIRE RESCUE/FF/PARAMEDIC
47032.7000
GERLACH
ERIC
CHIEF OF TRADES-GROUNDS &
ATHLETIC FIELDS
46508.8000
LENNIGER
CRAIG
TOURISM SALES & GRANTS MANAGER
46508.8000
KENDRA
KRISTOPHER
FIRE FIGHTER/EMT 56 HRS
46345.0000
STONE
JUSTIN
FIRE RESCUE FF/ PARAMEDIC
46165.6000
HUTSON
JOYCE
ADULT DAY CARE COOR. SUB
45947.2000
PICKERING
ROBERT
EMERGENCY MANAGEMENT TECHNICAN
45926.4000
DANCE
LUCI
EXECUTIVE ADMINISTRATIVE ASST
45801.6000
DIRMEIR
GUY
FIREFIGHTER/PARAMEDIC
45657.3000
MORGAN
MATTHEW
FIRE RESCUE/FF/PARAMEDIC
45657.3000
ADAM
MICHAEL
UTILITY SYSTEMS OPERATOR
45656.0000
BARNETT
SHARON
ADC COORD SUB
45448.0000
THOMAS
RONALD
FIREFIGHTER/PARAMEDIC
45448.0000
BURNEY
ERIC
FIRE RESCUE FIREFIGHTER/PARAMEDIC
45298.5000
GONZALEZ
JAKE
FIRE RESCUE FF/PARAMEDIC
45298.5000
HUNT
NOAH
FIREFIGHTER/PARAMEDIC
45298.5000
KAYE
JONATHAN
FIRE RESCUE FF/PARAMEDIC
45298.5000
OWENS JR
WILLIAM
ACCOUNTANT I
45136.0000
FRANCO
MARILYN
ACCOUNTANT I
45115.2000
VIDAL
YANN
FIRE FIGHTER/EMT 56 HRS
45029.4000
JOSEPH
NEALON
EMERGENCY MANAGEMENT PLANNER
44990.4000
ORLANDO JR.
MICHAEL
LAND MANAGEMENT TECHNICIAN
44990.4000
ROSE
NORMA
ADC PROGRAM MGR-SUB
44844.8000
PREVATT
TIMOTHY
PUBLIC WORKS SUPERVISOR I
44803.2000
STOKER
ANITA
BENEFITS & WELLNESS MANAGER
44512.0000
KEIRNAN
ROSE
PUBLIC RELATIONS & MARKETING SPECIALIST
44470.4000
GREENIER
MICHAEL
DRUG COURT PROGRAM COORDINATOR
44137.6000
HUSTON
MARIANNE
FIREFIGHTER/PARAMEDIC
44132.4000
SHOOK
ANDREW
FIREFIGHTER/PARAMEDIC
44132.4000
STEADMAN
JOHN
FIREFIGHTER/PARAMEDIC
44132.4000
WISENBAKER
MARY
OFFICE MANAGER
44116.8000
BAUMAN
CORY
FIREFIGHTER/PARAMEDIC
43713.8000
COOK
BRENDON
FIREFIGHTER/PARAMEDIC
43713.8000
COPE
THOMAS
FIREFIGHTER/PARAMEDIC
43713.8000
KESSELRING
KEVIN
FIREFIGHTER/PARAMEDIC
43713.8000
SATTAR
CORY
FIREFIGHTER/PARAMEDIC
43713.8000
STAFFORD III
JODIE
FIREFIGHTER/PARAMEDIC
43713.8000
THOMAS
MARK
FIREFIGHTER/PARAMEDIC
43713.8000
TORNELLI
STEVEN
FIREFIGHTER/PARAMEDIC
43713.8000
EICHINGER
BRIAN
BUDGET ANALYST
43700.8000
SHANK
LAUREN
BUDGET ANALYST
42993.6000
FATTOUH
FADI
FIREFIGHTER/PARAMEDIC
42727.1000
FELDMAN
KEVIN
FIREFIGHTER/PARAMEDIC
42727.1000
FELDMAN
JASON
FIREFIGHTER/PARAMEDIC
42727.1000
FROLING JR.
KARL
FIREFIGHTER/PARAMEDIC
42727.1000
MAPLES JR.
MICHAEL
FIREFIGHTER/PARAMEDIC
42727.1000
MCKENZIE
AUSTIN
FIREFIGHTER/PARAMEDIC
42727.1000
MELADY
JAMES
FIREFIGHTER/PARAMEDIC
42727.1000
PATTON
ALEX
FIREFIGHTER/PARAMEDIC
42727.1000
PONTORNO
DYLAN
FIREFIGHTER/PARAMEDIC
42727.1000
SCHROEDER
ZACHARY
FIREFIGHTER/PARAMEDIC
42727.1000
WEBSTER
NATHANIEL
FIREFIGHTER/PARAMEDIC
42727.1000
WIRTH
MICHAEL
FIREFIGHTER/PARAMEDIC
42727.1000
ZUAZUA
REUBEN
FIREFIGHTER/PARAMEDIC
42727.1000
ALCAZAR
JAIME
IT SUPPORT SPECIALIST II
42515.2000
PEREZ JR.
LUIS
IT SUPPORT SPECIALIST II
42515.2000
MUNDY
JASON
TRADESWORKER IV
41912.0000
QUAGLIA
JOSEPH
UTILTY SYSTEMS OPERATOR-WATER
41600.0000
MOLTERE
DAVID
TRAFFIC SIGN TECHNICIAN
41308.8000
RAYMONDI
SCOTT
TRADESWORKER IV
40809.6000
ADRIANO
JOSE '
MECHANIC II EVT
40684.8000
MILLER
GEORGE
EQUIPMENT OPERATOR IV
40664.0000
PARRELLA
ALAN
EQUIPMENT OPERATOR IV
40664.0000
ANDERSON
DENISE
LEGAL ASSISTANT
40435.2000
EICHINGER
LORRAINE
ADMINISTRATIVE ASSISTANT
40435.2000
REZBA
GRACIELYN
OFFICE MANAGER
40248.0000
SPIVEY
BRYAN
TRADESWORKER IV
40248.0000
CRIBBS
RICHARD
TRADESWORKER IV
40123.2000
FOUST
MARK
SENIOR SERVICES CASE MANAGER
39998.4000
TARDANICO
LEA
EMERGENCY MANAGEMENT PLANNER
39998.4000
CATALANO
LISA
LIBRARIAN II
39686.4000
GALLON-O'NEAL
LAFREIDA
TEEN COURT COORDINATOR
39478.4000
COLE
KEVIN
TRADESWORKER IV
39228.8000
PATTEN
KENNETH
CHIEF OF TRADES FACILITIES
MAINTENANCE
38688.0000
OWENS
JAMES
MECHANIC II/SERVICE ADVISOR
38667.2000
ARAUJO
PAUL
SERVICE MECHANIC
38667.2000
DURRANCE
MICHAEL
EQUIPMENT OPERATOR III
38604.8000
WILLIAMS
EUGENE
EQUIPMENT OPERATOR II
37876.8000
FLORES-FEBLES
ERIC
VETERAN SERVICES COUNSELOR
37731.2000
LOPEZ
IRENE
PROCUREMENT ANALYST
37523.2000
YATES
ELIZABETH
ADMINISTRATIVE ASSISTANT
37356.8000
AUSTIN
MICHAEL
MECHANIC II TVT
37315.2000
MARTIN
TREVOR
TRANSPORTATION MANAGER
37252.8000
THOMAS
JEREMY
UTILITY SYSTEMS OPERATOR
37211.2000
SIMON
SCOTT
CODE ENFORCEMENT INSPECTOR
37003.2000
CODLING
KENT
TRADESWORKER IV
36836.8000
TUGGLE-WEIR
LILI
MARKETING SPECIALIST
36753.6000
YATES
CHARLES
EQUIPMENT OPERATOR III
36712.0000
MUSSOLINE
WENDY
MULTI-COUNTY AGRICULTURE AGENT II
36273.0000
BAEZA
ANTONIO
EQUIPMENT OPERATOR I
36025.6000
FIGUEROA
JASON
IT SUPPORT SPECIALIST
36004.8000
NEWBERRY
SHAWN
EQUIPMENT OPERATOR IV
36004.8000
LOOKER
SOL
HORTICULTURE AGENT I
35923.7100
DELAWRENCE
JAMES
SENIOR SERVICES CASE MANAGER
35838.4000
SABATINI
TRAVIS
UTILITY SYSTEMS TECHNICIAN
35755.2000
EUBANKS
SUZANNE
ADMIN & E911 DATABASE SPECIALIST
35713.6000
BURTNETT
KAREN
ADMINISTRATIVE ASSISTANT
35692.8000
MITCHELL
ROYCE
TRADESWORKER IV
35672.0000
BOND
DAVID
EQUIPMENT OPERATOR IV
35609.6000
COONS
MICHAEL
TRADESWORKER IV
35588.8000
MCMAHON
STEPHANIE
OFFICE MANAGER
35360.0000
PAGE
LACY
ADMINISTRATIVE ASSISTANT
35172.8000
PETERSON
TISHIA
ACCOUNTING CLERK
35068.8000
NICHOLS
HEATH
MECHANIC I
34985.6000
DURRANCE
HOLLY
PROCUREMENT ANALYST
34923.2000
MCNALLY
COLLEEN
LIBRARY ASST. II
34923.2000
JACOBS
JORDAN
FIREFIGHTER/EMT
34863.4000
NEWTON
TRAVIS
FIREFIGHTER/EMT
34863.4000
CAIN
PATRICIA
HUMAN SERVICES CASE MANAGER
34736.0000
WU
PAMELA
HUMAN SERVICES CASE MANAGER
34736.0000
BUTLER
HERSCHEL
MECHANIC I
34528.0000
CORDERO
BRADLEY
TRADESWORKER III
34403.2000
PEARSON
ANDREW
PROPERTY CONTROL AGENT
33987.2000
COSTELLO
WINIFRED
SENIOR SERVICES CASE MANAGER
33904.0000
ROBINSON
JESSE
IT SUPPORT SPECIALIST II
33904.0000
SIMS
TRAVIS
IT SUPPORT SPECIALIST
33904.0000
CELESTINO
FRANK
TRADESWORKER III
33654.4000
FRIEDMAN
VIRGINIA
ADMINISTRATIVE ASSISTANT
33467.2000
PORTELA
MANUEL
UTILITY MAINTENANCE TECH III
33446.4000
MILLER JR
AMOS
TRADESWORKER III
33300.8000
OBRINGER
BRIAN
TRADESWORKER III
33030.4000
CATALANO
MICHAEL
FACILITIES CONTRACT COORDINATOR
32988.8000
FERRARA
ANDREW
TRADESWORKER III
32988.8000
SMITH
STEPHEN
TRADESWORKER III
32988.8000
DE FREITAS
PRISCILLA
ADMINISTRATIVE ASSISTANT
32593.6000
RITZI
RENAE
PRETRIAL SERVICES OFFICER
32427.2000
DIGUILIO
DEBRA
ACCOUNTING CLERK
32302.4000
PRINGLE
CHALKER
MAINT. TECH II
32198.4000
COLEMAN
TIMOTHY
TRADESWORKER III
31990.4000
COOK
RONALD
TRADESWORKER III
31990.4000
CREAMER
MARTHA
ADMINISTRATIVE ASSISTANT
31990.4000
HARI
JOE
TRADESWORKER III
31990.4000
CHALMERS
HEATHER
LIBRARY ASSISTANT I CHILDRENS
SERVICES
31903.3000
WEEKS
WILLIAM
EQUIPMENT OPERATOR III
31824.0000
TAYLOR
MATTHEW
UTILITY MAINTENANCE TECH II
31553.6000
FEDERKO
MARIANNE
ACCOUNTING CLERK 30HR
31366.4000
NAUGHTON
DEBRA
ADMINISTRATIVE ASSISTANT
31324.8000
NOBLES JR.
DONALD
EQUIPMENT OPERATOR III
31200.0000
CELESTINO
PETER
AIRPORT ATTENDANTS
31033.6000
BRAZEAU-GEREAU
CAROLYN
TRANSPORTATION COORDINATOR
30492.8000
PARADOWSKI
DEVRIE
HUMAN SERVICES CASE MANAGER
30492.8000
VANBRINK III
HARRY
CENTRAL PERMITTING TECHICIAN
29848.0000
MCVEY
PATRICIA
CENTRAL PERMITTING TECHICIAN
29536.0000
MORSE
STEPHANIE
ADMINISTRATIVE ASSISTANT
29473.6000
COLLISTER
SUSAN
ADULT DAY CARE LPN
29432.0000
MOSLEY
CHRISTINE
SENIOR SERVICES PROGRAM AIDE
29411.2000
STAGER
THOMAS
AIRPORT ATTENDANT
29411.2000
NEMERGUT
JONATHAN
LIBRARY ASSISTANT III
28870.4000
FISKE
SHARON
LIBRARY ASST. II
28849.6000
BRECKENRIDGE
NINA
TOURISM MARKETING ASSISTANT
28808.0000
BOWMAN
DANNY
AIRPORT ATTENDANTS
28683.2000
GORDON
WILLIAM
AIRPORT ATTENDANT
28683.2000
IVORY
SHANNON
LIBRARY ASSISTANT II
28600.0000
FITZGERALD
MELANIE
CENTRAL PERMITTING TECHICIAN
28412.8000
DODGEN
JOANIE
TRADESWORKER II
28350.4000
CRABB
CASEY
EQUIPMENT OPERATOR II
28121.6000
MANOS
JOHN
EQUIPMENT OPERATOR II
28121.6000
MARHSALL
TERRENCE
EQUIPMENT OPERATOR II
28121.6000
JAROSZ III
GEORGE
EQUIPMENT OPERATOR III
28080.0000
LAYER
VICTORIA
ACCOUNTING CLERK
28080.0000
WAGNER
RONNIE
EQUIPMENT OPERATOR III
28080.0000
HACKETT
EARL
TRADESWORKER II
27809.6000
BROWN-MARKERT
JACQUELINE
LIBRARY ASSISTANT II
27456.0000
TREEN
SHARON
COUNTY EXTENSION DIRECTOR
27268.8000
ZALAK
JONATHAN
TRADESWORKER II
26894.4000
COUSLEY
LEOPOLD
UTILITY MAINTENANCE TECH I
26832.0000
KAZNOCHA
RYAN
EQUIPMENT OPERATOR II
26811.2000
GINTER
CHRISTIAN
TRADESWORKER II
26790.4000
ST. JACQUES JR.
PAUL
TRADESWORKER II
26790.4000
TORRES
ANDREW
TRADESWORKER II
26790.4000
LAYER
JOSEPH
TRADESWORKER II
26790.4000
STANKOVICH
JOHN
MAINT. TECH II
26707.2000
COX
JAXON
EQUIPMENT OPERATOR II
26520.0000
SCHLOBOHM
GREYSON
EQUIPMENT OPERATOR II
26520.0000
BALTZLEY
TIM
EQUIPMENT OPERATOR II
26457.6000
ROBAYO
JESSICA
LIBRARY ASSISTANT II
26457.6000
WRIGHT
JESSE
EQUIPMENT OPERATOR II
26457.6000
DUNLAP
THEODORE
MAINT. TECH II
25937.6000
ARSENAULT
CATHLEEN
CASE COORDINATOR
25625.6000
GONZALEZ
LUZ
ADULT DAY CARE CNA
25604.8000
BAUMAN JR.
ROBERT
EQUIPMENT OPERATOR I
25584.0000
JACOBS
DYLAN
EQUIPMENT OPERATOR I
25584.0000
NUNZIATO
TYLER
MECHANIC I
25563.2000
PORNOVETZ
JANELLE
LIBRARIAN ASSISTANT II CHILDREN'S
25376.0000
REITER
DEBORAH
TRANSPORTATION DISPATCH CLERK
25376.0000
ANDERSON
JULIE
ADULT DAY CARE CNA
24897.6000
LABOR
CHRISTOPHER
CUSTODIAN/MAINTENANCE TECHNICIAN
24772.8000
VANSCHAICK
KIRK
HOUSEHOLD HAZARDOUS WASTE
TECHNICIAN
24772.8000
GOLDEN
LEON
40 HOUR TRANSPORTATION DRIVER
24398.4000
BASTA
DANIEL
PARK RANGER
24377.6000
COX
JOEL
TRANSPORTATON DISPATCH CLERK
24377.6000
FRANK
JOSHUA
TRADESWORKER I
24377.6000
IPPOLITO
GEORGE
PARK RANGER
24377.6000
MOORE
CAROL
TRANSPORTATION DISPATCH CLERK
24377.6000
SNELL III
JOSEPH
PARK RANGER
24377.6000
STEPHENS
KEVIN
PARK RANGER
24377.6000
CHRISTIAN
ROSA
ADULT DAY CARE CNA-ON CALL
24211.2000
COX
NANCY
ADULT DAY CARE CNA-ON CALL
24211.2000
POLO
SONIA
ADULT DAY CARE CNA-ON CALL
24211.2000
KOLEGA
CHRISTOPHER
EQUIPMENT OPERATOR I
23504.0000
SMITH
JACOB
EQUIPMENT OPERATOR I
23504.0000
DEROIS
LEONARD
40 HOUR TRANSPORTATION DRIVER
23420.8000
FIGUEROA
MARYANN
40 HOUR TRANSPORTATION DRIVER
23420.8000
JAROSZ
JOHN
40 HOUR TRANSPORTATION DRIVER
23420.8000
POPOSKI
TIHOMIR
40 HOUR TRANSPORTATION DRIVER
23420.8000
HACKETT
DAMON
MAINT. TECH II
23379.2000
BENNETT
JAMES
40 HOUR TRANSPORTATION DRIVER
22880.0000
O'BRIEN
ROBERT
40 HOUR TRANSPORTATION DRIVER
22880.0000
HIRTE
JEAN
40 HOUR TRANSPORTATION DRIVER
22692.8000
LEICHTY
ROBERT
40 HOUR TRANSPORTATION DRIVER
22692.8000
JONES
TANEISA
LIBRARY ASSISTANT I
22193.6000
KINARD
DARLENE
LIBRARY ASSISTANT I
22193.6000
KING
OLIVIA
LIBRARY ASSISTANT I
22193.6000
MOEDJIO
REBECCA
ADULT DAY CARE C.N.A
22193.6000
WHITMORE
JONATHAN
MAINTENANCE TECHNICIAN II
22193.6000
VELEZ-VAZGUEZ
IVY
LIBRARY ASSISTANT I
22193.6000
BARNETT
GLENN
40 HOUR TRANSPORTATION DRIVER
22172.8000
DOMINGUEZ
GONZALO
40 HOUR TRANSPORTATION DRIVER
22172.8000
GRATACOS
ANGEL
40 HOUR TRANSPORTATION DRIVER
22172.8000
SMITH
MARIE
40 HOUR TRANSPORTATION DRIVER
22172.8000
COSTA
ANTONIO
40 HOUR TRANSPORTATION DRIVER
21860.8000
BRIGGS
RICHARD
40 HOUR TRANSPORTATION DRIVER
21153.6000
DAWLEY
DAVID
40 HOUR TRANSPORTATION DRIVER
21153.6000
DESINOR
FRANCI
40 HOUR TRANSPORTATION DRIVER
21153.6000
JOHNSON
CHANTEL
40 HOUR TRANPORTATION DRIVER
21153.6000
RIGGS
PATRICK
40 HOUR TRANSPORTATION DRIVER
19697.6000
DANCE
MARYLYN
PT PROPERTY CONTROL AGENT
19431.3600
HUTCHINSON
ALISHA
4-H EXTENSION AGENT I
17430.4000
EPPINGER
ANNA
EXTENSION PROGRAM ASSISTANT
14497.6000
LAPARO-COLANT
SHIRLEY
SITE LEADER
13970.3200
O'REILLY
TERESA
STAFF ASSISTANT II
11596.0000
CHIANELLI
ROSEMARY
LIBRARY ASSISTANT I
11096.8000
BOSCO
WILLIAM
19 HOUR TRANPORTATION DRIVER
10779.0800
HOWE
RITA
19 HOUR TRANPORTATION DRIVER
10047.9600
MANNOCCHI JR.
ARMANDO
19 HOUR TRANPORTATION DRIVER
10047.9600
YOUNG
KAREN
RECEPTIONIST
8819.2000
LOZADO
FELICIA
ECONOMIC DEVELOPMENT SPECIALIST
7488.000
MOORE
TASHA
LIBRARY ASSISTANT I
1248.0000
"He's either at the top or near the top of the range," Coffey said of Sieger's salary, downplaying the reality: Sieger's $112,000 salary is in fact 32 percent above the midpoint of $85,000, according to the salary survey, for similar jobs. "We're paying higher to some of our department heads because they're higher-level people in smaller fishbowl in some capacity, or they bring special skills to the table. We've got a stable of all-stars, and I'm trying to keep them, I really believe that."
The "all-star" designation is of course Coffey's, not an objective, independent finding.
But it reflects Coffey's willingness to award salaries at the very top of the "maximum" scales or better (according to the study) to certain chosen employees, while the rank and file must settle for salary adjustments that will bring them in line with the midpoint of the study, not its maximum. That disparity is not usually a good recipe for morale.
Coffey earlier this year allowed Sherman to "retire" and return the next day at a much higher pay of $149,000 (up from $136,000) as a "contractor" working under a different title, though she is fulfilling uch the same work she did before as deputy. The midrange for her position, according to the salary study: $126,000.
Similarly, Tourism Director Matt Dunn's $92,000 salary is well above the $74,000 midpoint of the survey and closer to the "maximum," Coffey's assistant's salary of $57,000 was $7,000 above the midpoint, and paralegal Sean Moylan's $61,000 salary was found to be $12,000 above the midpoint, though Moylan, an attorney, is categorized as a paralegal at that pay while fulfilling roles more closely associated with those of a deputy attorney–a position at a much higher grade of pay, left vacant several years running.
Some positions in Flagler were found to be below market midpoints by the survey, when actual salaries are, in fact, above that midpoint. IT Director Jarrod Shupe's position, Innovation Technology Director, was found by the survey to be 9 percent below the midrange of $109,000. In fact, Shupe's current salary of $118,000, according to records provided by the county, shows him well above the midpoint. Same story with Van Eckert's $120,000 salary, which is $13,500 above the survey's midpoint range, even though the survey listed her position's salary locally to be 6 percent below the $106,505 midpoint average.
Other than Commissioner Charlie Ericksen's question about the airport director, commissioners raised no questions about the employees found to be overpaid.
The second part of the pay plan, which the commission appears ready to approve next year, would consist of pay "adjustments" (that is, raises) for positions found to be below market rates, and the creation of a "step plan" so that every year, an employee in a certain classification would see an automatic raise, over and above cost of living, that reflects experience in that job. The Sheriff's Office, Bunnell and the School Board have such step plans, which stretch over 20 years. The plan recommended for the county would stretch over 26 years.
"The step plan "gives our employees an opportunity to see that they are going to get some increases," Flagler's human resources director, Joe Mayer, said. "We have to keep these memployees, this is a way to start."
The plan also calls for raising of the minimum pay for county employees from the current $9.72 to $12 an hour rate. The $12 rate is still below the living wage standard for a single adult, according to an MIT calculation, and it falls well below the minimum pay of $14.68 an hour for full-timers in Palm Coast government and most low-wage employees in Bunnell government (who, even at the lowest end of the scale, can cross the $12-threshold after a few years' experience). But Flagler's $12 wage will help about 40 employees, among them bus drivers, library assistants, some equipment operators and adult day care workers push their pay across the $25,000-a-year threshold.
Those found to be significantly underpaid, according to the study, are Library Director Holly Albanese, Planning Director Adam Mengel, Public Information Officer Julie Murphy, Benefits Manager Anita Stoker, Purchasing Manager Kristen Collora, Deputy Fire Chief Joe King, and to some extent Emergency Services Manager Jonathan Lord, along with budget analysts, project managers, equipment operators, employees in IT, some mechanics and tradesworkers, and a few EMT's. Public Lands and Natural Resources Manager Tim Telfer's job title does not appear on Evergreen's list, but his $67,000 salary, is significantly below that of managers in other classifications.
Albanese's and Mengel's $79,000 salary is 21 and 17 percent below the midpoint for those positions. King's current salary of $77,800 is 24 percent below the midrange salary of $91,000. Most of the county's firefighter-paramedics are at or slightly above market pay, with salaries in the $42,700 to $45,600 range. Murphy's $48,000 salary, reflecting substantial recent raises, is almost 20 percent below the market's mid-point, though when Murphy was hired to replace Carl Laundrie, Laundrie's position was split into two positions, at lower salaries (but a higher total), so the county could expand its PR and marketing reach. The salary range for those positions three years ago was $33,000 to $38,000. Laundrie was earning $62,500 when he retired.
The county hired Tallahassee-based Evergreen Solutions for $38,500 to conduct the salary study. (The company has been paid $28,875 so far.) Evergreen surveyed pay scales in 11 Florida counties and seven cities and based its recommendations for Flagler on minimum, midpoint and maximum averages of wages paid within each job classification in those governments, while adjusting for Flagler's cost of living, based on University of Florida data. Evergreen presented its findings to the county commission at a workshop last week.
Local governments frequently hire such companies to provide an ostensibly objective analysis of pay scales, though the companies rarely if ever return a study that does not recommend raises: the studies provide political cover for local agencies to go ahead with what usually results in substantial pay increases, which then feed into the data stream that the same companies use to justify further pay raises in other "peer" agencies. Evergreen over the past few years conducted studies for the Highlands County School Board, Highlands County government, Hernando County government, the Marion County Sheriff's Office and Key West government, among others, all of which led to pay increases. Highlands and Marion counties were among the respondents to Evergreen's survey for Flagler.
The governments surveyed for the Flagler study were Alachua, Sumter, Bay, Volusia, Highlands, Indian River, Lake, Marion, Santa Rosa, Seminole and St. Johns counties, and Gainesville, Jacksonville, Ocala, Orlando, Palm Coast, Port Orange, and St. Augustine.
"There's no perfect system," Coffey said, "this gets us a lot further, a lot closer, to where we should be."
"Conceptually this is taking us in the right direction," County Commissioner Don O'Brien said. Millennials, he said, "need to be a key component in our thought process because the workforce is going to turn over, they have different needs and we need to be prepared for that."
Coffey was effusive in his thanks to commissioners at the end of the workshop. "Thank you very much commissioners, this is very much appreciated on behalf of the employees. Again, they've worked a lot through the downturn, they do a tremendous amount of projects you're going to hear me talk about during my budget presentation tomorrow, but it starts at the top, you are essentially our board of directors, and thank you for giving us this opportunity, thank you for allowing us to do this study and make these changes."