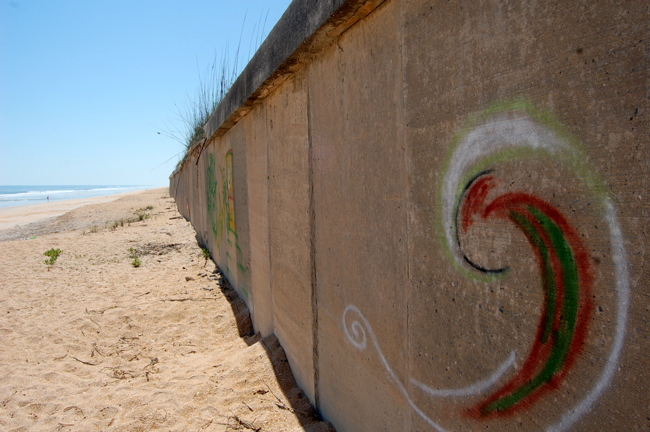 The word around towns' government offices is that when the Florida Department of Transportation decides to do something—build a road, build a seawall, build a weigh station—there's very little local communities can do to stop the department. Maybe that's the case elsewhere. It's not been the case in Flagler County, where on three occasions just in the past 12 months, with the transportation department's retreat on building a seawall in Flagler Beach the latest example.
Whether because of rapidly organized and loud local opposition, or because of a new sensitivity to public opinion, or because of a limited budget that can easily be shifted around at the slightest hint of opposition, the Florida Department of Transportation appears more disposed to listen to local concerns than override them.
For Flagler County officials and residents, the past 12 months' record of political activism and unified opposition to particular state-sponsored projects signals notable abilities to organize strongly, lucidly and convincingly, across local government boundaries or fiefdoms. The record of successful opposition is impressive. What Flagler County officials have not yet figured out is how to translate that sort of unity into positive alternatives: Flagler County knows how to oppose. It does not know how to propose alternatives as convincingly. The county's ongoing attempts at molding a unified economic development policy for itself is an example, though even there, the lack of a unified approach signals a strong undercurrent of public opposition to such an approach.
Flagler County's record of successes against Florida Department of Transportation proposals is clear:
Last May, the transportation department was eager to study—which means eventually build—a by-pass around Bunnell. For different reasons, Palm Coast and Bunnell opposed the by-pass, so did a sizeable number of Bunnell residents and businesses, who let their opposition be known to the department in a public meeting. Whether the by-pass would, in fact, significantly alter traffic patterns to Bunnell's detriment wasn't proven. If anything, the planned, massive Neoga Lakes subdivision north and west of Bunnell may bring thousands of new riders through Bunnell. The Bunnell City Commission subsequently approved the study, but only in the context of a broader look at long-term traffic patterns in the city, and at no cost to the city.
Going back to last year, the transportation department was looking to build a new weigh station on U.S. 1, near Royal Palm Parkway, and adjacent to Austin Outdoors and VerdeGo. The weigh station was to carve out a space in the median of the highway. It was ostensibly designed to catch truckers trying to evade the weigh station on I-95. But it left truckers many alternatives for evasion, particularly through the streets of Palm Coast. Bunnell and Palm Coast staked their opposition. The county and the school board joined in. Austin Outdoors and VerdeGo lawyered up. Last October, the transportation department announced it was scrapping its plans for the $11 million weigh station. Another local success.
Finally, the seawall. The transportation department has plans for extending the seawall in Flagler Beach, to protect A1A, from South 13th Street past South 14th Street. Flagler Beach residents and the city commission are opposed. The seawall, in many opponents' view, is an invitation to the eradication of the beach itself, as the waterline would eventually make its way up to the wall, as it often does where seawalls are built. In this case, Flagler Beach built opposition methodically, with the city commission asking other local governments to lend their voice in opposition. The county signed on. The city was to hold a town hall meeting with DOT officials in May to deploy its opposition, face to face.
It won't need to. This week, DOT announced it was pulling back from its seawall plans. It's not the end of the seawall. It's the end of this particular round. In that sense, it's also a repeat of 2005, when the very same thing happened: DOT had plans to build three miles' worth of seawalls in two spots along the Flagler shore. Opposition built like a summer hurricane and pushed DOT back.
"If the FDOT does push back on this," Flagler Beach City Manager Bruce Campbell said this week, referring to the planned town hall meeting, "we would have at least accomplished the first reason why we were going to have this to begin with, and that was to cement that opposition."
There won't be a town hall meeting.
But questions remain.
"How do we know there is an ongoing effort to look for alternatives?" Flagler Beach City Commissioner Marshall Shupe asked. "Hypothetically let's say they're going to put it off for two years, and two years from now we start the process to try to find an alternative or at least give them one?"
Phyllis Carmel, a Flagler Beach resident, posed another pertinent question: "What happens if the road caves in? Have we even thought about the possibility? This is something we need to think about."
"What will happen probably, Phyllis," Commission Chairman John Feind told her, "is the same thing that happened when the hurricane did it. They'll just do it on an emergency basis and nobody will get a say on anything."
That's what residents want to prevent.
Last month, Sherry Epley, a Flagler Beach resident who lives within earshot of ocean waves crashing onshore and A1A's traffic, submitted a six-point plan of opposition and alternatives to the commissioners. Among those: "Clearly define what options may be acceptable to our community. The FDOT has a responsibility to preserve highway A1A.  Doing nothing to stop the erosion of the dune that supports the road is not acceptable for anyone.  Since the FDOT remains entrenched in their armor and dredge methods, which we oppose, we should create a task force to actively seek out scientists and engineers who may be able suggest or create viable options for restoring the dune structure.  Once those ideas and options are presented to the FDOT, we must stand strong and require that the FDOT fully investigate the feasibility of using one or more of the solutions presented instead of rejecting them immediately, as they have done in the past." (The full plan will be published later today on FlaglerLive.)
Commissioners are listening. "I don't think anything we hear from the agency is going to stop the need for action on our part," Flagler Beach City Commissioner Steve Settle said. He called for meetings, privately or publicly, to figure out a plan of action. "The last thing in the world we want to do is just drop it and forget about it."
Meanwhile, Flagler County's various governments and constituencies can look back at the past 12 months and take stock of the power of local, unified voices. It's not a scant record. And it may embolden similar activism, such as one local school board member's talk of suing the state and the governor over inadequate education funding.