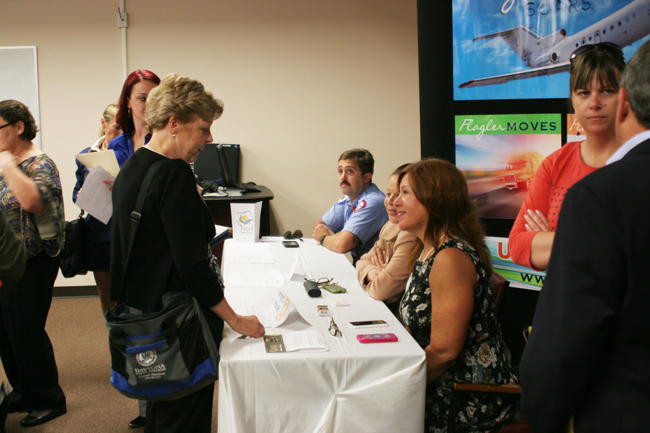 Approximately 400 job seekers streamed into the job fair sponsored by the Flagler County Department of Economic Opportunity and CareerSource Flagler/Volusia Thursday afternoon to speak to more than 36 employers offering a total of 496 employment positions.
Job seekers filled the parking lot and stood in a line that spilled out into the hallway of the Flagler County Emergency Operations Center, behind the Government Services Building. Company representatives were busy at tables speaking with potential employees and accepting resumes.
Although improving significantly in the last few months, Flagler County's unemployment rate remains the second-highest in the state, at 8.3 percent as of April.
Economic Opportunity Director Helga van Eckert said both those seeking work and employers were pleased with the number of businesses looking for new employees, as well as by the the number of applicants the fair drew out. "This is what economic development is all about," van Eckert said. "We are connecting businesses with potential employees, everyone benefits."
The list of potential jobs was long and diverse, including opportunities with Flagler County Schools–the largest employer in the county at 1,700 employees, though 44 just retired–Gioia Sails South, Sea Ray Boats to the high tech industries CoastalCloud and manufacturer AVEO Engineering.
"We're very pleased with the success of the partnership between CareerSource and Flagler County DEO at our inaugural job fair. We've had positive comments from both the job seekers and the participating businesses," said Robin King, President and CEO of CareerSource Flagler Volusia.
High school and college graduates along with experienced workers and veterans were among those that lined up at the job fair. Van Eckert said that a number of businesses have already asked for this to be an annual event.
"This is a great service that we can provide to our businesses and our residents," County Administrator Craig Coffey said.