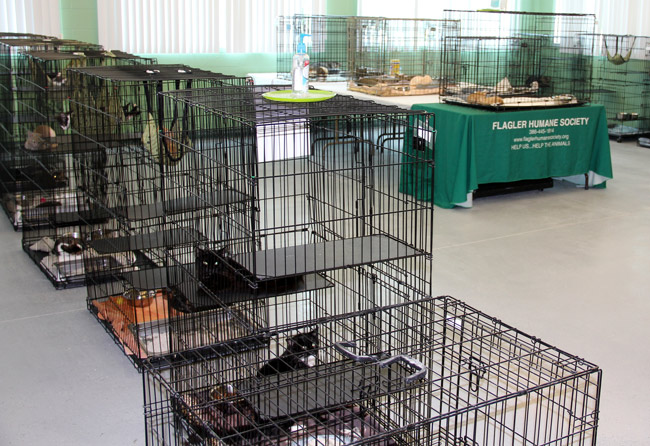 There are too many animals at the Flagler Humane Society: cages are filled everywhere you look. Even the conference room is now a makeshift cattery filled with large cages–cages filled with cats. Outside the room, tables along two walls hold a recent influx of eight rabbits waiting for homes or rescue groups to take them.
The hallway of the official cattery area of glassed-in cages and colony rooms is also lined with multi-level cages, called monkey cages. Not that they're holding monkeys. Just more cats.
The dog kennel area once included a get-acquainted room for potential adopters to spend some one-on-one time with an animal before adoption. Now the room is filled with large dog crates and an indoor exercise pen, their occupants seemingly pleading sad-eyed for a better home.
Diane Voigt, president of the board of directors, and the shelter have set a goal for October: to save the lives of 650 animals and remain in the running for a $100,000 prize being offered by the ASPCA Rachael Ray $100K Challenge. The Flagler Humane Society is one of 50 animal care groups nationwide vying for the top prize.
Finding animals to save is not a problem. Voigt (who initially stood in as the interim director after director Jef Hale was fired by the board in February) says the shelter is taking in 350 to 400 animals every month. On this day there were 92 dogs, 247 cats and 8 rabbits in cages in every available space. To do this the shelter has been implementing what Voigt refers to as "very aggressive adoption programs." It's obviously had results.
But the society isn't limiting itself to picking up and redistributing animals. On Monday, the Flagler County Commission looked favorably on a Humane Society grant proposal through PetSmart Charities that would yield $100,000 a year for two years for a county-wide spay/neuter program. The society is drafting the grant application. If granted, the money would be administered by the county, which would serve in an oversight capacity. The Humane Society would partner with local veterinarians to provide the pay and neuter services, which would include vaccination and the microchipping of all animals except feral cats.
"The grant appears to be fairly straight-forward," County Administrator Craig Coffey said, with the first half handed over up front, and the second half provided after reporting requirements are fulfilled. But it is a competitive grant.
"It sounds wonderful," Barbara Revels, chairman of the county commission, said. "It'd be nice to know that if there's other support we need to do to help it along."
The county currently gives $24,000 a year to the society for its ongoing spay/neuter program. The grant money would supplement rather than offset that amount. "The $24,000 has to be in addition to," Coffey said, "but we might also look at trying to find other ways to help the shelter, they're struggling right now, they've been without a director for a while."
"We are making big improvements, but financially it's still a struggle," Voight said.
The idea, of course, is to reduce the number of unwanted animals. The society would specifically target pit bull and pit mixes, pets belonging to low-income residents, and feral cats. The goal would be to spay or neuter 2,000 animals in two years. (The Flagler Humane Society currently takes in 4,000 dogs and cats each year.) "While FHS strives to minimize euthanasia at its shelter," the society wrote as part of its grant proposal to the county, "some have to be euthanized simply because there are no homes available. In spite of the valiant efforts of shelter staff, volunteers and rescue groups, there is no way to adequately address the problem through adoptions alone."
The society illustrated its proposal with an example from Duval County, which has had a targeted spay and neuter program since 2002. Next year, Duval is projecting to become a "no-kill" community as a result. The SpayJax program conducts four to five spay or neuter interventions per 1,000 resident. In 2003, shelters took in 33,847 animals. By 2010-11, the number was down to 18,379. Shelter deaths decreased from 23,104 in 2003 to a projected 4,700 in 2011-12. The SpayJax program is sustained through a fee: $10 of every $20 pet license tag sold goes to a Spay/Neuter Trust Fund. Clay and Nassau counties are moving in similar directions.
In Flagler County, the Humane Society's documents indicate, a low-income targeted pet spay and neuter program reaching five surgeries per 1,0000 population annually would require funding for 485 surgeries, or around $33,000.
In a first for the shelter, the Flagler Humane Society joined with the Halifax Humane Society and South East Volusia Humane Society in Volusia for the Plan Alive Mega Adoption event at the Volusia County Fairgrounds on Aug. 18.
Beyond that, the society is engaging in broader efforts. "For the first time the three shelters are working together to save the lives of the animals," Voigt said. "We are trying to work together to make it better for all of us to adopt out these animals."
Voigt said the cooperation increased the adoption field for the animals and was not a one-time event. The three groups will be working together again and sharing resources.
"If we aren't able to adopt an animal we might transfer it to Halifax Humane because they may have the people for the animal," she said "or they could send animals to us. It makes a positive statement for the two counties."
The first official collaboration is being hailed as success. "Sixty-one animals were adopted and 25 were from Flagler Humane," Voigt said .
Robin Goss stepped into the role of interim director so Voigt could focus on grant writing with another board member, Nicole Brose. According to Voigt the Board of Directors is looking for a director but do not plan on filling the position until October at the earliest.
How to spend grant money is not an issue. Grant awards would fund additional spay and neuter programs at the shelter.
"We have two new programs, one expands low cost to all county residents without any income qualification. It's not free but lower cost," Voigt said. The second program is for what Voigt calls "community cats" others might refer to them as stray or feral cats. "Cats that no one owns but someone takes care of."
The surgical area of the shelter is now overseen by humane society medical directorGary Shelton who has a group of vets that work at the shelter five days a week.
Voigt says the number of animals coming into the shelter needs to come down. "This is a small county and there are only so many homes," she said. That's where the PetSmart Charities grant would help.
The next major shelter event will beat First Friday in Flagler Beach on Sept. 7. The theme is "Animals" and the shelter will have low cost vaccination and micro chipping clinics during the event.