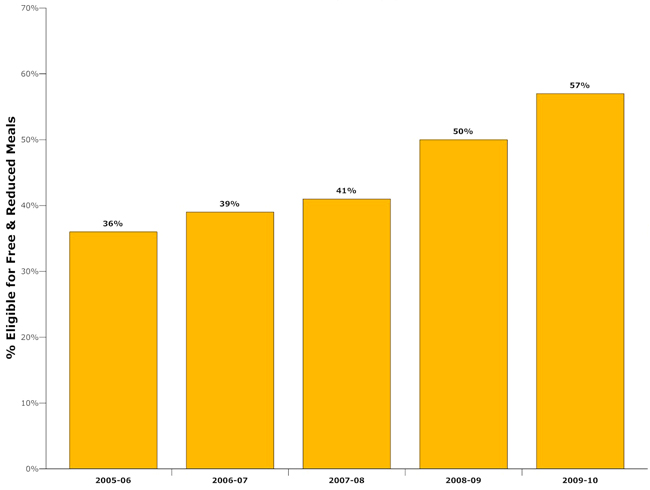 It's the consequence of a poor economy: as families lose jobs and homes, more children are enrolling in the Flagler County school district's free and reduced breakfast and lunch program.
The rise is significant: from 36 percent of the student population just five years ago to 57 percent in the school year that just ended. Bunnell, Rymfire and Wadsworth elementary schools each have more than 65 percent of their school population on free or reduced meals.
Federal pay-outs to Florida have seen the same significant increase: from $408 million in 2006, at the height of the housing bubble, to $499 million in 2009. The 22 percent increase is almost identical to Flagler's proportionate increase in students on free or reduced plans.
The full price of a breakfast in Flagler schools is 50 cents. The reduced price is 25 cents. Lunch prices range from $2 in high school to $1.50 in elementary school, but are 40 cents throughout on the reduced plan. To be eligible for reduced rates last year, a family of four had to have an annual income of $41,000 or less. The figure will change somewhat for the coming year. Income isn't the only factor that determines eligibility. Children in households that receive food stamps or direct cash assistance are eligible for free meals.
The cost of the program is borne entirely by federal assistance. But the rising numbers of children on free and reduced meals is a reflection of a rising, local cost on social services–and a rising toll on local families with fewer means.