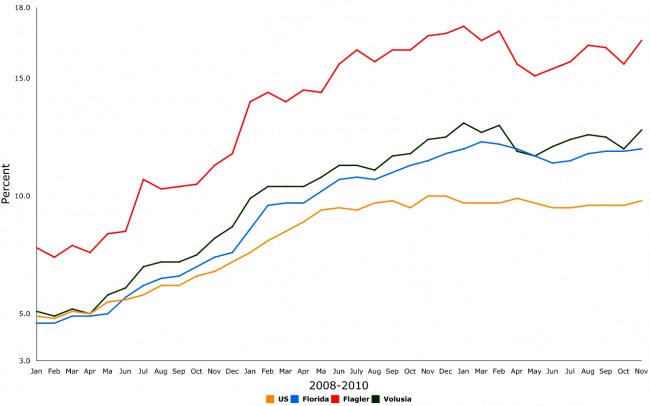 Virtually no jobs were created in the state in November and 274 jobs were lost in Flagler as the unemployment rate at both levels rose again sharply in November–to 16.6 percent in Flagler, where it was last March, and 12 percent in the state. The highest unemployment rate Florida hit during this Great Recession was 12.3 percent, in march this year. Some 1.11 million Floridians are out of work.
Unemployment's resumed climb should be temporary, however: with congressional passage of a massive new package of tax cuts that include hundreds of billions of dollars in new economic stimulus (as unemployment compensation and the equivalent of a $1,000 to $2,000 per worker break in payroll taxes), and recent indications of the strongest consumer spending across the country in two years, Florida may soon see the last of its double-digit unemployment rate. The climb out of deep unemployment is not likely to be quick, particularly in counties severely hit by foreclosures and extraordinarily high unemployment. Among those: Flagler.
The labor force in Flagler, which had been declining, rose modestly, by 41 workers between October and November, but that's still 221 workers fewer than a year ago. Inaccurate rankings aside, Census Bureau figures released this week point to a significant decline in population in Flagler County and Palm Coast in the last few years.
"The November unemployment rate reflects the challenges our state is facing as we slowly emerge from the national recession. Knowing that this is an uncertain time for many Florida families, our agency has been closely monitoring the discussion in Congress on an additional extension of federally funded unemployment benefits. With passage of the legislation last night, we are prepared to immediately begin processing payments as soon as the president signs the bill," said Cynthia R. Lorenzo, the state's labor department director, in a prepared statement. "We strongly encourage job seekers to regularly visit www.employflorida.com, the state's online job bank, for continuously updated employment opportunities, resume assistance and access to training and education programs."
At midnight (between Thursday and Friday), the U.S. House of Representatives voted 277-148 to approve an $801 billion package that extends the 2001 and 2003 Bush tax cuts for two more years–including for the rich and the superrich–and adds more tax breaks for working Americans, including a decline to 4 percent in the Social Security payroll tax. Included in the package is a $57 billion ext6ension of unemployment benefits for the long-term unemployed. That extension is good for 13 months.
Some 7.2 million Floridians have jobs out of a population of 18 million. There's been a job increase of just 36,200 in the last 12 months–usually a single month's job increase in a normal economy.
The industry gaining the most jobs over the past 12 months is private education and health services (28,900 jobs, +2.7 percent). Leisure and hospitality gained 21,400 jobs, professional and business services gained 10,100. Industries losing jobs over the year include construction, with a loss of 12,900 jobs, or 3.6 percent, manufacturing (9,200 jobs) financial activities (8,100 jobs lost), government (7,900 jobs lost) and information (5,500 jobs lost).
Hendry County again had the highest unemployment rate, at 17.9 percent, followed by Flagler's 16.6 percent, Hernando and St. Lucie counties at 15.2 percent, and
Marion County at 14.6 percent. Hendry County is a small, agricultural county. In terms of metropolitan areas, the Palm Coast-Flagler County area is still the state's leader in unemployment.
Here's how those metropolitan areas' unemployment rates ranked in November:
1. Palm Coast MSA 16.6 %
2. Ocala MSA 14.6
3. Sebastian-Vero Beach MSA 14.5
4. Port St. Lucie MSA 14.3
5. Cape Coral-Ft. Myers MSA 13.3
6. Lakeland-Winter Haven MSA 13.3
7. Miami-Miami Beach-Kendall MD 13.0
8. Punta Gorda MSA 12.9
9. Deltona-Daytona Beach-Ormond Beach MSA 12.8
10. Tampa-St. Petersburg-Clearwater MSA 12.6
11. Palm Bay-Melbourne-Titusville MSA 12.6
12. Naples-Marco Island MSA 12.4
13. North Port-Bradenton-Sarasota MSA 12.3
14. West Palm Beach-Boca Raton-Boynton Beach MD 12.3
Florida 12.2
15. Miami-Ft. Lauderdale-Pompano Beach MSA 12.1
16. Orlando-Kissimmee-Sanford MSA 11.9
17. Panama City-Lynn Haven-Panama City Beach MSA 11.6
18. Jacksonville MSA 11.6
19. Pensacola-Ferry Pass-Brent MSA 11.1
20. Ft. Lauderdale-Pompano Beach-Deerfield Beach MD 10.8
United States 9.3
21. Tallahassee MSA 9.0
22. Gainesville MSA 8.7
23. Crestview-Ft. Walton Beach-Destin MSA 8.7