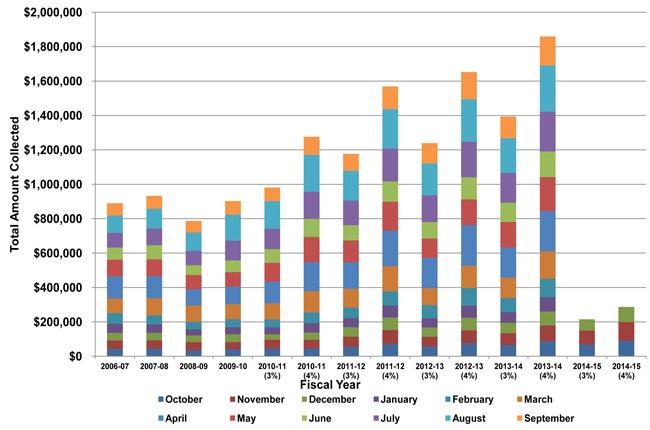 Florida attracted a record number of tourists in 2014, inching closer to an annual goal sought by Gov. Rick Scott.
An estimated 97.3 million visitors came to Florida in 2014, a 3.9 percent increase from the year before, according to information released Monday by Visit Florida, the state's tourism-marketing arm.
Flagler County is doing its share. According to the county's monthly financial tally, monthly tax collections from the county's 4 percent surtax (or bed tax) on fees at hotels, motels and other short-term rentals were up 13 percent by the end of the 2014 fiscal year (it ended in September), after increasing 5 percent the previous year. So far this year, the first three months' bed-tax collections are up 10 percent over a similar three-month span last year. The bed tax is an additional 4 percent on the sales tax.
Scott, who has asked lawmakers to increase tourism-marketing funding from $74 million in the current fiscal year to $85 million during the budget year that begins July 1, has been pushing for Florida to surpass 100 million visitors a year.
The latest figure represents the state's fourth consecutive year with an all-time high in tourism. In the last complete fiscal year, Flagler collected $1.9 million in bed-tax dollars, an increase of $207,000 over the previous year. The money is used to pay for a variety of tourist-related projects, including capital improvements to such tourism draws as the Flagler pier and grants for numerous events that draw the sort of tourists who spend nights in the county, filling hotels and spending money at local restaurants and businesses.
"Not only are visitors coming to our state at record levels, but there are also a record number of Floridians employed in our tourism industry," Scott said in the release. The state Department of Economic Opportunity estimates that of the 9.1 million people currently employed in Florida, 1.1 million have jobs tied to the tourism industry.
The increase in visitors also means additional revenue for the state and for counties such as Flagler.
Visit Florida President and Chief Executive Officer Will Seccombe told legislators last week that approximately 12 percent of all state sales-tax revenue comes from people who don't live in Florida.
Tourism officials think they can boost the number of visitors with additional money for marketing and by getting people to also consider Florida for ecotourism and more off-the-beaten path trips.
---
12% of Florida's government revenue is drawn from people who don't live in the state.
---
The marketing agency hopes to attract wealthier international travelers, who will spend more, and to entice people to consider Florida for bicycle trips and small-downtown shopping in addition to Disney World and the beaches. Seccombe outlined the marketing plan during an appearance before a Senate budget panel last week.
"With all the marketing in the world we couldn't put a whole lot more people down into the Florida Keys today," Seccombe said. "They're running 92-, 95-percent occupancy in the Keys. But there are areas that don't have that high occupancy. We're working very hard in our strategic planning process to identify the need areas of the state."
But some senators last week raised questions about the return on investment if they increase funding for Visit Florida to $85 million during the upcoming fiscal year. Senate Transportation, Tourism and Economic Development Appropriations Chairman Jack Latvala, R-Clearwater, said it appears the increase in tourism numbers has gone up at a slower rate than the state's spending.
"To me, potentially, we're getting to a situation where maybe we've spent or are spending what we need," Latvala said during last week's meeting of his panel.
Seccombe estimated that about 50 million visitors each year would come to Florida regardless of advertising, due to family, friends and other personal interests.
But competition has grown as other states realize the economic impact of tourism, he said.
Nationally, only two other states — also traditional vacation locations — spend more on self-marketing: California at $100 million and Hawaii at about $80 million.
The majority of Florida's 2014 visitors came through domestic travel, with Visit Florida giving a ballpark figure of 11.5 million for those traveling from overseas. Another 3.8 million were from Canada.
The 97.3 million visitor total doesn't include the approximately 20.2 million in-state "pleasure trips" taken by Floridians.
For the fourth quarter, the state estimated 22.4 million visitors, a 2.8 percent jump from the same period in 2013.
–FlaglerLive and Nedws Service of Florida