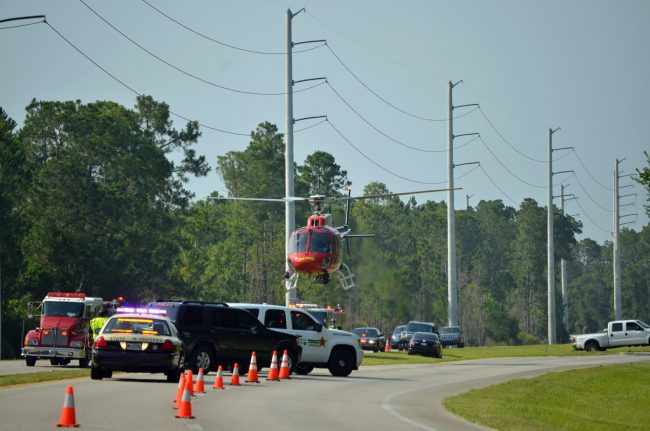 The cost of an emergency ambulance ride in Flagler County is going up 48 percent, the cost of an extrication in a car crash is going up 60 percent, and the cost of an emergency transport by helicopter is going up by 106 percent.
The County Commission approved the fee increases among many others Monday evening, part of an effort to align Flagler County Fire Rescue revenue with those of neighboring counties, and to improve the fire department's bottom line as it prepares to spend $1.5 million on new equipment and vehicles and several hundred thousand dollars more for pay increases.
The firefighters' union is in negotiations with the county to institute a "step" pay plan, which would reward employees with a pay increase for each additional year of service, in addition to cost of living raises. The Sheriff's Office and teachers have such a step plan in place. Firefighters do not, so a firefighter hired at the starting pay of $44,000 will not be making much more than that, other than cost of living raises, 10 or 20 years out. "If I hire somebody today they make the same as somebody or a little bit less than somebody who's been here eight years," Fire Chief Don Petito said.
The fee increases will not keep the county administration from requesting a property tax increase that the county commission is likely to grant: it has shown no indications against it, and every indication that it is willing to go along with the county's various requests for budget increases, including for all its constitutional officers–the sheriff, the clerk of court, the supervisor of elections, the tax collector and the property appraiser.
Monday's workshop gave commissioners the first detailed look at the fire rescue budget's new demands.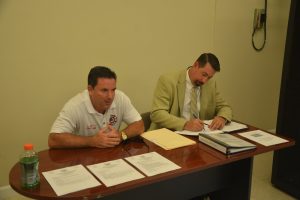 Emergency transportation is usually paid at least in part and sometimes in full by the patient's insurer, assuming the patient has insurance. But those costs are also often a surprise for patients who review their bills after a medical issue.
The fee for an emergency advanced life support ambulance transport was $465. It is going up to $690. A basic life support ambulance ride is going up 46 percent, from $400 to $584. Patients will be billed $11 per mile in an ambulance, a 16 percent increase. An evacuation by helicopter cost $4,700. That cost is going up 106 percent, to $9,700–still less, he says, than the $47,000 cost charged by the helicopter that services Flagler Hospital in St. Augustine. (See Flagler's complete new fee schedule, with comparisons with other counties' fees, here.)
Fees offset the fire department's $11.7 million budget and the emergency helicopter's $664,000 budget, though the fee increases are not reflected in the budget County Administrator Craig Coffey submitted to the county commission in a series of ongoing budget workshops: the fire department's fees is actually projected to fall by $250,000, according to the proposed budget, and Flagler County Fire Flight (the emergency helicopter) shows its fee revenue static at $50,000 for next year, even though Petito says he hopes to see that jump by several hundred thousand dollars.
Petito attributes the discrepancy to two things: the county is switching its collection method and going back to a third-party provider (Change Health Care) to collect those fees instead of having the tax collector do it. And the county expects a lag between the time the provider will start collecting and insurers will pay. The fire chief says it is more prudent budgeting to plan on existing dollars, and reflect new collection fees only when those prove true.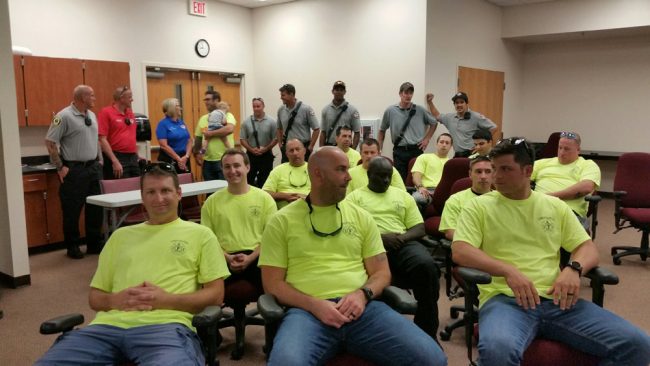 Petito in a long presentation to the commission on Monday outlined his department's many needs by starting to contrast Fire Rescue's budget with that of the sheriff. The two departments account for 19 percent of the county's overall budget. But the sheriff accounts for 14 percent sheriff, and fire rescue just 5 percent. "If I take that 19 percent out and break it out even further, you see fire rescue is getting 24 percent while the sheriff 's getting 76," Petito said. "So we kind of feel we're being a little left out on that funding part."
Since 2014, the sheriff's budget has gone up by $8 million while fire rescue has gone up by $1 million. Operating expenses have remained flat, capital costs have fallen. Ten firefighter-paramedics left during that period for jobs elsewhere, a trend the fire chief attributes to the static pay. In Miami, he said, a firefighter will start at $34,000, or $10,000 a year less than one starting in Flagler. But as soon as the firefighter passes the paramedic test, the pay increases by $1,000. And just by working there, the pay will rise to $70,000 over 20 years because of the step plan. It can rise further with promotions.
"When you come here you get hired at $44,000, and you stay at $44,000," Petito said. "That's what we're trying to do is get that to where, we can explain to these people when you're here 20, 25 years, you can make it to this point. Right now you can go anywhere else and have that picture painted for you. We can't even paint that picture. So that's what we're trying to do for our personnel services."
The step plan would help retain firefighters rather than make Flagler a training ground for other agencies. "It's wonderful we provide that training," Commissioner Nate McLaughlin said. "We also need to provide the incentive, so we're not training for everybody else."
The department will also need new equipment, and the county has budgeted $1.5 million for a new $490,000 fire engine, a $230,000 ambulance, a $120,000 attack truck (that battles wildfires), and nearly $400,000 for firefighters' self-contained breathing apparatus, plus some additional equipment.
The department is also hoping to replace its nearly 20-year-old ladder truck, but that will cost between $650,000 and $700,000. It will also eventually have to replace its emergency helicopter, a $4 million charge (if new). Neither are in next year's budget. The helicopter just had its engine, rotor and blades replaced, so the only thing that isn't new is its skin, Petito said. It can go a few more years. But he's requesting the addition of a pilot.
The county administrator will re-submit his general fund calculations to the commission at a June 25 workshop, with a proposed property tax increase. "We also have to increase the millage because we have some catch-up we have to do in some of these areas," Coffey said. "We need to do some of that for our own folks but it takes money to do that." The step plan firefighters are requesting will be part of that proposal.
"What that means is that there are some other things that aren't going to get funded, because we have to take care of the people first," Commission Chairman Greg Hansen said, without specifying just yet what those other things will be. "There's going to be some tough decisions coming up here."

The Fire Department's Budget Presentation (2018)