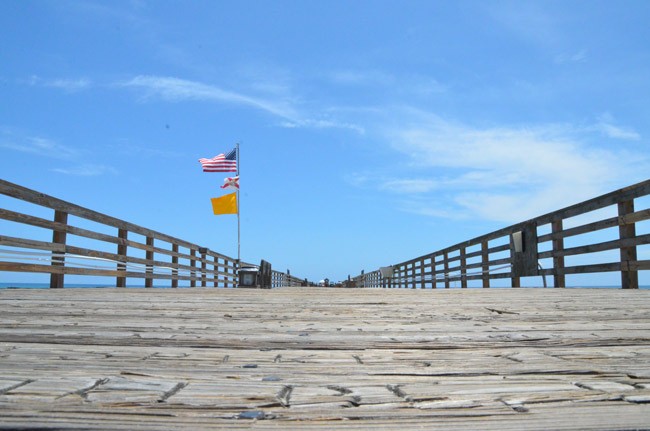 Flagler Beach's iconic pier may become a little less public, a little more private—at least six times a year, as the city prepares to open the way for private-party rentals of the pier in whole or in part to maximize revenue.
The pier already makes the city quite a bit of money. In 2014, the last year for which audited figures are available, the city took in $313,000 in gross revenue. That included $148,000 in walk-on ticket sales, just over $100,000 in sales at the bait shop, and $73,000 from the Funky Pelican. The latter rental payments from the Funky pelican are expected to increase to just over $100,000 this year, so the pier is already generating rising revenue.
Commissioners want more.
They assigned the job of raising new money to Penny Overstreet, the city clerk. They discussed the matter in April. They found Overstreet's proposed rates too low. Overstreet returned with a proposal that would rent out a closed-off pier for $115 an hour, with a three-hour minimum, and an 18-hour maximum. The whole pier could be rented out—that is, privatized or closed to the uninvited public–six times a year. The $1.50-a-person walk-on fee would still apply, however. That fee is set by city ordinance.
The 875-square-foot T-shaped portion of the pier at its eastern extremity could also be rented out on its own, for $75 an hour, for a minimum of one hour and a maximum of three hours. Currently, the proposal does not have limits on how often that portion of the pier could be rented out.
---
The pier already generates well over $300,000 a year and rising. Commissioners want more.
---
A majority of the Flagler Beach commissioners last week had no issues with privatizing the pier half a dozen times a year, and not a single member of the public addressed the commission when it had agreed, at least by consensus, to move forward with the new proposal. Commissioners only worried about carving out exceptions, or making it difficult for certain non-profits to have events there. For example, the Flagler Beach Museum has had its fund-raising galas on the pier. Terri Pruden, the museum director, wrote commissioners that the proposed rates would make it difficult for her to continue doing so.
"I theoretically think it still could go on," Overstreet said of the museum's events. The last event drew 371 people, Overstreet said, netting the museum $7,400 in collections from a $20-a-ticket fee. She estimates that the new fees would raise the museum's cost by about $1,000. But Pruden reported to Commissioner Jane Mealy that even with the year's revenue, the "just about broke even this year with the increased number of people that came," Mealy said.
The city already contributes $1,500 in "membership" to the museum.
Mayor Linda Provencher wondered about waiving fees for non-profits, who currently don't have to pay  a special event application fee or a merchant fee. But Commissioner Steve Settle didn't like the idea.
"I would be leery of starting to carve out exceptions, particularly when we're talking about non-profits," Settle said, "because if we're only going to have a certain number of events, we're never going to make a cent out there because it's always going to be nonprofits, and if we have one I would be leery of saying no to another." The solution, Settle said of the museum, is "agreeing to give them some sort of a grant to cover that cost, but just for them." That would mean increasing the city's annual allocation to the museum.
"That, you can do, yes," the city's lawyer, Drew Smith, said.
"You as the commission have given staff direction to generate revenue with that pier outside of what it's already doing," Overstreet told commissioners. "I'm bringing it back to you. It's up to you guys now. If you don't want to make money out there, don't do it."
But they do. They directed Overstreet to make a few minor changes to the proposal, leaving its essence intact. The fees do not cover additional services such as electricity ($10 an hour), restroom supplies and facility charges $35 an hour), sanitation rates ($$75), police and other staff costs. Applicants must also secure a $1 million general liability insurance policy for each event.
City Manager Bruce Campbell, who's been much quieter this year than in previous years during commission discussions, did not offer his opinions on the proposal. But he summed up his view in an email to Pruden last week, defending the approach. "We have struggled with presenting a balance between making the Pier a venue for special events, not completing disrupting the current business model of the Pier as we know it today and creating a new revenue stream for our City," Campbell wrote. " Have we met the delicate balance we are striving for? I personally believe we are closer with this draft then the first, but there may be some "tweaking" yet required."
Commissioners did not vote on the proposal last week. They directed Overstreet to submit a final draft later this month. The commission will vote on the proposal in two readings of the ordinance.

Read the proposal here. It is still in draft form and undergoing a few but not substantial changes.