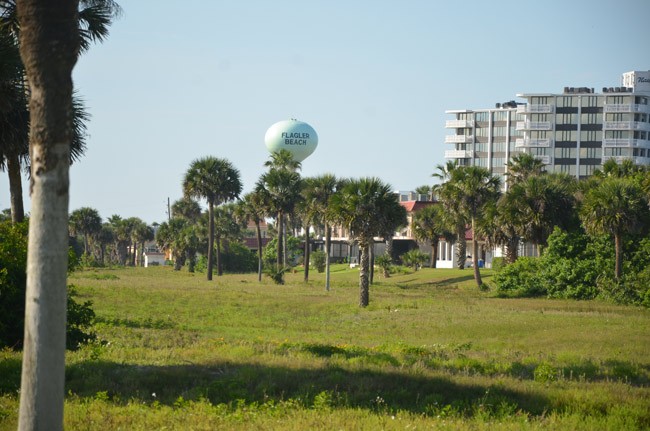 Palm Coast taxpayers have owned the Palm Harbor Golf Course for almost six years. Like many publicly-owned golf courses, it's been in deficit every year. A privately owned golf course that's gone into disuse for almost a decade at the north end of town is causing the city more grief as residents around it complain of its eyesore effect on their property values. It's part of a national phenomenon that has depressed the value of golf courses over the past 10 years, with 15 golf courses closing for every new one opening last year, according to the National Golf Foundation. Those numbers reflect the trend among 18-hole courses only.
Yet on Thursday evening, the Flagler Beach City Commission gave its manager and one of its volunteer committees the go-ahead to start whatever process necessary to turn the old and long disused Ocean Palm Golf Club at the south end of town into a functioning golf course again.
"Anyone out there in the golf world will tell you, if you have a driving range, you're going to make more money. More money. If you have a golf course, if you run it right, you're going to break even or make money," City Commissioner Joy McGrew said, her assessment of the golf word in sharp variance with industry numbers. "I would like to see us make money. Yes, we've already spent $490,000. It's going to cost us some money to buy this piece of property, but now we're going to own it full out, and then we're going to be able to negotiate a lease as people spoke here tonight, as we've talked about in the past, that can do the same thing that happened to the [Funky] Pelican. How many people thought that that restaurant could ever come to what it has come to now?"
The city currently owns 34 acres of what used to be the nine-hole Ocean Palm Golf Club, after buying the land in a foreclosure sale in April 2013 for $490,000. The opened in 1960 and stopped operations in 2008. That land has to remain in recreational use. At the time, the city justified the purchase by saying it would turn the space into a park or open green space. (Ocean Palm owners had sought to build 129 homes on the land, but the city refused to alter the zoning to that end: the land is surrounded by single-family homes.)
---
Golf keeps losing players and courses, but Flagler Beach sees potential in reviving a disused 9-hole operation at the south end of town.
---
A 2.9-acre enclave within the rectangular parcel is left in the hands of an Ormond Beach entity called Caribbean Condominium Limited Partnership, owned by Kathryn Vaughan. The state's Division of Corporations lists that entity as inactive since 2012. The property is delinquent on the $1,900 in taxes it owed last year, and hasn't paid the $1,900 it owes this year. The property appraiser lists the just market value of the 3 acres at $75,000. That parcel is zoned for residential construction.
Last year the city commission appointed a so-called Alternative Use Committee to come up with—well, alternative uses for the property. The committee submitted its recommendations at the commission's meeting Thursday evening. It considered all sorts of alternatives, including a dog park, biking and hiking trails, tennis courts, a multi-purpose community center, "extreme golf," natural areas, an indoor swimming pool, climbing walls and saunas, sports fields, a public farm, a flea market, picnic pavilions, a croquet course, a wind farm, a water park, an archery range, a zoo, a skateboard park, and so on.
In the end, the committee, not a little stacked with golfers, reverted back to what was expected to recommend all along: return the property to golf.
"Comparing us to Palm Coast is not accurate, because Palm Coast took over the golf course," one committee member said. "They're a city that are running a golf course. We're not doing that. We're a city that's leasing the property the same as we are with the pier and everything else, so it's a whole different scenario than us running a golf course." Palm Coast owns the golf course, just as Flagler Beach would own the whole parcel. But Palm Coast is contracting with a private company, on a three-year basis, to run the operation. Flagler Beach would lease the property to a company to do the same thing, though there might presumably be a signal difference: if the company leasing Flagler Beach's property loses money, the city would not subsidize its operation, the way Palm Coast subsidizes KemperSports to keep going at Palm Harbor Golf Club. But that's largely speculation, as the city has no such agreement with any company—just three "letters of intent," which are a long way from a lease.
"The golf course makes the most sense and it should be profitable for the city eventually," the committee member—a golfer herself–told the commission.
There was no disagreement among commissioners to return the land to golf use. But there was less agreement on what to do with the 3-acre enclave. "Why did we have an alternative use committee and go through all this if that's what we were going to do all along," Mayor Linda Provencher said of the golf reversion, when discussing what questions should have priority. "I think the better question is if we have to have the 2.9 acres to make it a golf course, if that's what we have to have. Do we have to have that? I don't know."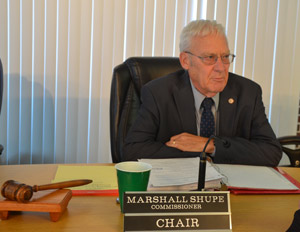 There's some thinking among commissioners and the administration that the 3-acre enclave is not critical to the rest of the parcel, should it be turned into a golf course again, although most would prefer to buy the enclave. The commission gave City Manager Bruce Campbell the authority to start negotiating for the enclave.
"I think that we need to proceed with this to the point where we need to have the committee continue and maybe work, Bruce, with you, and try to get us the information that we need to see where this 2.94 acre falls, whether it has to be there in order to get this turned into a golf course, or whether it can be restructured. Who knows. I don't think anybody wants to have a couple of 34-foot tall buildings occupying that property, so I think it behooves us to have Bruce go ahead and see if he can start a negotiation or at least a search-negotiations and we continue to relay that information to the committee if they'd like to hang in there for us."
Commissioner Steve Settle reworded that summation into a motion, which the commission approved unanimously. "We've got some experts in golf on that committee so they probably can judge what we need better than we can" Settle said.