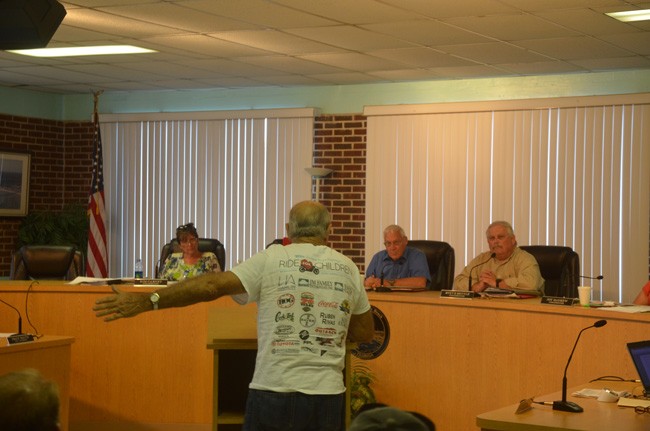 Flagler Beach city commissioners were divided. At times they spoke derisively about Sea Ray and the county commission for ignoring the city's concerns. At times they called it all a done deal that defies further opposition. In the end, they voted 3-2 to take a challenge to the state of a county land use amendment enabling Sea Ray Boats to build a parking lot on 24 acres south of its property off Colbert Lane in Palm Coast.
The most important question the commissioners wanted answered was whether the city had standing to challenge any decision, from any angle, that could stop Sea Ray Boats's decision to build a 24-acre parking south of its property off Colbert Road.
"Yes we can make an argument that we have standing," City Attorney Drew Smith said. But the option is limited. "It would be us challenging as a property owner within the county, not as an adjoining jurisdiction," he said. "We're not talking about a parking lot, we're not talking directly about Sea Ray. We're talking about the county's amendment to the comprehensive plan," and whether that amendment is consistent with the broader comprehensive plan. The challenge would have nothing to do with odors, carcinogens, pollutants, property values or much of anything else opponents to the plan have talked about.
The city had 13 days, counting from today, to file a challenge. "This isn't a process that drags out for a year or more. It's on a speedy trial type docket," Smith said. That's the case so a developer isn't being held back. "It's going to be fairly compressed when you compare it to litigation." He cautioned later: "the deck is stacked" against the city. "It is a high hurdle," Smith said. "It does not mean you cannot prevail."
Commissioner Jane Mealy, the most critical of Sea Ray among city commissioners in the last months, again cast doubt on the company's veracity while saying the company has not been transparent with its plans despite the company's publishing its perspective in local media. Mealy on several occasions held a copy of Sea Ray's most recent article and sarcastically referred to the company's manner of communicating with the city commission. There were no company representatives at the meeting. She also dismissed the occasionally repeated claim that this is "an emotional issue." It's "all based on facts," Mealy said, citing the issues with styrene and Sea Ray's history.
Fellow-Commissioner Steve Settle called her comments "on point" while regretting that the county and the company had not sat down with the city to consider a compromise. We're sitting here tonight with only one option," he said, and that is to challenge the county's amendment. Commissioner Kim Carney said challenging the comprehensive plan will likely not be successful. Nevertheless, she said she supports the challenge.
"This is not the challenge we need to make," Commissioner Joy McGrew said, calling it all a "done deal," preferring to focus on a more realistic way of responding to the county's and the company's moves. Sh said opposition would be warranted "if and when Sea Ray plans to expand" industrially. Commission Chairman Marshall Shupe joined McGrew in opposition to the challenge.
While several commissioners were critical of what they saw as the county's refusal to meet, Al Hadeed, the county attorney, had explained on July 9 to Bruce Campbell, the Flagler Beach city manager, why such a meeting would not be legal. "The biggest hurdle, a legal one, to any proposed joint meeting on the pending land use applications is that there is no procedure in our land development code that allows for such meetings as part of either the review or approval process," Hadeed wrote. "So in my mind it does not matter how the proposed meeting is framed (informational or interagency, etc.), it would be argued as violating the applicant's right to a land use process governed by quasi-judicial standards."
That email was never mentioned today by either commissioners or Campbell, who was in the meeting.
Fifty people turned up for the special meeting in mid-afternoon at Flagler Beach City Hall.
Former Flagler Beach Mayor Alice Baker started the public comment segment—after a poem from Stan Drescher, the city's poet laureate—with an impassioned plea against Sea Ray. She was followed by a former St. Johns County Commissioner whose home is on the market in St. Johns, as he and his wife—a cancer survivor—are considering moving to Flagler Beach. "I came to this meeting because I'm very concerned about the increased emissions" and the decreasing quality of life or property values that may accompany Sea Ray's plans, he said.
So opposing comments went, largely recasting the many comments that have been made in opposition to Sea Ray in the past several months, at half a dozen public meetings before three different local government panels. The comments were recast within the context of the city's potential challenge, with these opponents now seizing on that possibility—and urging the city to do likewise.
The most common thread among those opponents was criticism of Sea Ray's emissions and, as Roseanne Stocker put it, the company's documented plan, stated in a Department of Environmental Protection permit, to, in her words, "step up production." The company has repeatedly denied plans to expand industrial production. "A successful challenge would be Flagler Beach's way of saying No to growth at any cost," Stocker said, reminding commissioners of the city's ranking, in pollution emissions, in the top-30 towns out of more than 400 incorporated cities in the state.
"Don't let Flagler Beach become as polluted as China," one resident of Lambert Avenue said. Or, as Rick Belhumeur, a city resident and member of four or five city and county advisory boards, put it: "Comprehensive plans are there for a reason."
David Ferguson, the former Palm Coast City Council member, was first to speak in defense of Sea Ray's plans. "I've never smelled styrene, but I'm not going to dispute whether some people can smell it," he said. More to the point, he said, recalling what he called his frustrations while on the council, "each place within this particular county has its own particular, provincial issues." He drew a few groans when he claimed that some people want Sea Ray to shut down, then went on to speak about the county's need for a diversified economy while the tourism tax, or bed tax, is "setting records." Sea Ray, he said, "is not affecting it very much."
Ferguson was quickly rebuked by a Flagler Beach resident, who told the commission it should not be listening to anyone from Palm Coast to decide a matter that affects Flagler Beach.
Bill Mills, a Flagler Beach and Lambert Avenue resident—and the founder of the annual Wings Over Flagler fly-in—said he had no objection to keeping the press on Sea Ray's case to monitor pollutants and ensure that the company is honoring its promises. But, he said, in opposition to the city's planned challenge, "let's make sure that we're spending money wisely in areas that we know we can fight, where we know we can keep them in check."
Lea Stokes, a former chairperson of the Flagler County Chamber of Commerce's executive board, said that while the city can challenge the comprehensive plan, there's been no talk of the cost of the challenge to taxpayers in what she considers an unwinnable fight. Another resident put it simply: "The smell is always going to be there as long as the plant is there." He was not suggesting that the plant should not be there. Rather, he said, property owners nearby bought their homes over the past 30 years knowing what industrial property was near them.
In all, 19 people spoke, all but four speaking in support of a challenge, or in opposition to Sea Ray's planned parking lot. The meeting, which started at 2:05 p.m., ended at 3:22 with the vote.