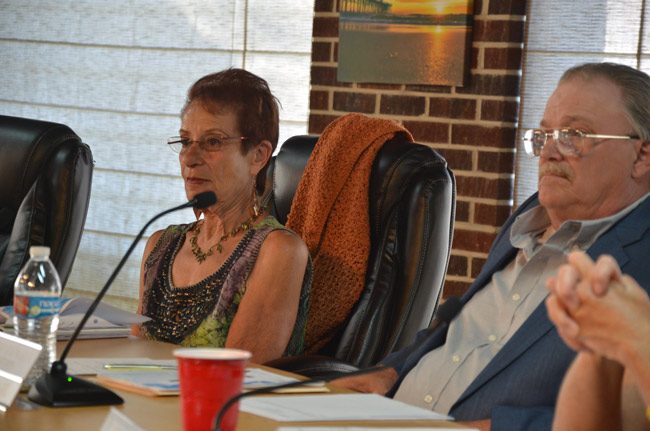 When Flagler Beach property owners get the notice in the mail outlining next year's proposed tax rates, they'll get a shock. Their city commission on Thursday voted to set the tentative tax rate at $6.5 per $1,000 in taxable value, a rate 21 percent higher than the current rate of $5.36.
But don't panic. The operative word is tentative. When Flagler Beach sets its actual tax rate for next year, at two budget hearings in September, the rate is likely to be significantly lower.
"I'm certainly not going to vote for anything close to 6.5 when it comes to the real budget, but for now this is just a formality," Commission Chairman Rick Belhumeur said.
"I really don't care what today's number is," Commissioner Jane Mealy said.
Commissioners agreed to the higher tentative rate at a meeting this evening (July 26) for three reasons.
First, commissioners have to provide the tentative tax rate so it can be mailed to property owners in coming weeks in compliance with the state's Truth in Millage law. It's what's called the TRIM rate, for short. The TRIM rate is designed to give property owners a chance to know what the possible tax rates will be next year.
Second, by setting the tax rate that high, it gives commissioners room to maneuver below that ceiling: by law, they'll be able to set the rate anywhere up to $6.5, but not beyond that figure. What is almost certain is that they'll be going lower.
Third, commissioners haven't yet held their first budget workshop to discuss the general fund and hear from City Manager Larry Newsom, who will be explaining why the city needs new revenue. Mealy had explained earlier in the day during a brief interview that she'd wished the budget workshops had been set before the TRIM rate was sent out, but that was not possible. The two workshops are set for July 27 and Aug. 1.
Still, for all the rationales at the meeting, commissioners did not seem to gauge the risk of a public receiving TRIM notices in the mail and taking the tentative number at face value, not having been privy to the explanatory discussion. Some residents are certain to be shocked, and to take their case to commissioners, however prematurely.
All other local governments set their TRIM rate after discussing it in budget workshops, making those government's TRIM rate more closely mirror what the actual rates will be when they are formally approved. Bunnell earlier this week set its TRIM rate at its rolled-back rate–meaning that most taxpayers will not see an increase in the actual taxes they will pay next year, even after accounting for improvements in property values.
Flagler Beach has been trying to catch up on spending following the two hurricanes of 2016 and 2017, which hit the city's bottom line hard. But he city last year raised its property tax significantly, and did so in 2016 as well. In the past three years the rate has gone from $4.70 per $1,000 in taxable value in 2016 to $5.21 in 2017 to $5.36 in 2018. For a house valued at $200,000, a property owner with a $50,000 homestead exemption is paying $804 in Flagler Beach taxes alone.
The proposed TRIM rate would push that to $975, not including the property's appreciation, which would add another 3 percent to the taxes due for most homesteaded properties. But again, while property owners will see those figures in their TRIM notice, that's not where the city commission is heading, even though the high TRIM rate signals that there will be a tax increase of some sort–and that Flagler Beach may yet again have the highest tax increase in the county in the last two years.
Mealy was clear about going nowhere near the proposed increase when reacting to the rate, after she was asked if he had a comment about it. "Not that I can say in public," she said.
The public hearings when the commission will set the actual tax rate are set for September 13 and 27 at 5 p.m. (actually 5:01, in compliance with state law's affectations on that score.)