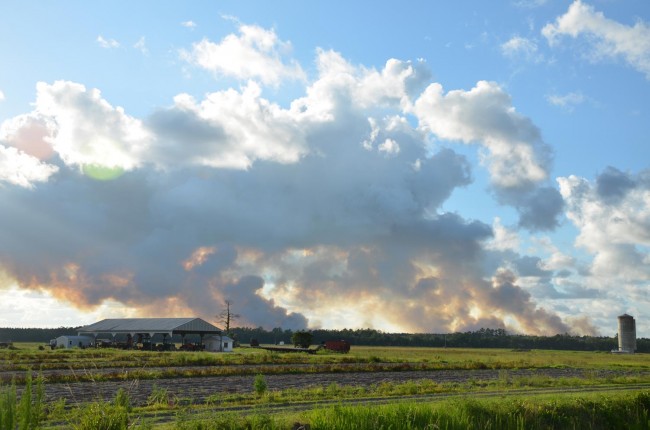 Last Updated: 9:36 p.m.
Flagler County firefighters joined by units from other fire departments this evening are battling two blazes that have joined into one some two and a half miles west of Espanola, right up the old railroad bed off of Railroad Bed Road. Rough estimates of the mile-long fire place it at 200 acres plus, and "growing fast," Don Petito, Flagler County's fire chief, said. "It's heading northwest."
"There were multiple fires. We're kind of suspicious of it because 3:30, 4 p.m., we were doing a recon of the county, there was no smoke anywhere, and then this thing is 200 acres all of a sudden," Petito said.
The fire is in thick, dry woods–hardwoods, oaks, palmettos and pine farms. The fire was spotting fast and frequently, fueling new fires. The wind was out of the east, blowing everything west.
The tractor plows are approaching the fire to dig lines and clear the way for other trucks. "Right now it's the helicopters and the tractors fighting it," while the firefighters are waiting in two staging areas to go in and do battle.
The Florida Division of Forestry, which is in command of the firefighting, brought in extra personnel–essentially, a convoy of bulldozers.
By evening, there were more than a dozen tractor plows–bulldozers–two helicopters (Flagler County's fire flight and the Division of Forestry's helicopter from Tallahassee), six woods trucks (military-style transport trucks), five type six engines, three tenders, each of which carry 5,000 gallons of water. The Bunnell Volunteer Fire Department was also helping.
More tractors were arriving at the scene as Petito spoke. The fire's official name is Road 78.
Firefighters were in a staging area deep inside the woods, along a dirt road, within a few feet of still-smoldering and flaming fires almost anywhere one looked. By then the fire had traveled west, but left behind swaths of charred and smoking zones. Aside from logging roads, there are no known houses or other structures in the way of the fire.
By nightfall, several firefighters were being released from the scene: wind and fire had died down, but both are expected to kick back up with sunrise.
The following image gallery is made possible courtesy of the Flagler County Fire Department.
[nggallery id=64]