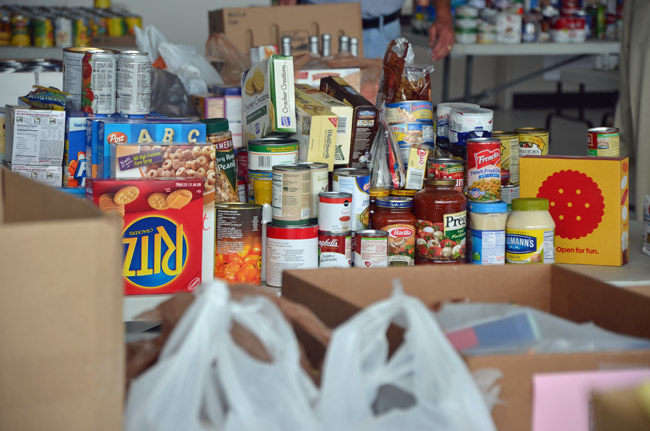 When Milissa Holland began Feed Flagler's first organizational meeting of the year this morning, she had a message for the businesses, non-profits, governments and representatives of seven religious organizations gathered around the table for the launch of the fourth annual community fund and food drive drive that culminates in a free Thanksgiving meal for 3,000 people.
"I wish I had better news," she told them, "and I wish I could come into this meeting and that the need of last year wasn't the need of today, and that we didn't have children going hungry at night, and that hunger was not such of an issue within Flagler County. The fact of the matter is that I couldn't say that. We're still hearing that the food banks are being depleted at record rates. Pastor Silano told me a couple of weeks ago that they were empty. So everything that we've been able to accomplish here as a community, although has had an impact, it hasn't solved the problem, and it hasn't met the need." Charles Silano runs one of the county's largest food pantries.
With Flagler County's enduring economic difficulties, and a U.S. Congress poised to re-write the rules of food stamps by seriously reducing eligibility and benefits available to the needy, this year's Feed Flagler initiative is as urgent as any. Fortunately for Holland–who originated the Feed Flagler concept and enacted its first edition in the fall of 2009–the program has very quickly been embraced by a growing number of sponsors, many of whom thrive on its built-in competitions: Suzanne Johnston, who, with Flagler County Sheriff Don Fleming's department, raised the most money for Feed Flagler last year ($17,000 between them, out of $28,000 raised in total), has already raised the first few hundred dollars. She wants to win back the fund-raising trophy Fleming took from her last year.
The women of Chicks With Cans, the United Way of Volusia/Flagler's Women's Initiative group created to lead food drives, intend to double what they raised last year, when they brought in 19,000 pounds of food, just under a third of the 60,000 pounds raised in total. That made it possible to distribute a week's worth of groceries to 700 families. Panera, which opened this year in Palm Coast, takes food drives for the needy seriously, and joined Team Feed Flagler. The staff of Hammock Dunes Club is still going to cook the 3,000 meals the day before Thanksgiving, when the meals are distributed across 10 locations in the county.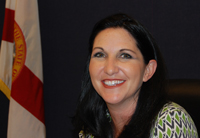 But all those efforts could pale in comparison with the difficulties Flagler and Florida families will face if a pair of measures in Congress redefining food stamps pass.
Congress returned from its summer recess this week, ready to tackle the measures. Both chambers of Congress would cut the Supplemental Nutrition Assistance Program, or SNAP, formerly known as food stamps. The Senate would cut SNAP by $4.5 billion over the next 10 years, while the House Agriculture Committee passed $16 billion worth of cuts in late July. House members supporting their version claim they want to reduce the number of people abusing the system. But the Congressional Budget Office found that 99 percent of participants live in poverty.
The Congressional Budget Office estimates that nearly 2 million people nationally would lose their food assistance under the House farm bill.
Florida could see significant effects. It had the nation's second-highest increase in SNAP use from June 2011 to June 2012 – a rise of 9.7 percent. In June 2012, almost 3.5 million Floridians were participating in the program, or 18.2 percent of state residents. Nationally, 46.7 million people were receiving benefits at a cost of $6.2 billion, a new record.
Florida religious leaders and anti-poverty activists are trying to build opposition to billions of dollars in cuts to food assistance contained in pending federal farm legislation. Leaders of Florida Christian and Jewish congregations Thursday rejected the idea held by many policymakers: that the faith-based community – and not government – should care for the poor.
"Our elected leaders need to understand the resources for handling the needs of the vulnerable and the poor are not within the church itself," the Rev. Russell Meyer, executive director of the Florida Council of Churches, told reporters on a conference call. "And to ask the church itself to do that would be to put a tax on people of faith that would not be shared by the rest of society."
But Florida Congressman Thomas J. Rooney, chairman of the House Agriculture Subcommittee on Livestock, Dairy and Poultry, supports the House bill partly on the grounds that it would reduce fraud and waste in SNAP. According to his spokesman, Michael Mahaffey, Rooney said the $16 billion in cuts "amount to a savings of about two percent, at a time when spending on SNAP has more than doubled over the last three and a half years."
Rooney's office also said reform will ensure that SNAP benefits "are there for those who need them. It closes loopholes…The House bill also achieves significant savings by cracking down on waste, fraud and abuse."
Meyer and others, however, said U.S. church food pantries and soup kitchens had seen a 100 percent increase in demand over the past three years. They estimated that it would cost U.S. Christian and Jewish congregations $50,000 apiece for 10 years to make up the cuts being considered by Congress.
They also said congregations have suffered during the recession as well. They cited a June 2012 study by the Barna Group, which found that Americans reduced their donations to religious institutions by 34 percent between November 2008 and April 2012. As of April, 11 percent had stopped giving to churches and synagogues altogether.
"As lawmakers consider these cuts, we urge them to consider the moral dimensions of the decision – how it will impact lives," said Michael McCarron, executive director of Florida Catholic Conference. "There is a role for churches. But that does not eliminate the role of government in providing for the needs of its vulnerable citizens."
Others say the role of the public sector is exactly what must be reconsidered.
"Government should be more the facilitator," said state Rep. Dennis Baxley, R-Ocala, a former director of the Christian Coalition of Florida. "We are in a dangerous place if we expect government to just provide everything for everybody."
"Sometimes the responsible parent has to say, 'No.'"
During the economic downturn, the number of people receiving SNAP benefits grew to 46.7 million by June 2012. That has alarmed many fiscal conservatives. During last month's Republican National Convention, former presidential candidate and talk-show host Mike Huckabee said on "Fox & Friends" that government programs such as food stamps do serve a purpose, but that expanding them runs the risk of making people dependent.
"We don't want to make ever a situation where there is not a need for some of those programs," said Huckabee, also a former Arkansas governor. "But when you start expanding government programs that enslave people rather than empower them to come off of those programs with the job and dignity of work, then that's the opposite effect of what those programs were intended to do. They were supposed to be a ladder out of a hole. Not a top on the hole to keep you there."
A big concern of those who support the cuts is that eligibility criteria have loosened. Since 2002, states have had more options to enroll people with higher incomes than before, or more assets such as a house or a car.
Supporters of the House farm bill say its cuts would ensure that people with assets start by spending what they have before taking SNAP benefits. They want to reinstate the basic federal guidelines for food stamps, limiting support to families with incomes under 130 percent of poverty and with less than $2,000 in assets.
But Ellen Teller of the Food Research and Action Center said that for every dollar spent on food assistance, $1.74 is generated in economic impact by the tens of millions of Americans who receive it.
"They take those EBT cards and those smart cards to their local grocery store, and they swipe those cards," she said. "And those resources get funneled into local communities throughout the country."
Locally, Holland favors concerted action among governments to let federal representatives know what effect the food stamps bill would have on Flagler.
"We can certainly send letters to our congressional delegation, certainly indicating the pressures that we have as a community, that the families are continuing to face," Holland said. "The impact that their legislation is going to have in our community is going to be detrimental." Holland.


–FlaglerLive and the News Service of Florida