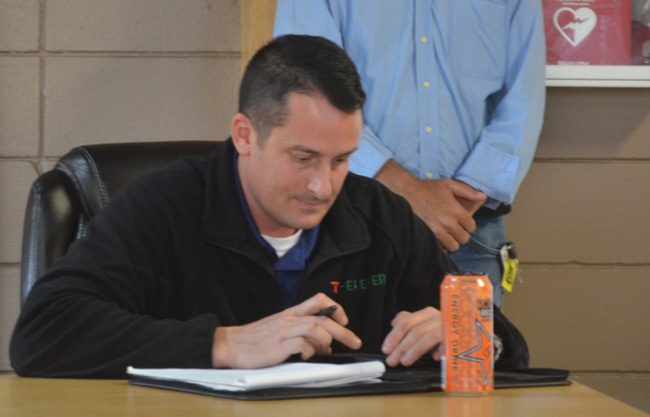 Last Updated: Saturday, 10:10 a.m.
Flagler Beach City Commissioner Eric Cooley was arrested on a domestic violence charge Friday evening (June 29) following allegations by his girlfriend of 20 years that he'd struck her several times at their home and at the 7-Eleven store he owns on South Oceanshore Boulevard between June 22 and 29.
Few details of the arrest are available so far.
A store employee called police Friday at at 5:28 p.m., alleging that Cooley was seen kicking Suzanne Kenna in the legs and grabbing her by the throat at the 7-Eleven, according to Cooley's arrest report. Flagler Beach police initially responded. At some point, realizing who the parties involved were, and following up on a request by the alleged victim or the witness, Flagler Beach Police Chief Matt Doughney contacted Flagler County Sheriff Rick Staly this evening–as Staly was on one of his regular Friday evening patrols–and requested that, since a city commissioner was involved, the Sheriff's Office take over the case.
Doughney had another reason to request the outside agency: Cooley for a few years before he was commissioner hosted Donuts With Doughney at the 7-Eleven, a periodic morning event where residents could have coffee and donuts with the police chief and discuss civil issues in a relaxed environment.
After the call from Doughney to the sheriff, the sheriff's watch commander responded to the scene with deputies, who then determined the arrest was warranted, Sheriff's spokesman Mark Strobridge said late this evening. Cooley was booked at the county jail at 11 p.m. He was expected to spend the night there, as is the norm on domestic assault-related arrests and before their first appearance before a judge.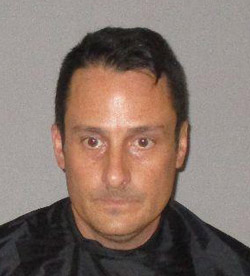 Kenna, 47, said she and Cooley were conducting inventory at the store the morning of June 22 when an argument developed. She said "anything that goes wrong with the store is blamed on her," according to the arrest report, "causing Eric to become upset." She alleged he kicked her in both shins with his steel-toed shoes, "grabbed her around the chin with his right hand inside the store cooler, and punched her in the back of her shoulder" in an incident that stretched over 15 minutes.
Kenna said Cooley punched her in the right shoulder Thursday night when she came home and "smacked her in the face" Friday morning with enough force that she allegedly struck the wall with her forehead. She cautioned authorities that while incidents would have been captured on surveillance video, only Cooley has access to the footage. The store's copy of footage may be deleted at any time, she said, but not the version fed to the company's corporate security contractor, which is kept for six months.
Deputies met with Cooley at his home. He acknowledged having arguments with Kenna, but no violent physical contact. "That's interesting," he said when told of the bruising deputies observed on the alleged victim. "She is entitled to say that. We have been arguing a lot and we have not been getting along. We get in each other's faces, we don't cross lines," he told deputies.
According to the report, Kenna said she's been in a relationship with Cooley for 20 years "and approximately the last 10 has had instances of domestic violence that have not been reported."
Cooley, 43, was elected to the Flagler Beach City Commission last January when he was the only candidate to announce for the seat held by Joy McGrew, who had decided not to run again. As the only candidate, he was seated without an election. McGrew had endorsed his candidacy. Cooley by then had owned the 7-Eleven for four years, and had already been heavily involved in volunteering initiatives, many of them with Flagler Beach Mayor Linda Provencher and Flagler Beach resident Carla Cline–a trio that calls itself the Flagler Beach All Stars.
Cooley was known before and after his election as a deliberate, calm, fact-based analyst,a pro-business advocate who grounds his points in evidence. But residents in Flagler Beach have also spoken of seeing his temper flare at the store, with customers or co-workers.
When Cooley is released, it won't be as simple as resuming routines while awaiting the next step in the court case: judges typically impose a no-contact order on individuals arrested on a domestic violence charge: no contact with their alleged victim means they may not be sharing living or working space. Cooley and Kenna share both. (He was released on his own recognizance at 9:34 a.m. Saturday.)
"This is an unfortunate situation but it goes to show you that domestic violence has no boundaries," Sheriff Rick Staly was quoted as saying in a release issued Saturday morning with the arrest report. "Unfortunate" is also the word Flagler Beach Commission Chairman Rick Belhumeur used when asked for a comment. Belhumeur and Cooley have often worked together on civic issues going back to before Cooley was elected: on Friday, Belhumeur had been in contact with Cooley about an old guard tower Cooley was buying from the city to donate to Tortugas, the restaurant. The two of them had painted new guard towers together last year.