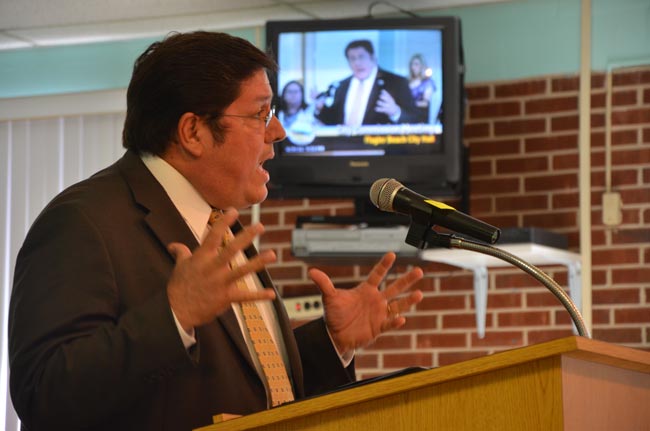 In an unprecedented appearance before the Flagler Beach City Commission, Armando Martinez, the Bunnell city manager, angrily denounced Enterprise Flagler, the public-private economic development organization, for holding a closed meeting last week, voting to restructure the organization and boot out Flagler Beach and Bunnell. Martinez asked Flagler Beach to join Bunnell, Beverly Beach and Marineland in what he called a "coalition of cities" to counter Enterprise Flagler's move.
Last week Enterprise Flagler President David Otatti led a meeting of Enterprise Flagler's executive board. The closed door meeting excluded numerous members of the organization. Even the chamber of commerce was not at the table. Mick Cuthbertson, who represented Bunnell, was told he could not vote. So was Jane Mealy, who represented Flagler Beach. The rest voted unanimously to accept Ottati's restructuring plan, which cuts the membership of Enterprise Flagler in half and gives Palm Coast and the county three appointments to the new board each, while six remaining seats would be filled by private-sector representatives.
Ottati told the people in the room not to speak of the plan until it is revealed at the next county-wide economic development summit—the sixth since January—scheduled for May 15. That summit may be in doubt, as the plan, despite attempts to keep it confidential, has unraveled a series of angry reactions, Martinez's being one of them—and the Flagler Beach City Commission's following on its heels.
That unraveling also risks derailing almost six months of work, much of it time-consuming, some of it costly to taxpayers, all of it presumably critical to the county's and its cities' struggle to move Flagler out of its economic anemia.
"Hold on to your seats because I think what I'm going to share with you is probably going to raise your blood pressure a little bit," Martinez, who was recently hospitalized with when his blood pressure spiked, said. "What I liked about the summit was that what you heard, at least the message that I continuously said and I heard from many of you is that we need to work together and only by working together as different communities will we be able to move forward. As a result of that I was under the belief that many communities were going to work together to common goals and to try to rectify or revamp how we're dealing with economic development." Martinez was referring to the most common refrain of the economic development summits to date: that governments, agencies and the private sector had to work in unison.
Martinez then summarized the substance of Enterprise Flagler meeting. "We were basically told that if we want to be on that board we'd have to approach the county and ask them to please make us one of their selections," he said. "That is counterproductive and will not work. Unless we as communities stand together and all cities have a seat at the table, and are allowed to give representation for economic development, we're just going to be competing against each other. We need to have one common goal, and we need to have one common plan."
The coalition of cities would formally write a request to Enterprise Flagler to reverse its exclusionary vote. Failing that, the coalition would appear before the Flagler County Commission to make its case there. It's not clear what either would achieve.
Martinez then excoriated Otatti's methods. "This came out of left field. It felt like a torpedo. Who made this decision? And I was told the president of Enterprise Flagler—a generous, brave man, I think he's a very smart man. I don't know if politically he thought of the ramifications of his decisions, but the bottom line is he said different community leaders and different elected officials were consulted before he made this decision. I can tell you no one in the city of Bunnell was consulted. I don't know if anybody on this board if anybody was consulted"—he was pointing to the Flagler Beach commissioners—"the city manager from the city of Bunnell wasn't consulted, the person assigned to the board wasn't consulted. And this is not about causing division. This is about forcing unity."
Ottati is on vacation in Latin America until next week.
The Flagler Beach City Commission, with some reserve from Commissioner Steve Settle—he wanted more information about Enterprise F;lagler's "end game"—embraced Martinez's offer. Commissioner Jane Mealy was still smarting from her own experience at the Enterprise Flagler meeting last week.
"When I got to the meeting I was handed an agenda, and I was listed as an ex-officio member," she said. "Now I had been to at least three years or more of those meetings. I have voted every time there was a vote. I was never told I was an ex-officio member. The other day I stopped at Enterprise Flagler and asked for a copy of the bylaws. There is no such thing as an ex-officio member. So I was forbidden from voting at that meeting. They did let me speak. They didn't like anything I had to say because I was trying to stick up for basically the same remarks that Mr. Martinez just made. It was clear it was a done deal before the meeting started. When the chairman of the board started to speak, he said this was considered a closed meeting, and that no one was to say anything when they got out of there."
Mealy added:  "The whole way it was handled was very poor, and was clearly directed at getting certain people more powers than other people."
"Was the meeting advertised?" Flagler Beach Mayor Alice Baker asked Mealy.
"No."
"And there elected officials there?"
"Yes."
"It stinks," Baker said.
John Feind, the chairman of the city commission, was just as critical.
"It's certainly disappointing to have gone to 2, 3, 4 summit meetings where the emphasis was on team-building and team play and on and on and on, and now to see that we really are not part of the team. I don't think that's right," Feind said.  "We may not have a lot to offer as far as development, but we certainly offer a tremendous quality of life to the whole county, to Palm Coast and Bunnell, so I think that this really is not the right direction for them to take, and I can't understand what would lead them to think it's a good idea to exclude the smaller cities."
Martinez criticized Enterprise Flagler's lack of transparency and its method—a common criticism of the agency, which has been bedeviled with sloppy management and serious issues with transparency.
But  Martinez's unexpected pitch to the Flagler Beach City Commission tonight was not without its problems: "By the way I am here with the consensus of my board and I am speaking on behalf of the city of Bunnell, OK?" Martinez said.
No, he wasn't: The Bunnell City Commission hasn't met since the Enterprise Flagler meeting. It could not have delegated its city manager to represent it, let alone convey a "consensus" it never reached in an open meeting. Had that consensus been reached without a meeting, it would be a violation of the state's open meeting law.
Martinez, after his presentation, was asked about that consensus. He said he spoke with each of his commissioners individually to gain that consensus. Martinez said he was not polling the commissioners.