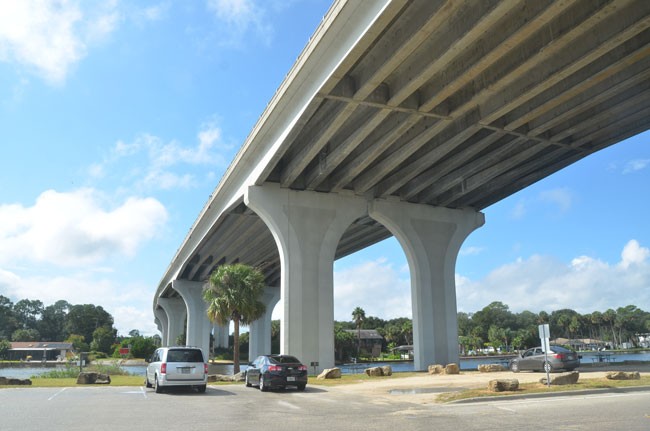 Edwin Robert-Steven Lynch, a 22-year-old recent resident of Bunnell, jumped to his death off the Flagler Beach bridge early Tuesday afternoon as a bystander was attempting to prevent him from leaping into the void.
Lynch fell on the south side of the bridge, at the north end of the parking lot below, opposite the boat ramp at Betty Steflik Park. He was pronounced dead from massive head injuries at 1 p.m. by the Flagler Beach Fire Department's Rescue 11.
Lynch, originally from Virginia, did not leave behind a suicide note. He was known to have had a troubled past, psychologically, with depression and suicidal tendencies. He did not have identification on him, prompting a call to the Florida Highway Patrol, which was able to identify him through its Rapid ID system, which uses fingerprinting to zero in on an individual's identity.
A 57-year-old resident of Flagler Beach witnessed Lynch jumping off the bridge. The woman was riding her bicycle on the bridge when she saw "a tall man with bandana on his head," wearing gray-green shorts and a t-shirt, walking west on the eastbound side of the bridge, in the bicycle lane. That was Lynch. She then saw Lynch "step up on the rail," according to a statement she wrote for Flagler Beach police.
"I yelled, 'Hey, Hey!,' but it only propelled his next step faster to jump over the edge," the Flagler Beach resident wrote. The woman called 911 several times, but "my call kept dropping," she noted, though rescuers arrived at the scene, as did units of the Flagler Beach police, within minutes.
Others also witnessed the suicide, but no children did (though a man and his child were not far, below the bridge, at the time of the incident: they were directed away from the scene.)
St. John's Family Funeral Home was called to remove the body.
It is not clear when the last suicide off the Flagler Beach bridge took place. Two attempted suicides in the last three years have failed. On March 19, 2013, James Clark, 40, jumped into the water and was rescued by fishermen nearby. He was flown to Halifax hospital and survived. On April 28, 2014, John Allan Waugaman, 53, of Marbella Court in Palm Coast, jumped into the water. He, too, survived after being saved by visitors, then flown to Halifax. The last known suicide off a bridge in Flagler County took place on April 16, 2011, when Jane Allen, 50, of Palm Coast, jumped from the Hammock Dunes Bridge.
This afternoon, just 24 hours after Lynch jumped, there was not so much as a flower marking the place where he fell. A balloon was later attached to the spot on the bridge from which he jumped. In subsequent days, a memorial took shape with flowers, candles and messages.