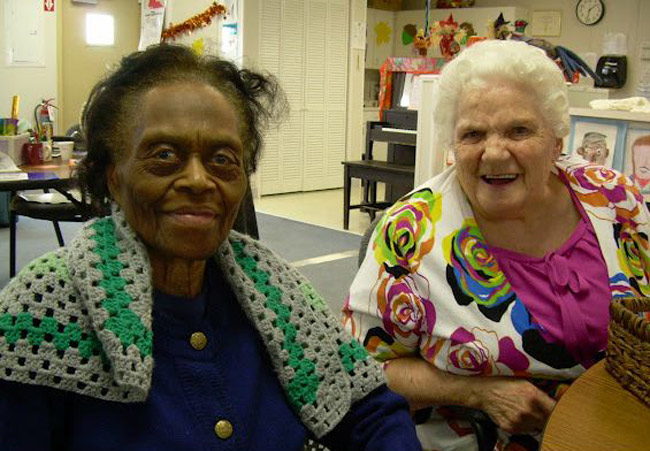 Step Up Industries is one of the many programs run by Flagler County's Adult and Community Education department, itself a branch of the Flagler County school district. Step Up Industries helps disabled adults learn enough life and job skills to earn a living–and not be dependent on the state or the community. The Adult Activities Center is another program that helps nurture independence for the disabled by giving them a place to go every day and working with an instructor. Community Inclusion, yet another program, prepares disabled students about to become adults to make the transition to the workplace. They're paired up with job coaches, counselors, vocational teachers and business partners to ease the way, again stressing independence and self-sufficiency.
Flagler County is in danger of losing all those programs, affecting 248 adult and non-adult students in the county, including 36 students in the transition program for 18 to 22 year olds.
The budget that passed the Florida Senate eliminates much of the funding for Adults with Disabilities programs, according to Virginia Giaramita, who heads Flagler's Adult Education division. " The House's proposal cuts 15 percent and the Senate is proposing elimination of all funding," she wrote district school board members and adult education's faculty and staff on Friday. " These programs make such an important impact on the lives of our students and are a valuable resource for our community."
Pin Flagler, the cut would amount to $600,000.
George Valentine, program manager of the Flagler Adults with Disabilities Program, followed up with a letter to local leaders, students and parents involved in adult education, bringing them up to date on the proposed budgets and encouraging them to contact legislators. "We took a 15 percent reduction last year and that resulted in the loss of three staff members," Valentine said. "Our budget for this year is half of what it was for the 2006-2007 school year. While I understand that Florida's economic problems are severe it would seem that we are trying to balance the budget by placing an undeserved burden on our most vulnerable citizens."
The Senate and House budgets must be reconciled in what's called a "conference" between the two sides. Things can change at that time: versions of the Senate bill can prevail, versions of the House could be chosen instead, or the two sides could compromise on new versions. What's likely to happen with the disabilities programs, however, is that they will be cut; the extent to which they will be cut is in question, if House leaders can prevail and convince the Senate not to essentially eliminate all funding.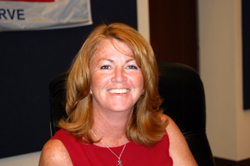 Colleen Conklin, the school board member and legislative liaison for the board, was busy exchanging emails and phone calls with local and state officials late Friday as she was coordinating a response from her Flagler Beach office. She was as concerned about the potential loss of 18 full-time jobs and five part-time jobs as she was about the loss of services.
"In the county that has the highest unemployment rate, that number of jobs would be devastating to us," Conklin said. "It's not too late to make an impact. Sen. John Thrasher as our representative needs to understand the implications so really, we're in the process of rallying the troops and getting the word out." She added: "This is not a little thing. This would really impact the special needs community in the county."
By Sunday, Conklin had drafted a written letter herself–essentially merging the various missives and alerts that had been crisscrossing local officials' em,ail boxes since Friday–and was disseminating it. "We must be sure that our delegation understands the impact this decision has on our local community and economy," Conklin wrote. "Please ask that they restore the funding for our Adults with Disabilities programs. This process will be coming to a close this week, don't miss the opportunity to take a stand for those who may not be able to stand on their own."
A list of legislators, their contact numbers and emails was included. It appears below.

Rep. Bill Proctor, Flagler County Representative and chair of the House Education Committee
Phone: (904) 823-2550
E-mail [email protected]
Sen. Evelyn Lynn,  chair of Senate Education Committee
Phone # 1-886-831-2665 or (386) 238-3180
E-mail [email protected]
Sen. John Thrasher, Flagler County's Senator
Phone # (904) 727-3600
E-mail [email protected]
Sen. Audrey Gibson, Flagler County's Senator
Phone # (904) 359-2553 or (386) 506- 3492
E-mail [email protected]
Rep. Fred Costello, local Representative
Phone # (850) 488-9873 or (386) 736-5100
E-mail [email protected]
Sen. David Simmons chairs the K-12 Appropriations Committee
(407) 262-7578
Sen. J.D. Alexander chairs  the Senate Budget Committee
[email protected] (863) 679-4847 Statewide: 1-800-444-9747
Sen. Steve Wise, chairs the Senate Education Committee
[email protected] (904) 381-6000
Rep. Denise Grimsley, chairs the House Appropriations Committee
[email protected] Phone: (850) 488-3457
Rep. Marti Coley, chairs the House k12 Appropriations Sub-Committee
[email protected] Phone: (850) 718-0047
to view a list of programs that would be eliminated here.