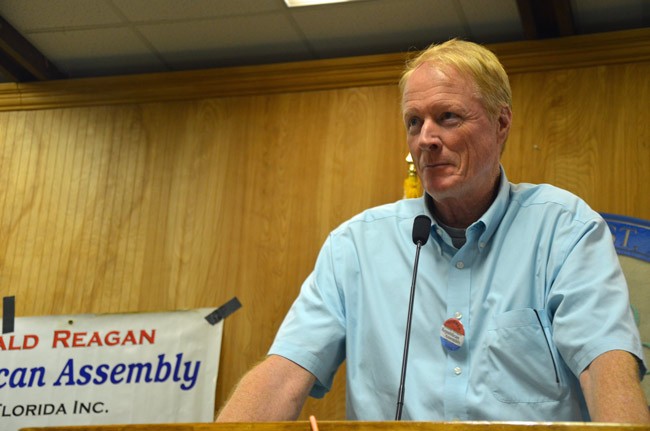 Last Updated: April 10, 3:30 p.m.
Eight weeks ago a Flagler County circuit judge ordered Dennis McDonald and his attorney each to pay Palm Coast government $15,900 in compensation for legal bills the city incurred to fight off a frivolous suit McDonald had filed in 2013. It was the end result of an 18-month-long wrangle between McDonald and the city that often saw McDonald challenging council members at bi-weekly meetings on a variety of issues.
Neither McDonald nor Knight has paid the debt. The city's efforts to collect its due are continuing, a city official said Wednesday.
Reached by phone Friday (April 10), McDonald said that he "absolutely" intends to pay. "If the court says I have to pay it, then I have to pay it. I'm not going anywhere, I'm not ducking anybody. It might make the election process upcoming pretty interesting." Asked what he meant, he went on: "You never know who's going to run for mayor. I'm not saying that I will but certainly people have been hounding me to do it."
In late March, McDonald sued Palm Coast again. This time, he is joined in the suit by his wife Janet McDonald, a Flagler County School Board member. While the lawsuit was filed in Flagler County Circuit Court on March 23, it is the result of a two-year-old incident.
McDonald—who initially could not be reached after several calls to his cell phone Wednesday—described the incident in a claims notice filed with the city on Jan. 16, 2014: "My wife and I were walking on the sidewalk adjacent to the bridge on Club House Drive at approximately 7:30 p.m., on March 24, 2013," he wrote, "when I tripped on a cracked section of sidewalk that was obviously cracked by heavy equipment used to maintain the grassy area adjacent to the sidewalk. The mid-level section of sidewalk is approximately 18 inches wide and 1 ¼ high where I tripped. As a result of falling, I suffered injuries to my left hand, left leg and left shoulder." Janet McDonald was not physically injured in the incident.
Such claims are covered by the city's insurance, which is provided by the Florida League of Cities. On Sept. 6, a claims representatives with the league wrote McDonald to inform him that the insurer had completed its investigation. "While we deeply regret this incident occurred," Katherine Serrano wrote McDonald, "our investigation shows no negligence/liability on the part of the City of Palm Coast."
The claim for damages was denied.
"It was really gross," McDonald said Friday of the accidents. "Three fingers were bent back the other way." He said his fingers were split open and that he required some 30 stitches. Three fingers now don't function. "I'm a guy who was ambidextrous," he said. "It was not like it was the end of the world but I used to be able to use both of my hands, to write or to do anything." Within a short time after the incident, the city fixed the sidewalk, McDonald said.
McDonald then hired personal injury lawyer Ward Berg of New Smyrna Beach, and filed the lawsuit, which seeks damages in excess of $15,000. The suit claims that Palm Coast "created the dangerous and hazardous conditions" that led to McDonald's injuries and cites two counts—negligence and "loss of consortium," a frequent addition to such claims when a spouse is involved.
The injuries McDonald suffered, as cited in the wording of the lawsuit, are far more extensive (though also more abstract) than the ones McDonald himself had described in his claim to the insurer, going as far as claiming that McDonald suffered "bodily injury, disease and resulting pain and suffering, disability, disfigurement, mental anguish, loss of capacity for the enjoyment of life," medical expenses, and so on, including "permanent scarring or disfigurement."
The incident and its aftermath coincide with a period when McDonald appeared at almost every city and county government meeting to provide public and sustained critiques of numerous policies, when he ran unsuccessfully in two campaigns for public office along the way—for county commission and for state Senate—and, in the past year, appeared at numerous Flagler County Canvassing Board meetings, all in vigorous form. He filed his first and unrelated lawsuit against the city five months after the sidewalk incident–where he'd alleged that the city was applying its development rules inappropriately along Palm Coast Parkway. That's the suit a circuit judge tossed out as frivolous. McDonald has been distinctly less visible since his wife's election to the school board.
Janet McDonald is included in the lawsuit in the second count where, as a result of the city's alleged negligence, she has been "denied the services, attention and consortium" of her husband. "These losses," the suit claims," will continue in the future. The language is not unusual in negligence suits.
The city has not yet answered the allegation. Mayor Jon Netts, in a brief interview Tuesday, had not been aware of the lawsuit, though he was familiar with the claim's history and its denial. On Wednesday, after he said he was surprised by the extent of the injuries described in the lawsuit, but did not address it beyond those terms.