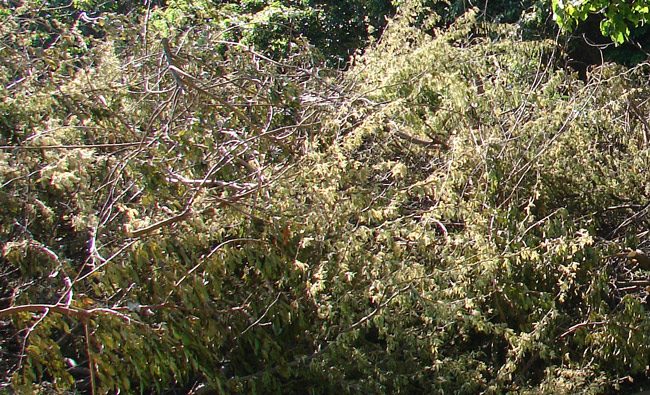 Yes, that debris at the side of the road is just about growing roots. But the city of Palm Coast says is 60 percent complete with its first pass through residential neighborhoods to collect debris from Hurricane Irma, as of Friday. But it's not yet clear when the second pass will be announced.
The city has been working and says it will continue to work seven days a week to collect debris. The city estimates that over 16,000 cubic yards of debris have been picked up so far. Due to limited resources available because of this year's active hurricane season, the cleanup is taking longer than previous cleanups. But that's also because with Irma, the city did not contract with a different hauler as it did after Hurricane Matthew. Waste Pro, the city's regular trash hauler, and city crews are cleaning up for Irma.
Now that resources are being freed up from other areas, more trucks and crews will be working to accelerate cleanup this weekend and in the coming weeks.
Debris cleanup is a priority for the city, but cleanup is expected to take several more weeks, and city officials are asking residents to continue to be patient.
The first pass of debris pickup is complete in the following sections of the City: C, K, L, LL, S, U, and Z. The first pass is approximately 75 percent complete in the B, F, P, and W sections, and the Woodlands neighborhood.
The city's hauler, Waste Pro, and city crews will be working to finish those sections and will have a major presence in the remaining sections (E and R) starting this weekend. A map of the previous day's progress is being released on the city's website each weekday afternoon to keep residents informed.
In some cases, only a section of the street has been picked up. Crews will be returning to pick up the remainder of the street's debris.
At a later date, the city will announce when the second and final pass for both vegetative and construction and demolition debris will occur.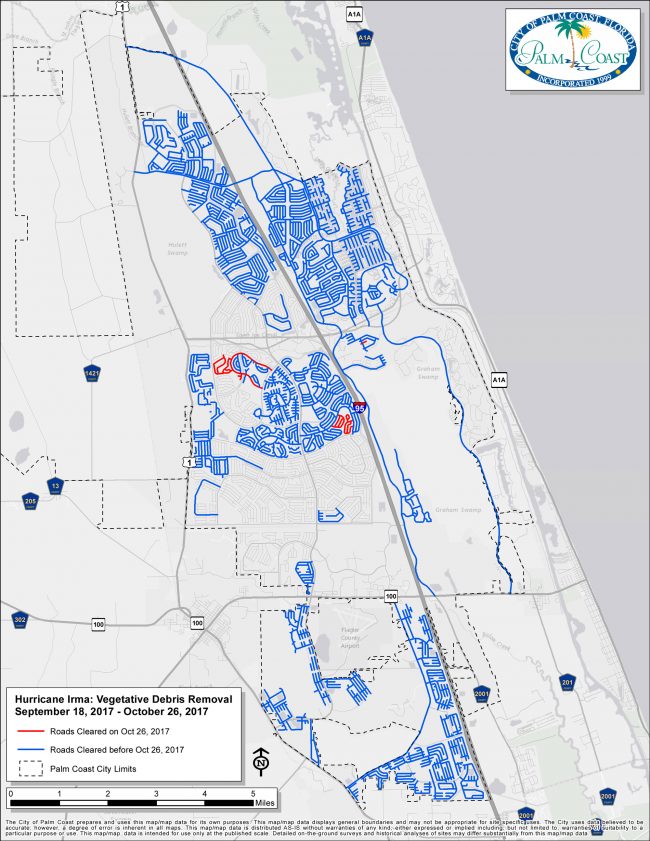 Pick up routes of household garbage and weekly pickups of bagged or canned yard trash should be back to their normal schedule. If your garbage or bagged and canned yard trash is not picked up on the scheduled day, please leave it at the curb until it is picked up. Also, please call Palm Coast Customer Service at 386-986-2360 to report the delay. The city is working closely with Waste Pro to resolve these issues. Weekly pickups of loose vegetative debris will return to normal once storm debris is picked up.
To expedite debris removal the city asks residents to help by separating everything at the curb into the following categories:
Vegetative Debris: leaves, logs, plants, tree branches, etc.
Construction and Demolition Debris: building materials, asphalt shingles, drywall, lumber, metal, plastics, etc.
Normal Household Trash: Normal household trash and bagged debris of any kind is being picked up by Waste Pro following your normal garbage and yard trash schedule.
If, after large piles of vegetative debris are picked up, smaller debris is left behind, the city asks residents to bag the smaller debris for collection to accelerate cleanup. Remember, different debris collection trucks are designed to pick up different types of debris. One truck may pick up large logs, but a different truck would pick up smaller branches. Don't worry if a truck passes your pile and doesn't stop to pick it up. Another truck will come – maybe not today, maybe not tomorrow, but soon.
Debris should be placed on your property near the curb – not on the street, not in your swale, not on your neighbor's property. Residents who are having damaged trees removed or trimmed by a tree contractor should be sure the contractor is removing the debris as part of the job. Commercial businesses, apartments, townhomes, and condominiums are responsible for their own debris cleanup and hauling. Hurricane debris will not be picked up by Waste Pro. Businesses and multi-family residential developments should not place debris at the curb.
The city is tracking its debris-collection costs in order to be reimbursed by FEMA, though as of today the city (or the county) have yet to be reimbursed for Hurricane Matthew costs.
Any questions about Palm Coast city services – garbage and debris collection, water and sewer, streets, drainage – should be directed to Customer Service at 386-986-2360. For more information, contact Jason Giraulo, Digital Communications Coordinator, at 386-986-2484 or [email protected].