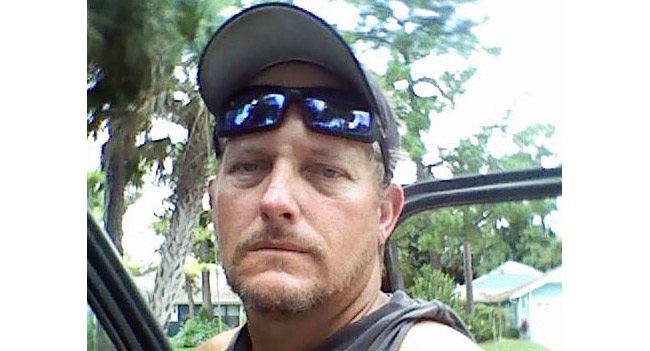 Sheriff's deputies, paramedics and other responders' activity in and around the house at 92 La Mancha Drive in Palm Coast overnight Tuesday (Dec. 5) was the result of an apparent suicide: Dale S. Winton Sr., 52, a resident at the house, was found in the garage–which he had earlier barricaded–with an extension cord around his neck, according to a Flagler County Sheriff's report issued this morning.
His girlfriend, with whom he was sharing the house, around 1 a.m. Tuesday reported to authorities that he had committed suicide.
Winton, she reported, had been upset over someone calling his girlfriend's cell phone and had ended the relationship while still at work. He then came home around 3 p.m. "and ignored her while she was there," according to the incident report. He then called a friend and met him to run errands around 5 p.m.
His girlfriend told deputies she'd fallen asleep in the master bedroom and was woken up later–she did not know the time–Winton, who gave her a yellow note pad on which he'd written a letter. But the handwriting was unintelligible. (The previous evening around 7 p.m., Winton had posted an enigmatic line on his Facebook page and shared it on his girlfriend's wall: "Almost made it 2 1/2 yrs not bad longer than most people would have bet on." A friend had responded to the post? "Are you ok?" He did not answer.)
His girlfriend then walked out of the bedroom and heard him speak with someone but didn't see anyone in the house. In the kitchen, she noticed a mostly empty bottle of tequila. "She advised that she drank a couple of shots of
the aforementioned Tequila and could hear Mr. Winton in the garage," the incident report states. (A family member wrote on Dec. 8 that she "did not drink two shots, she saw two shot glasses and heard talking and thought Dale was talking to a friend in the garage, she then looked over at computer and the voice was from the utube video that was playing about how to hang yourself." The detail about the video was not included in the incident report.)
She tried to go into the laundry room, but Winton had seemingly wedged a two-by-four against the door, preventing it from being opened.
The timeline is not clear, but eventually, according to the sheriff's report, she kicked down the door with her foot only to notice that the door knobs on the door leading to the garage had been removed. She was able to look through the hole. She noticed Winton unresponsive, the report states. She called a friend in Flagler Beach, who called law enforcement for her. Kenny Moore of the medical examiner's office responded later that morning. The body was not taken to the medical examiner's office, as is the case at times in similar circumstances. Rather, it was removed by a funeral home and taken to St. Johns County.
Winton's Facebook epitaph was: "I am a person who believes in respect not lying or stealing and never doubts my love for you." He had listed himself as owning his own business and a graduate of Spruce Creek High School in Volusia.

The following resources are available for individuals in crisis:
In Daytona Beach: Stewart-Marchman Act Corporation Crisis Center
1220 Willis Avenue
Daytona Beach, FL 32114
Administrative Phone: (904) 947 – 4270
Crisis Line: (800) 539 – 4228
Available 24 hours.
National Suicide Prevention Lifeline, 800/273-8255.
If you are concerned for someone else, read about warning signs here.
See the University of South Florida's Youth Suicide Prevention School-Based Guide here.