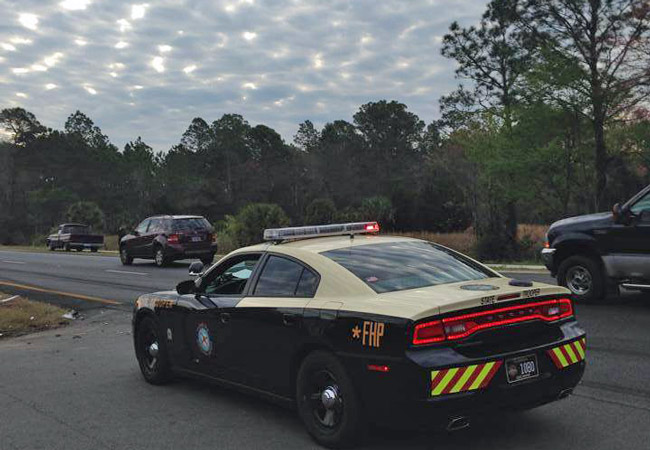 That heavy police presence motorists in and out of Flagler County are seeing on I-95, in the area of mile marker 315, is all for a suspect involved in… the fraudulent use of a credit card.
Cops from the St. Johns County Sheriff's Office, the Flagler County Sheriff's Office, the Florida Highway Patrol, and the Florida Fish Wildlife Conservation Commission have all been involved in what has turned into a massive search Wednesday afternoon. Motorists are noticing the dozens of cops along the Interstate and along other roads in the area.
The investigation began just before 10:30 a.m., when the personnel at a Dollar General in the Murabella Area of St. Johns County called deputies to report the incident, the St. Johns County Sheriff's Office reports.
Once on scene, deputies located and arrested a female suspect. Two male suspects fled on foot. K-9 units responded and one male was located and taken into custody.
One male suspect remains at large and is believed to be in the area of I-95 north of C.R. 214. There is no information that the suspect is armed. But he is believed to have multiple out of state warrants. That cannot be confirmed until he is taken into custody, the St. Johns Sheriff's Office notes.
The suspect is described as a black male, with a beard, last seen wearing red pants or shorts, and a purple shirt. Residents in the area are asked to remain vigilant and to report anything suspicious, immediately.