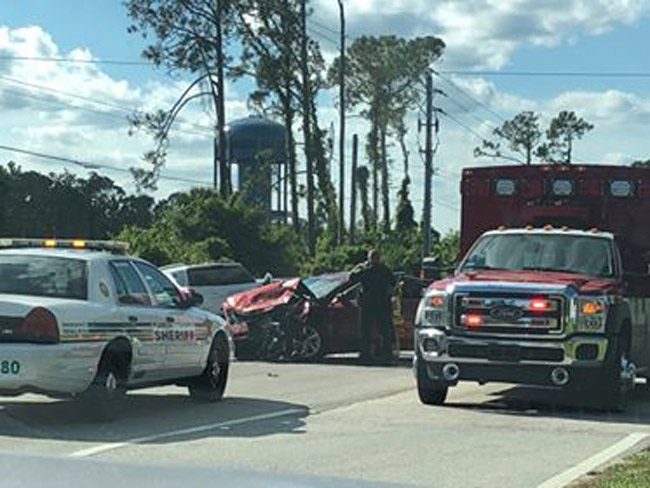 Joanne Jones, an 84-year-old Palm Coast resident of long date, was pinned and killed in a t-bone crash at the intersection of Utility Drive and Old Kings Road at 5 p.m. Wednesday. Two others–her husband and the driver of the other car–suffered injuries.
Jessica Shank, a 27-year-old resident of Palm Coast, was at the wheel of a 2015 Chevrolet Equinox, traveling west on Utility Drive. Louis Jones, 84, of Emerson Drive in Palm Coast, was a passenger in the Nissan Altima that Joanne was driving north on Old Kings Road.
According to the Florida Highway Patrol's preliminary investigation, Shank attempted to make a left turn to go south onto Old Kings Road. The front of the red Nissan collided with the front driver's side of the white Equinox. The vehicles ended up blocking Old Kings Road.
Joanne Jones was not immediately killed. "They're both moving but they're really old in the red car," a caller to 911 reported, while Shank was able to get out of her car and walk at the scene, but with leg pain.
The Palm Coast Fire Department and Flagler County Fire Rescue went to the scene and an extrication began Joanne, who was "completely under [the] steering wheel, trapped in car," according to notes by a Flagler County Sheriff's deputy at the scene. "No doors would unlock. I entered vehicle through broken window, and held C-spine on patient until fire department completed the extraction." Firefighters had to cut a significant portion of the vehicle to conduct the extraction. The extrication was completed at 5:27 p.m.
Flagler County Fire Flight, the emergency helicopter, landed on Old Kings Road and took Joanne Jones to Halifax hospital in Daytona Beach, where she died. Louis Jones was also a trauma evacuation: he was transported by ground to Halifax, but is expected to recover.
According to the Florida Highway Patrol, Shank and Louis Jones were wearing seat belts. Joanne was not. Charges are pending, and may entail a charge of violation of right of way: there is a stop sign at Utility Drive.
Louis Jones and his wife have been Palm Coast residents in the E Section for 18 years.
The Palm Coast Fire Police regulated traffic around the crash scene until almost 7 p.m., when Old Kings Road was reopened.