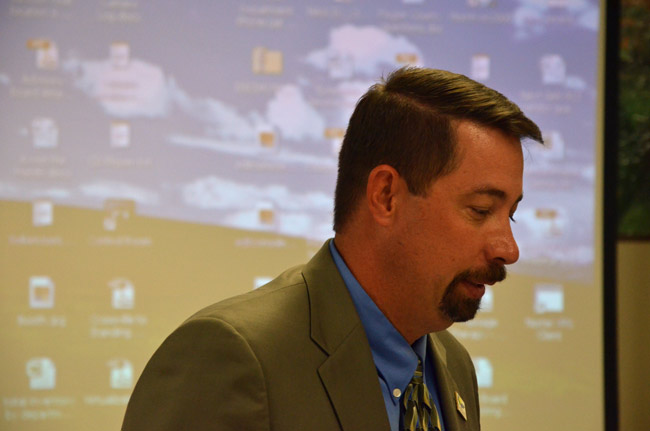 Two years ago Flagler County Commissioner Milissa Holland tried to fire County Administrator Craig Coffey in what looked like a surprise move during a commission meeting. She only got two of the required three votes, though commissioners agreed to limit Coffey's contract renewal to a single year. But the contract language included an automatic two-year renewal in 2011, if commissioners didn't address the matter by august that year.
They didn't. So Coffey's contract was automatically extended to Dec. 3, 2013. Now Coffey is asking for an extension through February 2016.
He got it. The commission approved the extension this morning without discussion, and without an evaluation of Coffey's performance–at least not a public one (commissioners filed written evaluations a few months ago).
"Wow, that was quick," Coffey said after the commission approved a slew of items en masse, his contract renewal included.
Coffey is paid $141,400, plus $4,800 for a car allowance, plus mileage and expenses. The commission has not increased the pay in four years. Nor have other county employees seen their pay increase, absent promotions.
The contract renewal appears under the "consent" part of today's commission meeting agenda. Consent items are considered routine, and are approved all together without discussion. Commissioners are given the opportunity to pull as many items as they please off the consent agenda and discuss them openly. Surprisingly, none chose to pull the contract renewal off consent, though it was just as surprising–considering the history of Coffey's contractual issues—that Coffey, who draws up the agenda, hadn't affirmatively placed the item on under a discussion portion of the agenda, such as the "Administrator Reports/Comments" section. Most likely, Coffey secured his renewal in individual discussions with commissioners, and placed it on consent knowing it would sail without issues.
Coffey is placing the contract up for renewal to comply with a change in state law dating back to last year, which reduces the maximum allowable severance, although Flagler commissioners had already done most of that as far as Coffey was concerned. His severance package was reduced from a year to six months' pay in 2010. State law reduces it to a maximum of 20 weeks (a six-week reduction for Coffey).
State law, of course, has nothing to do with extending the contract to 2016. But elections do.
Coffey is looking for job security ahead of what may be a significant change on the county commission. Potentially, three seats will change hands. County Commission Chairman Barbara Revels was reelected without opposition, but Alan Peterson and George Hanns face tough battles, and Holland is resigning. (Two Republicans and an independent are running for the seat). A new commission could end the contract, but not without paying severance.
County Administrator Al Hadeed's contract also appears under the consent portion of the agenda, but not for renewal. The change only reflects the severance term reduction to 20 weeks' pay, from 12 months. Hadeed was hired in 2007. His contract renewed in 2009 to run through February 2013. Unlike Coffey's papers, there is no additional renewal being presented today.
Hadeed is paid $135,000 a year, plus a $4,800 a year car allowance and mileage reimbursements.