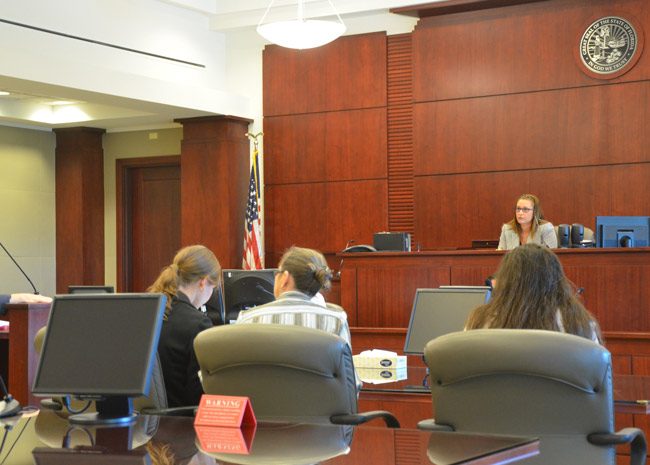 For his employer, it was one misjudgment too far.
Gerald Pikaard, a 61-year-old trades worker employed by Flagler County government, faces termination after he used his county-issued ID badge to access the chambers of County Judge Melissa Moore-Stens and her assistant to complain about the slow disposition of his case, a drunk driving charge that had been reduced to reckless driving.
Pikaard had been arrested for drunk driving and refusing to submit to a breathalizer test on March 31 in Flagler Beach. On July 24 he appeared before Moore-Stens. Based on a plea agreement that dropped the breathalizer charge and reduced the drunk driving charge to reckless driving, the judge adjudicated him guilty, which was to enable him to have his driver's license restored.
The driver's license was necessary for him to perform his work with the county, Joe Mayer, director of human resources in county government, said today. But the county was working with him until he could get his license back, Mayer said, allowing him to ride with others to get to and from work sites. He performed numerous jobs as needed in maintenance, construction and the like. He'd been trying to get his license restored, "and I guess he ran into some roadblocks along the way," Mayer said.
The day after the disposition of his case before Moore-Stens, he was wearing his Flagler County government uniform when he used his county-issued ID badge "to access the security door that leads to the Judges and JA's offices on the fourth floor" of the Flagler County courthouse, the Flagler County Sheriff's Brian Paquariello, a supervisor of the sheriff's bailiffs, wrote Heidi Petito, the county's facilities director and Pikaard's boss.
"Pikaard proceeded to go to Judge Moore-Stens's office where he spoke to her Judicial Assistant Nadine Kelly," Pasquariello reported. "She asked if she could help him assuming he was there to fix something." He was not. "That is when he put some papers down on her desk referencing his court case 18-CT252 and wanted to know why his court orders were not in the system yet." Kelly told Pikaard she could not help him and that he needed to go to the clerk's office with his inquiry. He never made it into the judge's office itself.
The incident did not further involve the Sheriff's Office. But because it was a misuse of the county's access badge into the judges' secure area, "he's been given notice that there's intent to terminate," Mayer said. Government employees are not immediately fired in such circumstances but rather given a hearing before a hearing officer to present their case. The officer in this instance is appointed by County Administrator Craig Coffey. The officer then makes a recommendation to Coffey. The hearing is scheduled for Thursday.
Pikaard, a Palm Coast resident, has been employed with the county since 2015. He was arrested the evening of March 31 after a 911 caller reported that two patrons at Flagler Beach's Johnny D's Beach Bar and Grill had left the bar looking intoxicated, "and the driver was unable to stand," according to the arrest report. A Flagler Beach police officer pulled over the Ford Mustang that had been described and found Pikaard at the wheel. Pikaard then failed the field-sobriety exercises the officer administered and, booked at the county jail, taken to Florida Hospital Flagler for clearance, then returned to the jail, from where he bonded out five and a half hours later.