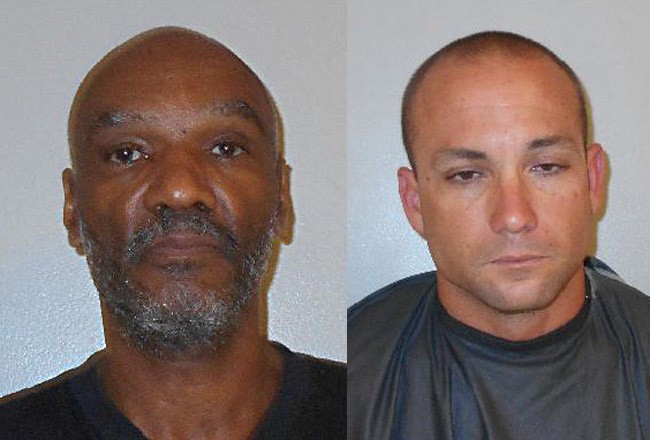 Joseph D. Patten of Comanche Court in Palm Coast and and Russell Cade of Regency Drive were arrested over the past 48 hours and charged in connection with a bizarre incident that resulted in the disfigurement of one victim and lesser injuries to another on March 20.
The two victims, Michael Miller and Beth Leto, are contractors who were asked over to the house of Russel Cade, a resident of Regency Drive in Palm Coast, to provide an estimate on repairing Cade's bathroom. Miller and Leto went to the house the evening of March 20. But once there, the pair say they were cornered by Cade, 57, and Patten, 32. According to Miller, Patten then accused him of being a snitch and told him insultingly to get out of the house.
As the pair turned to walk out, Miller, 28, says Cade punched him in the eye, causing him to drop to the ground and, according to one account in police reports, briefly lose consciousness as Patten then allegedly began to stomp on him. There were other occupants ion the house who, Miller told police, tried to break up the fight. (The story was first reported on Monday, when the two alleged suspects' names were not released by police, nor had they been arrested at the time as the investigation was still ongoing.)
Leto, 31, told police she tried to pry Cade off of Miller only for Cade to grab her by the hair and slam her against the wall a "few times," according to Patten's arrest report.
The contractors went to Florida Hospital Flagler the next morning. A radiologist would subsequently tell Miller that he suffered a lumbar fracture, partial dislocation of the right shoulder, a fractured nose, a knee concussion and a left-eye contusion, according to a police report. Leto suffered pain and discomfort in her neck and right arm and told to keep her arm in a sling.
Patten was charged with aggravated battery with great bodily harm, a second-degree felony that carries a penalty of up to 15 years in prison. He remains at the Flagler County jail on $50,000 bond. A resident of 61 Comanche Court, his previous arrests include charges for criminal mischief, failure to appear in court proceedings, driving on a suspended license, violating probation, and marijuana possession.
Cade is charged with aggravated battery with great bodily harm and a count of battery. He remains at the county jail on $51,000 bond. He was previously arrested on charges of forgery, petit theft, failing to register as a sex offender, cocaine possession, and resisting arrest. His sex offense dates from a conviction on a child sexual abuse charge in Howard, Md., in 2000.