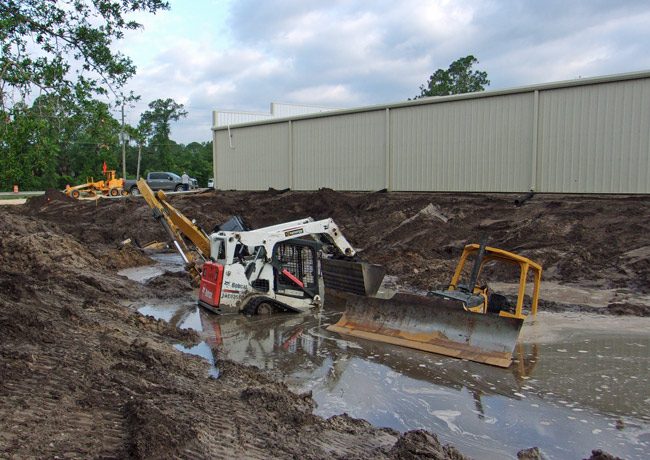 David Barnes is a superintendent for Fulcrum Construction Group, the company building a Dollar General on U.S. 1 south of the White Eagle Lounge. On Tuesday (May 14), he got to his job site to see something no superintendent ever expects to see.
A CAT excavator, a CAT Bulldozer, a Bobcat Skid steer and a CAT Skid steer were all almost fully submerged in the pond next to the new Dollar General. Whoever had done it would have had to spend a lot of time sabotaging the works. There was a water pump on site. It, too, had been vandalized, with holes cut in its diaphragm, thus preventing it from pumping water.
A second CAT bulldozer, not submerged, "had its rear window popped off along with the weather seal," according to an incident report.
Barnes valued the equipment at $1.36 million. He told a Flagler County Sheriff's deputy that only five people knew the code to operate the machinery, and provided their names. One of the five was an employee he'd fired the previous Friday. He had been the lead operator of the big machinery, and of course he was one of the five who knew the codes.
According to the sheriff's incident report, someone–the name is redacted from the report–sent Barnes screenshots of photos posted on Facebook showing the bulldozers sunk in the pond, with a text that stated: "Karma is a bitch. Lol."
Barnes on May 13 had left the job site around 4 p.m. at the time, all five machines were still in use. Fulcrum owner Ronald Council, who also owns some of the equipment, left the site half an hour later, according to the incident report, with all four machines lined up on a corner of the job site, parallel to U.S. 1.
Deputies were told that Fulcrum officials had received a call from an employee who claimed to have gotten some equipment stuck in the pond, then more equipment stuck in there as he was trying to dig it out. "It does not appear [name redacted] attempted to dig the equipment out of the pond due to how the equipment was positioned in the pond," the report states. "It was also advised by machine operators on scene that the Skid-steer that was submerged would not be able to recover any of the other machines."
Company officials are looking to pursue charges if the suspect is apprehended. The sheriff's office said today there'd been no arrests.