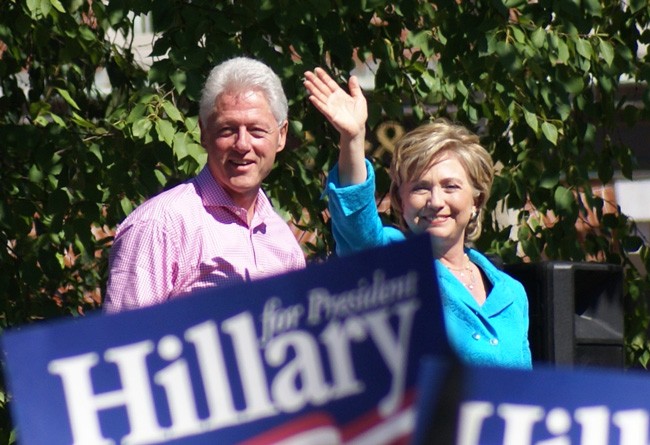 I'm not sure what planet or what year Hillary Clinton is living in, but it sounds neither like Planet Earth nor early 21st century America. More like someone who's just emerged from a manufactured slumber sometime in 1993, when the internet was just beginning to go mainstream. Or Clinton was just beginning to learn how to evade public scrutiny, back in the Bill Clinton White House.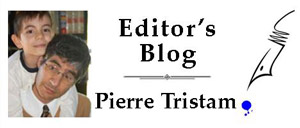 Hillary Clinton held a brief news conference at the UN this afternoon to defend then excuse her use of a personal email account all her years as Secretary of State. She's since deleted thousands of those emails. Here's what she said:
"There are four things I want the public to know. First, when I got to work as secretary of state, I opted for convenience to use my personal email account, which was allowed by the State Department, because I thought it would be easier to carry just one device for my work and for my personal emails instead of two. Looking back, it would have been better if I'd simply used a second email account and carried a second phone, but at the time this didn't seem like an issue."
Put aside the other three things. She is making it sound, in a tone remarkably contemptuous—see the video—as if this was all a matter of convenience and logic. Neither would have actually been compromised had she maintained a Department of State email account. Most of us have two, three or more accounts. Most of us also use either Google mail or any of the numerous mail aggregating systems that allow us to channel all our accounts to one screen, one in-box, on whatever device we choose: my mail bin is the same, channeling all my mail accounts to a single screen whether I'm on my phone, my tablet or any of my desk computers or laptops. There is no issue of having to carry more than one device for more than one email account. Never has been. It's the same—or ought to be the same—for all government employees required to preserve their public records, whether locally or at the highest levels of government.
Our mail accounts give us the option of keeping the incoming and outgoing mail on the server if we so wish. Had Clinton maintained her Department of State account, all her State Department email, incoming or outgoing, would have been preserved at the State Department's servers whether she downloaded it to her phone or home computer or not, or merely read it and accessed it from an Internet café in Zimbabwe, had she so chosen. She would have been able to maintain her personal business going, using her own private account, with the emails on her phone mingling but never having her personal business fall under the Freedom of Information umbrella. A 10 year old could figure it out. Here she was today pretending as if she couldn't.
Clinton is creating a smokescreen. She's hoping it'll have the ring of truth with people who may not have multiple accounts and would think, as she pretends to think that of course one account, one device, one phone makes sense, and why get on the poor secretary's case over that. But she's full of it.
More smokescreens later on: "The laws and regulations in effect when I was secretary of state allowed me to use my email for work." She said that again hoping to elicit the sort of common sense understanding from masses of people who know what an ass-ripping pain it can be to juggle various emails. But no one has ever claimed that she could not use her private email account for work. The only caveat is that she'd then have to ensure that she'd include a little cc to her State Department's account, ensuring compliance with public record laws. She did not.
It has nothing to do with convenience and everything to do with evasion.
Her second point is irrelevant: that "the vast majority" of her emails went to State Department employees, and are therefore preserved. Is she suggesting that she had no responsibility to comply with public record laws herself, since "the vast majority" of emails were falling into that bin anyway? Yes, she is.  Way to go, Marie-Antoinette. She leaves silent the fact that "the vast majority" of official emails are white noise anyway. It's that very small minority of emails that may now or soon, or on history's clock, become relevant. She is not the one to judge which emails would be in that category and which would not. But our ex-Secretary vigilante chooses to be judge and jury in this case. Either way, we'll never know: she's deleted the stuff.
---
An explanation as lacking in credibility as the breach that compelled it.
---
Her third point is irrelevant: the State Department asked her after the fact for emails that were work related, and she turned over what she had, some 55,000 pages. But again: she'd filtered it. Or maybe Bill did. It doesn't exonerate her misjudgment—and breach of law. Nor does she ingratiate herself to us when she adds dismissively, "even though I knew that the State Department had the majority of them."
"No one wants their personal email made public, and I think most people understand that, and respect that privacy," she said. Another smokescreen. This has never been about her personal email, and she shouldn't be using those to build bogus defenses for the indefensible.
Her fourth point is just an insult: "I took the unprecedented step of asking that the State Department make all my work related emails public for everyone to see." There's nothing unprecedented about making public records accessible. Too many of our public officials are under the false impression, reinforced though it is by their own agencies' sly and often illegal handling of public records, that because their records haven't been requested, they're somehow under no obligation to ensure that they are public, or to make them publicly accessible regardless. But that's where we are these days with public record laws: access, which is most of the game anyway, is where the obstacles are and where the games are played and the costs levied and all sorts of shenanigans spring up to wear down those who'd request records. Clinton is acting as if she were doing the public a favor by having her emails made accessible. More contempt.
I was never a fan of Clinton as secretary of state. On key hot spots around the world, she was mostly wasted time, her frequent-flying amounting more to good marketing, mostly of herself, than good policy. Her strengths have always been in domestic policy, and I was hoping she'd get to show them as the likely president she could be. Compared to the zoological quality of the GOP's choices, even Clinton asleep is a better bet than any of those proto-fascist nut jobs she'll be facing. But that doesn't absolve her from a minimum of legal and ethical responsibilities. Here was a chance for her to speak her understanding of both. She failed.

Pierre Tristam is FlaglerLive's editor. Reach him by email here or follow him on Twitter.