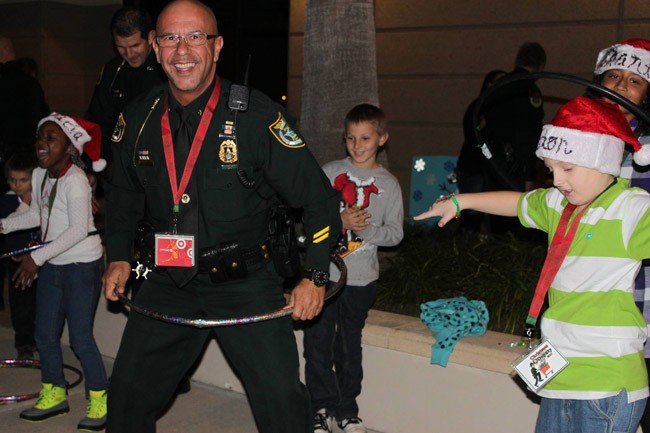 Since Larry Jones thought up the idea at his kitchen table in 2008–the economy was tanking, homeowners were losing their roofs and many children were not about to have the happiest Christmas–it's happened every year since: on a Friday evening a couple of weeks before Christmas, the area around Town Center in Palm Coast lights up with the red, blue and white of cop cars' emergency lights, sirens blare, and a convoy of scores of patrol cars makes its way to the Target shopping center. A child rides with a cop in every car.
Together they head for Target, where the cop will accompany the child on a $150 shopping spree throughout the store, with money provided by a bank of donors that's been growing steadily every year.
The convoy–a moving river of Christmas lights–is impressive, and inevitably worrisome to passers-by who aren't aware of the occasion. They will typically gape or call local media and the sheriff's office, wondering what the commotion is about, or imagine the worst. To those who are more familiar with Christmas With a Deputy, they line the road from the heart of Town Center to Target and cheer the cops and the children as they drive by.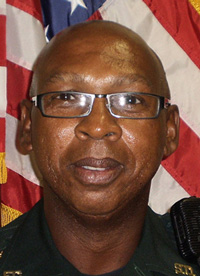 "I grew up in the community poor and knew what it was like not to have much, if anything at Christmas," Jones, who retired a year ago after a 30-year career at the Flagler County Sheriff's Office. "Once I had a job making decent money, I decided to give back to the community." He established a non-profit organization and started Christmas With a Deputy with 14 children that first year. By 2011, it had grown to 40 children. The numbers have more than doubled since as Jones continued adding sponsors. He'd partnered with Target the very first year.
Sponsors include community members, businesses and law enforcement, with participation from the Flagler Beach and Bunnell police departments, the sheriff's office, Florida Fish and Wildlife Conservation officers, the Florida Highway Patrol–several of whose troopers live in the area–and the State Attorney's Office. Qualifying children's names were submitted through suggestions from sheriff's office and school district employees who are familiar with families in need. Almost 17 percent of Flagler's population lives below the poverty line, according to the Census Bureau's latest figures.
Friday's event kicks off with activities including crafts and games at the Chiumento Selis Dwyer office building at City Place Town Centre. The law firm is a principal sponsor of this year's event, as it was last year. Each participating child will get gift bags filled with goodies and their very own Santa hat with their name in glitter on it. Then about 80 vehicles, lights and sirens blaring, will head to Target for for the spree. (The public is invited to view the excitement from around the Town Center lake as they take off around 6 or 6:30 p.m.)
Christmas with a Deputy committee members include Jones, Lou Miceli, Danielle Weaver, Jodi Glascow and Linda Blum of the sheriff's office, Adam Artymovich of Target, and Caroline McNeil, Cathy Vasquez and Michele Hurd of Chiumento Selis Dwyer. A longer list of donors of "time, talents and treasures," as a release announcing the event put it, includes Curley Tail Design, Cline Construction, Mad Hatters Management, Flagler PAL, J&J Auto, Sizemore Welding, K&M Mower Repair, John's Autoparts, Sabatini Photography, John and Maxine Pearson, GA Finley, Kenneth and Victoria Trust, James Kimberly, Barbara Blake, Barbara Wickham, Patricia Bottoms, Robert and Sandra Devore, Lewis Berns, Sharon Atack, Shirley Horne, Richard and Jeanette Zipe, James and Edith Rown, Helen Elfe, Mario and Barbara Petrella, Marie Collins, and still many more.