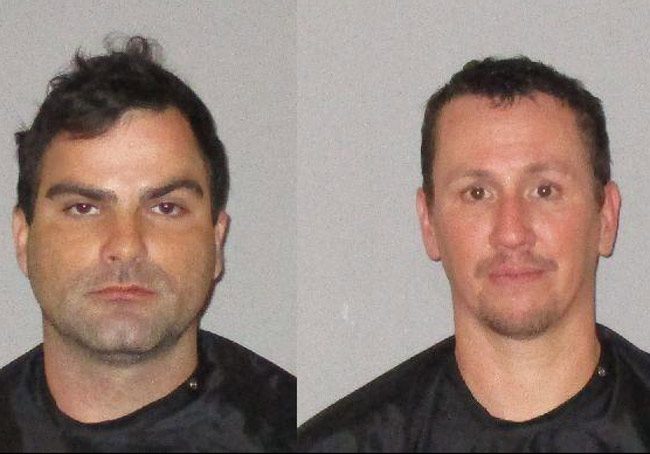 Two Palm Coast men were arrested on felony child abuse charges in separate incidents Tuesday. The children involved were 16 and 9.
Tuesday evening the 911 center received multiple calls from the same house on Redmill Drive describing a man attacking a woman and breaking down a door, in a house with five children under 18, the youngest being 9 and 10.
Screaming was still audible when a sheriff's deputy arrived at the house at 8 p.m. A 36-year-old woman came out of an upstairs bedroom, where deputies found Jonathan Brent Howard, 38, and secured him. Howard said he and his girlfriend–the 36 year old–were just having an argument. She was standing in front of a bedroom door. He "nudged" her out of the way. End of story.
Witnesses told different accounts. The deputy spoke to the 9-year-old child, who said Howard was shoving her mom, causing the child to cry and telling Howard to stop. The child ran up to Howard and tried to hit him to get him off her mom, but "he grabbed her by her left arm and pushed her away very rough," his arrest report states. Fingernail lacerations were visible on the child's arm. The four other children corroborated the account of the confrontation to one extent or another.
The woman wanted to pursue child abuse charges but was initially unsure about a battery charge. The Department of Children and Families was called in: two of the children in the house are Howard's, and were to be placed elsewhere. They were transported to the Palm Coast substation to await their transfer: Howard told DCF he did not want his children around his girlfriend, but he had no family locally.
He was booked at the county jail on a felon g child abuse charge and a misdemeanor battery charge. He posted bail on $2,000 bond, but was ordered to have no contact with his girlfriend or enter the residence on Red Mill.
The Tuesday incident took place at a Panorama Drive home, involving William Whedbee, 28, and his 16-year-old sister. They'd argued Monday night. On Tuesday, Whedbee asked his sister: "If I punched you in the face and then said I am sorry, would it be ok?"
"No," his sister replied, "just like if I threw this water bottle at you, it would not be ok." She then tossed the bottle, missing her brother. According to the sister's account to sheriff's deputies, her brother then lunged at her and put her in a chokehold. The siblings' father intervened and separated brother and sister. But soon the altercation turned violent again.
The siblings' parent would later tell deputies he thought his children were having a conversation in jest until he saw the older man jump at the 16 year old. The father explained that his son has a drinking problem that "causes him to become argumentative,": according to Whedbee's arrest report. The father "also stated that he feared what would happen if William Jr. remained in the home." When Whedbee's father warned him that he would be calling law enforcement, Whedbee allegedly told him: "That'll be the last mistake you ever make."
Whedbee told deputies he was having a "normal" arguments, as siblings do, and that it was being blown out of proportion. He said his sister tried to attack him after throwing the water bottle, and he was merely trying to restrain her. The sister's neck and chest were visibly red and her arms had scratches, according to a deputy. Her brother had no visible signs of injury.
Whedbee is charged with child abuse and battery by strangulation, each a third-degree felony. He was trespassed from his home, ordered to have no contact with his sister, ordered to surrender all firearms to the sheriff and booked at the Flagler County jail on $3,000 bond. He is to be represented by a public defender. He remained at the jail Wednesday evening.