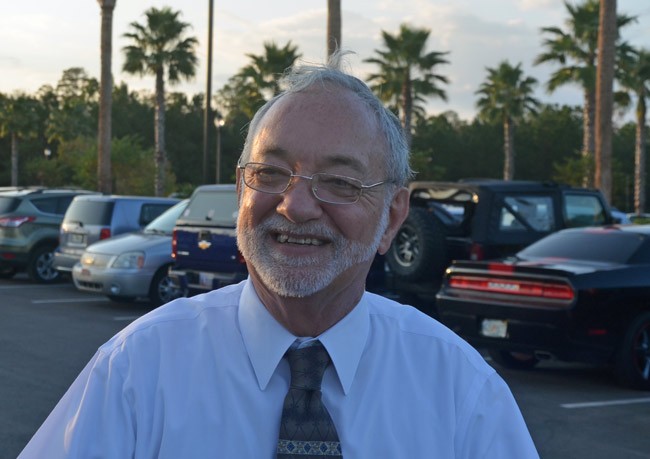 Shocking the three commissioners who voted to hire him hired him two years ago, Bunnell City Manager Larry Williams tendered his resignation today, saying he's accomplished all he wanted to accomplish. His resignation is effective January 4. The 72-year-old manager insisted that there were no underlying issues or mysteries pushing him to his decision, other than this: he's an adrenaline junkie, and he's lost the rush.
"I was putting together a new organizational chart, reshuffling the bodies, and I said, you know, I'm just doing this now as busy work," Williams said late this afternoon, while attending the dedication of Palm Coast's new City Hall in Town Center. "I came here with a purpose, I've accomplished what I wanted to accomplish, and I'm not the type of person to be bored or sit at a desk for eight hours just twiddling my thumbs and taking money from the taxpayers for it. I've got a good staff, everything works, we've got our city hall, we've got good water flowing now, and everything has gelled together with a great staff. So I figured, you know, might as well leave while I'm on the top of my game."
Earlier in the day, looking fit and relaxed, Williams had attended the grand opening of the new Sheriff's Operations Center in Bunnell. By then, he'd started trickling out his announcement, with signed copies of his resignation letter prepared for each of the commissioners, and verbal meetings starting with Mayor Catherine Robinson (who was the only one who knew by the time of the morning ribbon-cutting) followed by Vice-Mayor John Rogers and the rest of the commissioners. At 2:30 or 3 p.m., he told his staff. The staff did not take it well, he said. "It's been emotional," he said.
Williams and Robinson had met for breakfast at Panera. He handed her his written resignation. Robinson read it and at first didn't understand what he was getting at: he thought the letter was referring to someone else. She could not have imagined he was resigning. You could have knocked me over with a feather. I didn't see it coming," Robinson said this evening, recalling the moment. The manager's decision was even more startling since last week, Williams had requested–and received–a 2 percent salary increase, with a unanimous commission approving the bump to $70,608.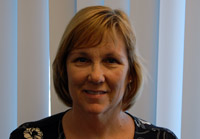 The endorsement was even more significant for including Robinson's full support: she and Williams had had a relationship even she described as "contentious" the first year, but worked it out. "I worked very hard and he worked hard too for us to find our place in the city with the goals for the city being on the front side," Robinson said. "It was contentious when he came in, we worked through that, it was just circumstances. The last year I think we've been a pretty smooth team moving forward." Robinson even asked him this morning whether his decision had to do with her. He was categorical: it did not, Williams told her. But that still left her "floored."
Rogers and Commissioners Elbert Tucker and Bill Baxley had hired Williams in a 3-2 vote at the end of a bitter context capping a bitter year of infighting and recriminations on the commission, and to some extent within the city staff, after the same three commissioners had voted to fire Larry Williams's predecessor, Armando Martinez. But Williams's tenure brought more calm than acrimony, and with that calm came a series of accomplishments the three commissioners—and Williams—touted today. Among those: the balancing of what had been a budget facing a severe deficit, the city moving into a new city hall of its own, and the launch of a new water system.
"I have absolutely no displeasure. The commission is working. I have no displeasure at all with the job, there's total cohesion, it's a great commission," Williams said. "Things are good. I'm an adrenaline junkie. I hate to say it, but I think I said it to a few people in 2004 back when I was working for a city and we were hit with three hurricanes right smack in a row. For me, being an adrenaline junkie, that was a good time for my life, I enjoy that kind of work."
---
"I'm not the type of person to be bored or sit at a desk for eight hours just twiddling my thumbs and taking money from the taxpayers for it."
---
He said he got the adrenaline rush in his two years on the Bunnell job, but that it's over: the city budget is balanced, the city is in its new home, the staff is "phenomenal," the city commission is working well. "We're there," he said. He rebuffed all suggestions that there may be an underlying reason he was not disclosing. "I didn't mean it to be a shock to anybody," he said. But it was.
"If you're asking me if I thought there was something hat would make him resign, it was the farthest thing from my mind," Tucker said this evening. "This was a shocker. That's what he said to me, that he's accomplished everything he wanted to do, and he has done a stellar job getting Bunnell back on the right track."
"He's made up his mind and I'm sure there was nothing I could say to change his mind," Tucker continued. "He had made up his mind, gave me a little run down about the thought process. I understand if he's ready to move on, he's ready to move on." He stressed: "I don't think there's anything underlying this—that he's done something wrong, that we've done something to offend him. There was none of that. It was his decision."
Williams is recommending Fernand Tiblier, the city engineer known as Tib, as his replacement. Tiblier joined the city in February 2014. Rogers and Baxley would not comment about the recommendation, and Robinson said she would not favor immediately placing a new manager in the position next week, preferring to go through the process more carefully.
Williams had been a Palm Coast resident. He no longer is. Two weeks ago he sold his house. He's been living in an RV since, in Bunnell. His wife has been in new Jersey, helping her parents resettle up there.
"I don't know what I want to be when I grow up," Williams said. "My wife and I are looking for a place where we can get some animals. I've already sold my house in Palm Coast. The original plan was to get some place in Flagler County here I could have chickens, goats, something like that. But back when I put our house on the market there were properties, now the market's dried up."
Rogers could not believe the news anymore than Tucker could. "I'm totally shocked, you know. He came in and did a great job, he saved the taxpayers a bunch of money and I didn't see it coming," Rogers said. "Professionally he did a great job. I'm kind of disappointed that he's leaving, but you know what, we've got a meeting Monday and we've got the process of starting another city manager."
Rogers said "everything was moving smoothly and we were out of the headlines." That may end for now, as Bunnell's last hunt for a manager was not smooth. But Mayor Robinson said she did not expect the process to be nearly as contentious as it was two years ago. "The board is not contentious," Robinson said. "This was not a battle within the board for him to leave, this was not on the table, hasn't even been discussed, so going forward the process will be smoother than it was in the past."
Baxley, who had recently upset Williams after making a comment about Williams's managing of the budget—after a misunderstanding that was worked out—said he didn't want Williams to go. "Basically I just have to believe what he told me," Baxley said. "He told me the job was no longer a challenge to him and he got accomplished everything that he wanted to accomplish. I don't really know what's behind it, because he has accomplished a lot, we have balanced the budget, we've got most of the fat out of upper management, and he's even cutting more."
"He was pretty much on the same page I was on, and everything was running real smooth,"  Baxley said.
When Williams was touring Palm Coast's City Hall this evening, someone asked him if he wanted Jim Landon's job (the Palm Coast City Manager.) "They could offer me Jim Landon's job, they could offer me Coffey's job," Williams said, referring to Craig Coffey, the county administrator. "I'm not here for that. Bunnell had a problem, and I really felt honored that they actually hired me and voted with me as many times as they could to fix the problem."
The next manager, he said, should stay in his salary range.
"When I got this job I wasn't looking for a job," Williams said. "I just saw a community that I felt needed help, and after that I said well, let me put my name in and if they hire me they hire me, if not, nothing lost. I don't need a job, I don't need the money. I was here really because I felt I could do some good. I'm at that point where I feel I did."