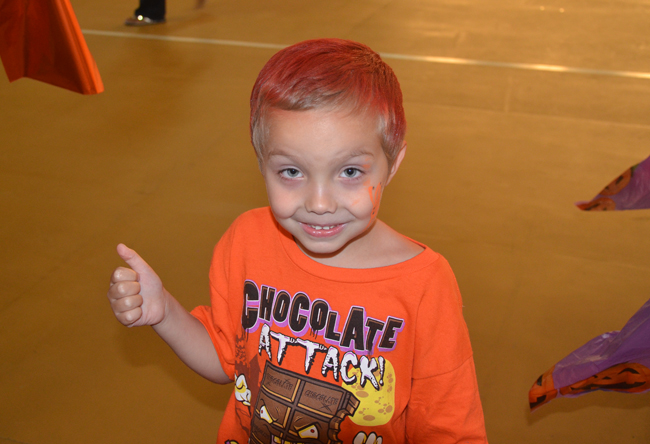 Trevor Tucker, the school board member, managed to make it to both events: first the annual Harvest Hoedown at Bunnell Elementary–actually, a fall festival and big fund-raiser for teachers. Then he made it over to the Friends of Tennis' fund-raiser for the Flagler version of Dolly Parton's Imagination library, the project started by a Leadership Flagler class last year that has so far enrolled some 200 toddlers, each of whom will have received 60 free books (one a month) by the time he or she turns 5. Tucker donned his tennis gear and played a couple of games against a pro, tossing in a few extra dollars for the privilege.
All, as they say, for a good cause.
The hoedown featured two dozen games, attractions and pit stops–including Richard Dupont at the master grill, cooking up hotdogs and burgers, small rolling hills of cookies at the Cookie Hop, an "apple pond," pony rides, hair painting and fall photos, against a backdrop of hay bales, compliments of photographer Jane Sbordone.
The annual hoedown is organized by the Bunnell Elementary PTO to raise money for teachers, grade by grade: last year's cakewalk alone raised no less than $700 for kindergarten , which explains this year's cookie ho addition for first grade. "They realized how much the kindergarten made, they wanted to get in on it," PTO President Amy Canna said. The event draws many students, parents and family, naturally, but it gets the community at large involved as well.
A little later, just before sundown and well after it, a slightly more grown-up fund-raiser kicked up on behalf of slightly younger beneficiaries as the first and what may well be the annual "Smashing Illiteracy Tennis Classic" got under way at the Palm Coast Tennis Center.
As the Friends of Tennis' Mary Wildstein describes it, the Imagination Library sponsors, led by leadership class graduates (including Chuck Hoerner of Brighthouse Networks, Tim O'Donnell of Home Helpers and John Birney of JB Financial in Flagler Beach) teamed up with the friends to create a sustainable fund-raiser year after year, ensuring the continued viability of the Imagination Library–an international project that depends on each participating locality's own dollars to work.
At the tennis center Friday evening, supporters came out to play against several pros and in a scaled down round-robin tournament, delve into appetizers, beer, wine, a silent auction and a raffle, and, besides getting a little exercise, feel good about proceeds going to the Imagination Library–and the Friends of Tennis.
It's not clear how much Tucker shelled out between the two events. We'll try to get that figure by Christmas. Meanwhile, here's a quick photo gallery of the two events.
[nggallery id=91]