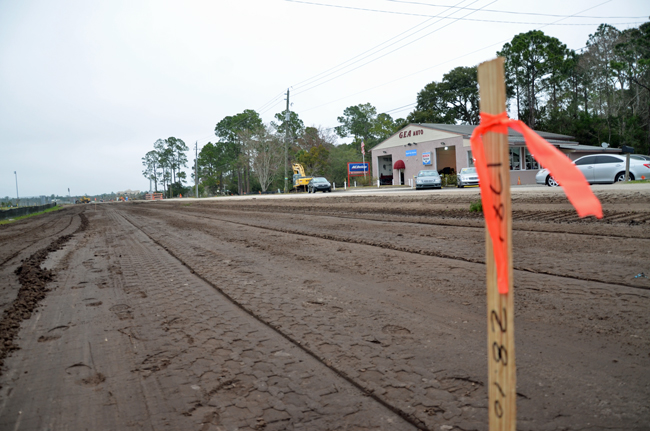 Palm Coast has spent millions of dollars to acquire rights-of-way around Bulldog Drive. Palm Coast is spending millions to widen it in a project that started turning ground just last week. Bulldog Drive has been at the center of an epic battle between the city and a business owner who's refused to sell at the city's price, holding out for his own—and incurring years of harassment, legal maneuvers and the threat of condemnation. Bulldog Drive features among the city's defining entrances to its Town Center and is projected to be an emblem of Palm Coast's beauty and meaning.
But Bulldog Drive does not belong to Palm Coast. Never has.
It's a County Road. County Road 401, to be precise.
Palm Coast City Manager Jim Landon and other city officials were startled by the embarrassing revelation. They hadn't discovered the error. Gus Ajram and his team had—Ajram, the same business owner the city had battled all those years (including rancorous and personal hostility between Landon and Ajram) on the assumption, now proven false, that the land in front of Ajram's automotive business on Bulldog Drive was city right of way.
"Bulldog Drive is currently a county road known as County Road 401, it has never been transferred to the city," Maureen Jones, Ajram's attorney, told the Palm Coast City Council Tuesday evening. When the county ceded Palm Coast to what became the incorporated city more than a decade ago both sides signed an interlocal agreement that listed all the roads and streets that were to be part of the deal. Bulldog Drive was never on it.
The Palm Coast City Council was on the verge of quietly taking over the road and calling it its own at Tuesday's meeting: the item was listed under its "consent" agenda, the portion of the agenda that lists routine items that are approved in bulk, without discussion, unless a council member or a member of the public requests that an item be pulled out for discussion. Jones's intervention did just that.
The city was ready to acquire the road on the assumption that it had maintained it and repaired it for more than a decade, authorizing it to take it over.
Not so, Jones informed the council.
---
Palm Coast plans no halt to construction as it seeks ownership from county.
---
"You're claiming that through maintenance, you're going to dedicate this to yourself, but it's a two-tiered statute that you must actually build the road and dedicate it," Jones said, essentially telling the council that it was about to commit an illegal taking. "The county has built the road and the county has never transferred it to the city. So I am requesting first of all that you table that agenda until you get a transfer of that roadway from the county to the city before you can dedicate any maintenance, right of way to yourselves. If you don't own it, you can't really claim that you built it."
Jones later added: "Currently the city is spending a lot of money on a road that's actually owned by the county. You have a million-dollar contract out there for engineers and paid $5 million for paving that's all on the county road at this point in time."
The city had no defense.
"The person that presented this is correct. It is county right of way, it is has not been transferred to the city," Landon said. "That was a surprise to us, because we have been, we've always considered it ours, our maintenance map shows it's ours." But maintenance is not ownership, as property owners who also maintain strips of right-of-way land in front of their properties well know. "Until the county transfers it to the city, if they choose to, they don't have to, but if they choose to, that 25-foot blue strip stays county and further on actually all of blue would be county very likely."
The 25-foot blue strip of Bulldog Drive, slicing into Town Center from State Road 100, appeared on a map Landon showed. There is also a 50-foot strip of land the city considers its own from having it ceded by the school district (Flagler Palm Coast High School stretches to the west of Bulldog Drive, opposite Ajram's business). But that strip, too, is county-owned, Jones says, not school board owned.
"We're not questioning–I'm not going to get into a debate but we've done a title search etc.," Landon said. "As far as the school district etc., public, actually in this case, CRA dollars, are being spent on public right of way, state right of way, county right of way, city right of way. It is, you know, it's on public right of way, and will continue to be owned by the public, and those public dollars are staying on that public right of way. Whether state or county or city."
Landon is right, but the point he was making is immaterial to the issue Jones was raising—and the history of the clash between Palm Coast and her client, which had been predicated not on the fact that the right-of-way was public land, but that a government that didn't own it was pressuring Ajram.
Landon, who met with County Administrator Craig Coffey Wednesday morning, has been in overdrive, trying to get the county to approve the transfer of the land to the city. He provided the county a ready-to-sign county ordinance to that effect.
"I apologize for this surprise, but I can assure you this was a surprise to us also," Landon wrote Coffey on March 3.
To the council Tuesday evening, Landon said: "I can't imagine why the county would want this small strip of something that everybody has referred to as a city street, and at least the county administration has indicated they'd be very willing to submit it to the city, but that is a county commission decision and it hasn't gone to them."
He insisted to the council that the revelation changes nothing in the contracting and timeline of the construction on Bulldog Drive. Nor will the project itself, whatever the outcome of the right-of-way, affect Ajram's property (for now, anyway), though Ajram disputes that: the road widening is cutting 8 feet into the depth of the lot in front of Ajram's property. And future plans for the four-laning of Bulldog Drive have the road cutting through his building. But ceding to Jones's request, the council voted unanimously to table the city's proposed ordinance "so that we can follow the appropriate procedures," Mayor Jon Netts said.
Ajram's attorney plans to present the issue to the county commission at its March 17 meeting at 5 p.m., framed in terms of county support for small businesses, and with small business owners backing Ajram.
Several people addressed the council on the matter, bewildered at the development, including Dennis McDonald, the perennial city critic and current county commission candidate. McDonald asked the city if it had the proper permits to be working on county land. "I know Palm Coast is very big on that," McDonald said. "Everyone's got to be treated fairly, and that doesn't seem like it's going on here."