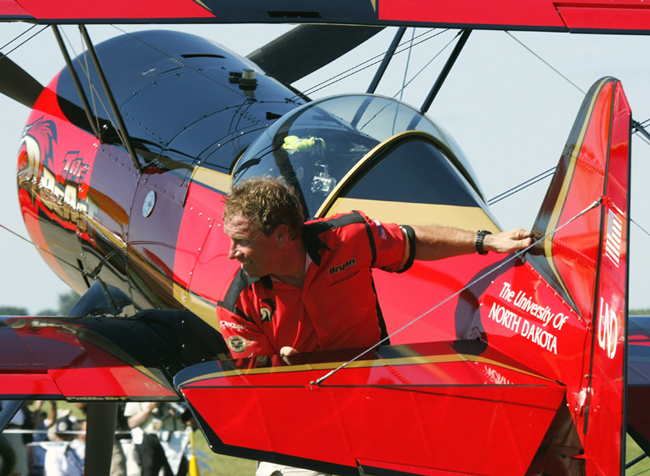 Iowa native Bryan Jensen, a stunt pilot for 15 years and a captain who flew 747s for Delta Airlines, was killed Saturday when his red Horizon Hobbit biplane appeared to lose all power in the middle of aerobatic maneuvers and nosedived to the ground in front of several thousand people at the Kansas City Aviation Expo Air Show. The crash took place at at Wheeler Downtown Airport.
Jensen is from Ponte Vedra in Florida, the Times-Union is reporting.
Jensen's is the second death at an air show in the United States in five months. Bill Walker, 58, was killed at the Wings Over Flagler air show on March 26, when his single-engine Yak 52 similarly nosedived to the ground in the middle of maneuvers. Another pilot, Flight Lieutenant Jon Egging, was killed at an air show in Bournemouth, in England, also on Saturday. And a Boeing 737 flying for First Air in Canada's far north crashed the same say, killing 15 people on board.
As in Flagler, the Kansas City Air Show closed for the rest of the afternoon Saturday, after the 1:45 p.m. crash, then resumed today. "Our hearts go out to Bryan's family and loved ones," said Ed Noyallis, director of the Kansas City Aviation Expo Air Show. (See video of the Flagler crash scene here.)
The day at the show had begun with the parachuting of six members of the U.S. Army's Golden Knights, from 12,500 feet up. The show included a restored P-51C Mustang as part of a traveling exhibit showcasing the history of the Tuskegee Airmen.
---
Footage of the Kansas City Air Show Crash[media id=236 width=500 height=400]
---
Bryan Jensen on the Beast