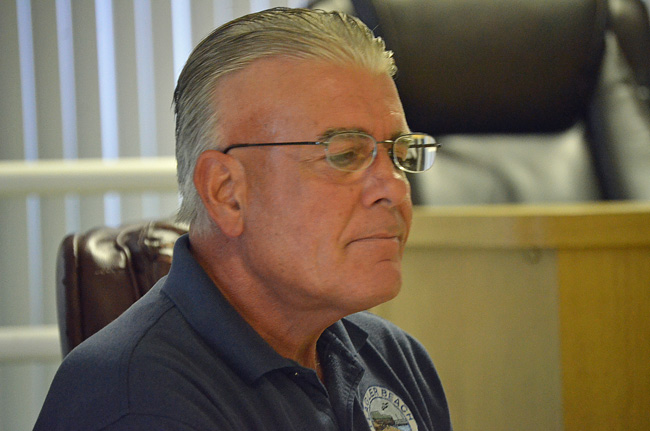 Last Updated: 11:44 a.m.
Almost three years to the day of his unanimous appointment as Flagler Beach city manager, Bruce Campbell told his staff this morning that he was resigning. He had announced his decision to commissioners and the mayor in a Sept. 29 letter that had not been disclosed until today. Campbell did not mention his resignation at the city commission meeting Thursday evening.
"I have decided not to request that we negotiate a renewed contract as your city manager," Campbell wrote commissioners and the mayor. He did not cite any reasons.
His term expires Nov. 9. Campbell said he'll remain in his position beyond that date until the commission hires a replacement. "If you desire me to remain as city manager until the new hire process concludes, I will willingly fulfill the city manager responsibilities on a month-to-month arrangement–at the current contract salary/benefits amounts." Campbell earns roughly $90,000 a year, not including benefits.
The Flagler Beach City Commission does not have a record of efficiency when it comes to hiring city managers. Campbell's predecessor, Bernie Murphy, spent five years as the city's interim manager. And it was 18 months between the time Murphy announced his resignation and Campbell was appointed permanent city manager.
"Obviously, my decision not to renew my employment contract was only reached after much thoughtful consideration," Campbell went on. "As difficult as it has been to contemplate, it is even more difficult to write about or say out loud. However, for me personally it was the correct outcome."
In a brief interview late Friday morning, Campbell said: "I'm not resigning, I haven't quit, I'm just not renewing my contract. It's about that straight forward. Not any problems, I'm not upset, there's no reason for it, I've kind of decided it's time for me to do something else, try something different."
"I'm somewhat surprised," City Commission Chairperson Kim Carney, who's been most at odds with Campbell, said this morning. "I did ask him several months ago as chair what did he want to do and he said nothing, meaning I don't want to do anything right now, there's no need to do anything right now. So I didn't take further action. What normally would have happened in October is we would have done his evaluation and we would have proceeded to negotiate his new contract."
Carney added: "I'm looking forward to moving on and providing a different outlook. I don't know if there's any citizens in Flagler Beach who are interested in the job. But it'll be a search. There's no doubt that it will take a while. I don't know yet if putting in a temporary is the answer. In the private sector we would just left you go. I don't know that that's the right thing for the city of Flagler Beach at this time, and I say that because our staff is so small in number that I don't know there's anybody who could step in from the current staff, never mind having to go outside."
The timing of the resignation with coming holidays might create additional difficulties, Carney said.
"I'm disappointed. He's done a good job," Commissioner Joy McGrew said this morning. "Politics a lot of times gets in the way. In his letter he said he'd stay until we found somebody. I jokingly said I'll drag my feet until we find somebody. I don't want him to go but life is too short to not be happy." Campbell did not hand over the letter to McGrew until Wednesday, a week after he'd drafted it, suggesting that perhaps he'd hesitated before making his decision final. "I'm saddened I think he's done a good job with the tools he has to work with."
In the interview this morning Campbell was asked if he could change his mind. "That conversation hasn't taken place," he said. "There's nothing on the table about make your demands Bruce and you can stay if you want to stay, we haven't had that conversation. I've made my decision and I said I wasn't going to renew my contract. I'll help them any way I can. It's not that I don't want to be city manager and haven't enjoyed being city manager, it's just that I haven't renewed my contract."
Campbell was appointed manager in October 2011 after an arduous, contentious search that divided the commission and turned Campbell's candidacy–from among 140 applicants–into a political rallying point for his supporters on the commission and in the community. The commission had been divided over whether to appoint a candidate with no prior government experience, as opposed to supporters who touted Campbell's private sector credentials and his close ties to Flagler Beach, where he owns and manages property. At the time, he was a maintenance man with the city.
Carney had supported Campbell's original hiring, underscoring his experience in the private sector. She has now changed her mind. "What I mean is, we tried it, we tried taking someone from the private sector and making them a government person," Carney said. "I don't believe it worked. I will be 100 percent supportive of the process to look at a professional city manager."
McGrew had been on the opposite side: she had been skeptical of Campbell's ability to cross over from the private sector into the government sector."He proved me wrong," McGrew said today, "and I was very glad. He's been a very good leader and has been very good for our community."
Campbell, meanwhile, says he's not going anywhere. "I'm still going to be around Flagler Beach. This is my city," he said. "It's all positive, and I've stressed to the commission to make it positive, keep it positive. I hope we find in the next city manager that it's the best city manager the city has ever had."